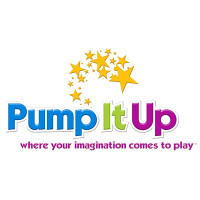 Pump It Up is a chain of children's play areas featuring large inflatable toys intended for climbing, jumping, and exploring. The chain is a birthday party destination, but also offers group events like field trips and fundraisers as well as "Open Jump" times for play outside of a regular party context. There are over 140 franchise locations across the United States.
The company's website notes that children have been engaging in less and less free imaginative play over the last decades. Engaging in this sort of free play fosters creativity, self-regulation, and better behavior in social settings, according to a citation from the American Academy of Pediatrics. The chain's inflatables and other attractions offer an ideal environment for this kind of play.
The franchise has been around since 2000. While classic bouncy house rental companies rent, transport, and set up single pieces of bounce equipment at a location indicated by the customer, Pump It Up distinguishes itself by offering an indoor bouncing and play environment in a stationary location. They promise clean, safe, climate-controlled play areas and party rooms, and friendly, helpful staff. Private party rooms are individually decorated and available to rent out for events. The company can also provide pizza, balloons, and goodie bags for parties.
Two "Open Jumps" are available, one for all ages and one for children smaller than 42 inches.  "Adventure Jumps" are another choice: children are led on a pirate- or astronaut-themed journey through the play area.  They also offer glow-in-the-dark jumps, family jumps, and free entry for adults.
Pump It Up Interview Questions
What do you think about work? This can be a tricky question and you may want to ask for clarification to the question. Think about your work ethic and how you expect others to work with you. Are you organized? Do you get work done early? Do you procrastinate? Do you believe that everyone should be responsible for their own work? Again, think of these questions to help answer the main question.
What is your motivation factor while at work? Talk about the thing or things that encourages you to get the job done. You can also mention how this motivating factor drives you to be on time for work or how this motivating factor inspires you to go above and beyond what you are required to do on the job.
Have you worked in this field before? If you haven't worked the specified field, it is ok. Be upfront with them. Do not pretend that you have worked in that field or a similar field because employers can tell when you are bluffing. When employers ask this question you can add "but I am willing to learn any new task that is given to me" or something along those lines. Employers appreciate optimism and those willing to learn.
Have you taken in classes or gone to any conferences during the past year? Again, with this answer, be honest. Employers are trying to figure you out. To some employers, taking a course or two shows them that you are willing to self-improve yourself and grow your knowledge. Don't stress to much over this question because everyone may want to take a course but could have valuable reasons for why they did not take any.
Company Links