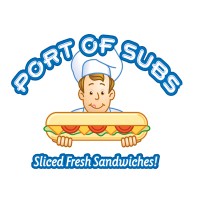 The name 'Port of Subs' came from a contest to find a more exciting name for the 'Sub Shop' that had stood on the site for three years since 1972.  Port of Subs is now celebrating over 40 years of successful growth.  To find out how to apply for Port of Subs online, see below for the Port of Subs application link.
Since the company started opening franchises in 1985 there have been over 140 locations spring up in Nevada, California, Utah, Arizona, Idaho, Oregon and Washington.  The company is owned by John Larsen who jumped at the chance to buy the Sub Shop back in 1975 and has since successfully expanded it into a developing firm.
Port of Subs provides made-to-order sandwiches for its customers.  What sets Port of Subs apart from its competitors is using only fresh sliced meats and cheeses; you won't find pre-sliced ingredients in their kitchens.  Add this to freshly baked bread and you have a superior sub, even before you get to their large range of sides, drinks and desserts.
Port of Subs runs a scheme where anyone from a non-profit organization can apply to host a fundraiser at one of their locations.  Not only can you use the location, but they also supply a fundraising kit and help with promotion and social media.  Part of the profit from the sales of the event go to the chosen cause as well.
Port of Subs Careers
Most available Port of Subs jobs are based in their restaurants.  There are many job opportunities for Team Members, Assistant Managers and General Managers.  Team Member is an entry-level position with possibilities for advancement to management level.  You will need food service industry and managerial experience to make a direct application for a management position.
Port of Subs careers also include corporate positions.  The corporate openings will be fewer as it is a smaller company, but they do come up every now and then.  These vacancies are typically in the departments of Accounting/Finance, Sales and Marketing, Administration and HR amongst others.  The headquarters are located in Reno, Nevada.
How old do you have to be to work at Port of Subs? You must be 18 years old or over to apply for jobs at Port of Subs.
The typical opening hours for the restaurants are 10am to 8pm with reduced hours on Sundays.
The benefits for Team Members will include flexible scheduling and the possibility for regular incentives.  Another perk is eligibility for a 401(k) retirement plan.  The company likes to promote from within so there will be opportunities for advancement up the management chain.  Once there, you will be entitled to further benefits depending on the location.  All employees get discounts on food.
Job Descriptions & Salaries
Sandwich Maker – Your main duties in this role will be to prepare food to fill customer orders.  This is an entry-level job so previous food preparation experience isn't necessary.  You will need to keep to strict hygiene and kitchen safety standards.  This is a minimum wage job usually paid at a rate of around $7 per hour. 
Team Member – The tasks for Team Members will include serving customers, processing their orders and handling transactions.  You will also have other responsibilities that may include restocking the ingredients and cleaning duties around the restaurant.  This is a very customer focused role.  The pay is usually around $8 an hour.
Assistant Manager – An Assistant Manager must be capable of running the restaurant in the absence of the manager.  You will be working closely with the Restaurant Manager to supervise staff and ensure they are delivering are high standard of customer service.  This is a fast-paced environment and you will need to be able to multitask efficiently.  Assistant Managers usually earn $12/hour.
General Manager – As a manager you will be responsible for overseeing everything about the restaurant to ensure it is always running smoothly.  Managers are responsible for implementing marketing strategies and pushing staff to achieve sales goals.  You will also have duties in hiring and training staff and making sure customers are happy.  The average salary is $39k/year.
Port of Subs Interview Questions
After you have submitted your Port of Subs application it's a good idea to prepare for your interview by reviewing some common questions.
What would you do if you saw a coworker breaking company policy? It's important that you stick to the necessary standards of conduct when working, so show that you are able to be responsible and professional.
Do you have experience working in fast food?  The environment can be pretty fast-paced so if you have experience that will always be a bonus.  If you don't then talk about other situations you've been in where you've had to think quick on your feet.
What experience do you have working in a team? This doesn't have to be from previous employment.  If you've been on a sports team at school or something similar then talk about what you learned from your time there and what skills you picked up.
What responsibilities do you think you will have in this role? Make sure you've read the job description carefully beforehand so that there won't be any surprises.  Doing this background reading shows that you understand the job and that you show initiative.
How would you handle a difficult customer?  If you have customer service experience you can give an example here of when you dealt with a similar situation.  If you haven't, then demonstrate that you would be able to cope with the situation calmly and that you can be a problem-solver.
Advice For Application Process
There are a couple of ways to submit an application form for Port of Subs jobs.  Either follow the link below or search Port of Subs jobs online to find their careers page.  There you can use the online application facility to submit a Port of Subs job application online for any of the restaurant-based roles they have available.
If you don't want to apply online, you can head down to your local restaurant and pick up a free application or you can download a printable application for Port of Subs and hand it in to the hiring manager.  If you want to submit applications for corporate positions it is best to send your resume and a covering letter directly to the corporate offices.
The entire application process can be as fast as a couple of days, and once you've agreed on your pay and availability you could be starting work pretty soon after that.  To help you get the career you want make sure you're properly prepared for the interview.  Even if you go to the restaurant to pick up a form make sure you're well presented.
When you meet the interviewer, greet them with a friendly smile and a firm handshake.  First impressions can have a huge impact on their final decision.  Remember to smile and maintain eye contact throughout.  Take your time when answering questions, make sure you speak clearly and don't rush your answers.
Also See:
Portillo's Hot Dog: Portillo's Hot Dog offers opportunities for both, beginners and experienced roles.
Which Wich: Use the Which Wich job application to apply here.
Jack's Family Restaurant: Use the Jack's Family Restaurant job application to apply here.
Whataburger: For career opportunities, fill out the Whataburger online application.
Jersey Mike's Subs: Jersey Mike's Subs offers opportunities for both, beginners and experienced roles.
Company Links
http://portofsubs.com/careers/
http://portofsubs.com/our-company/