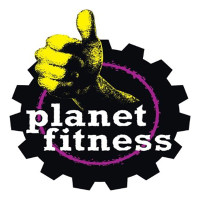 Planet Fitness is an operator and franchisor of fitness centers with its base of operations located in New Hampshire. With their Judgement Free experience, they give more focus on gaining memberships from both novice and casual gym users.
It was founded in 1992 by Michael and Marc Grondahl. They acquired a gym undergoing financial troubles and reduced its membership price in order to compete with the more popular gyms. This low-cost pricing made them a perfect brand for first-time and casual health club members.
They currently have more than 1,000 locations in the United States with 50 company-owned branches. They have an estimated membership of 10 million in the U.S. alone.
Employees get free membership in their club and other locations. However, they have reported that they do not get employer 401k contributions and an affordable insurance plan.
Jobs in the club involve a lot of cleaning and little pay. But, despite a low pay, employees are given a lot of opportunities for advancement when they display the right kind of commitment to their jobs and the business.
How old do you have to be to work at Planet Fitness?
They require applicants to be at least 18 years of age. This age requirement is in line with the restrictions placed on their type of work environment.
Planet Fitness Careers
Planet Fitness clubs intend to create a welcoming and supportive environment. This requires them to seek individuals who will be able to create this environment in their fitness centers. Here are some of the positions that can help you start your career with them:
Fitness Trainer: They run the club's group fitness program. They provide fitness consultation to members and provide them with simple workout programs designed to help them achieve their goals. They also instruct members on how to safely and properly use the different exercise equipment. They keep club equipment oiled and working properly.
Custodian: Their main responsibility is the overall cleanliness of the facility for members to have a positive experience. They are expected to thoroughly clean and sanitize all the areas of the club according to company standards. They stock the locker rooms with the appropriate supplies. They must report to management any equipment or amenities that are broken or missing.
Member Services Representative: They provide current members, potential members, and guests with superior customer service. They execute check in procedures for members, sign up and give tours to new members, and also provide updates and announcements to both members and guests. They operate a POS system for creating membership cards, changing member details, and answering payment queries.
Service Desk Associate: They have frequent interaction and communication with both the club members and the management. They provide account administration and exceptional customer service to club members. They create an atmosphere free of judgement in the club. They keep the equipment and the club clean and in proper working order.
Front Desk Associate: They are the first person club members and guests would see upon entering the vicinity. Because of this, they are expected to greet them, in a professional and friendly manner. They are also tasked to promptly and graciously answer phone calls and provide the accurate information to any queries. This manner is also expected in face-to-face encounters.
Local Brand Specialist: Most of their time is spent in interacting with local businesses in their assigned territory. They promote brands services through approved promotional materials in order to generate foot traffic for the club. With the help of the Field Support Manager, they create corporate partnerships that will increase club membership in their area.
Assistant Manager: They assist the manager in overseeing club operations and in ensuring members get a judgement free experience. They help in hiring and training club employees and develop each one through a positive and motivating manner. They are in charge of ensuring the club is financially successful and facilitate all employee payrolls.
General Manager: They act as a club's primary leader in its operations. They create staff schedules that ensure all shifts are covered. They are responsible for administrative tasks like payroll processing, conflict resolution, and disciplinary activities. They act as back-up in roles wherein an employee is absent or unable to perform their duties.
Junior Compliance Analyst: They manage and improve equipment compliance in all the club locations. They gather data to determine club locations that might be in need of replacement for their equipment. They develop equipment replacement plans with franchisees. They work with internal business units in the accomplishment of plans for equipment replacement and procurement.
Video Producer: They produce video content that will be used for commercials and internal purposes. They also produce and edit video content that will protect and enhance the brand's image for its target market. They coordinate with club members and franchisees for in-club video production projects.
Planet Fitness Application
To apply for a job, you must visit the careers portal found on their website. From there, you can enter your desired job location and available positions would be presented to you.
The avenue for submitting an application depends on the position and location. Some clubs require their applicants to give their application in person while some would accept it online.
When filing your application, it is recommended to provide a cover letter with your resume and the required forms found online. Make sure that all documents appear polished and professional.
Like the application documents, your resume must convey professionalism. The information must also be accurate to present yourself as a person of integrity and honesty. You can provide information that supports their culture of being a no judgement fitness club.
The interview focuses on three areas: the applicant's work experience and knowledge of customer service and their brand. The interview would be done by the manager and, depending on the club, the franchise owner.
Things to Know About Planet Fitness
They provide an environment wherein everyone can be comfortable with pursuing their fitness goals. They present an alternative to fitness clubs and gyms that can be intimidating and intense for the novice or casual individual.
They have been touted as one of the, if not the, top franchises in America in magazines such as the Franchise Times, Forbes, and Entrepreneur. In 2013, they gained TSG Consumer Partners LLC as their equity partner.
The company is known for their long-time partnership and sponsorship of NBC's The Biggest Loser. In the episodes, contestants can be seen working out on equipment and locations owned by Planet Fitness.
They have partnered with STOMP Out Bullying and Boys & Girls Clubs of America in creating their philanthropic initiative known as The Judgement Free Generation. They have contributed more than a million dollars for this cause.
Application Links
Company: https://www.planetfitness.com
Careers: https://www.planetfitness.com/careers
Application: N/A