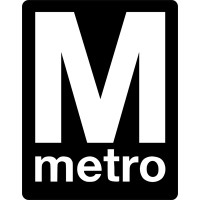 The Washington Metropolitan Area Transit Authority, commonly known as WMATA, is a transit service operating in the metropolitan area around Washington D.C. The service is run by a tri-state government agency that includes the governments of the District of Columbia, Maryland and Virginia. The agency was formed in 1967.
WMATA provides three transportation services—Metrorail, Metrobus, and MetroAccess. Metrorail is a rapid transit service, more commonly known as a subway, metro, or underground. The Metrorail contains 91 stations and 117 miles of track. Metrobus is a fleet of over 1,500 buses. On their website, the fleet claims to service 11,500 bus stops in the tri-state area, making more than 400,000 trips every weekday. MetroAccess is a paratransit service, commonly known as car sharing or carpooling. The service is intended for passengers with disabilities that keep them from accessing a rail or bus line.  The use of MetroAccess requires submitting a written application and booking rides online or by phone.
Congress laid the initial plans for this transportation network in 1952 when they passed the National Capital Planning Act, which mandated planning of a transportation system for the area. Maryland, Virginia, and D.C. organized a joint commission to study passenger transportation in the area. They submitted a plan for presidential approval in 1962 and President Johnson signed it into legislation in 1965.  Building on the rail system began in 1969, buses were first acquired in 1973, and rail operations begin in 1976.
In 2015 tragedy struck when technical failures on a Virginia-bound yellow line caused a train to get caught in a tunnel, where the train cars filled with smoke billowing from malfunctioning rail equipment. The poisonous air sickened many passengers, and one passenger died of acute respiratory failure. In recent years the agency has been plagued with complaints of late train arrivals and infrastructure decay. Improvement measures are in the works.
Metro Interview Questions
What caused your departure from your previous job? A touchy question. You want to be honest about why you are no longer working there, but dress up your response to this question. A good response is "I did not see a solid future for me there" or "I did not see room for growth while working there." Also remember, not EVERY detail is needed, just highpoints.
Have you ever been let go from a job or fired? This is just a yes or no answer. Do not go into a lot of detail if you are not asked. Most of the time, if you answer no. employers will ask you to go into detail. Like I stated before, don't give the entire play-by-play. Just give the highpoints on what happened and do not talk bad about that company that let you go.
What are your pet-peeves when it comes to co-workers? Be subtle. Do not start listing every problem that you have ever had with every co-worker you have encountered. Name three pet-peeves, five at the absolute most and that is pushing the limit. You do not want to seem like you are hard to work with or that you are picky. Tell just enough so the employer gets the idea.
What are you trying to get out of any job? What are you trying gain from a job? Are you looking for a sense of accomplishment? Are you looking to build up your resume? Maybe you are trying to gain as much experience as possible, if this is the future career path for you. You could center your response these question or around growing as individual.
Company Links