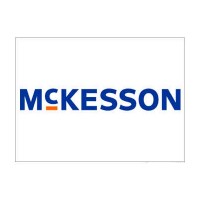 The McKesson Corporation is an American company that retails pharmaceuticals, medical supplies, care management tools and health information technology. McKesson is a Fortune Global 500 company. It is one of the highest revenue generating companies in the United States.
McKesson is one of the oldest and largest health care services companies in the United States. The corporation began as in importer and wholesaler of botanical drugs in New York in the early 19th century. It has since grown to include a multitude of distribution and technology businesses that all serve the health care industry.
The company serves all health plans and more than 50% of American hospitals and 20% of American physicians. It is also the largest pharmaceutical distributor in North America delivering more than a third of the nation's medications and the 4th largest American pharmacy network with 2,900 retail pharmacies.
The corporation strives to "advance the health care system for better health for all". It shares five company values including integrity, customer-first, accountability, respect and excellence. It also strives to serve a diverse customer base by hiring employees for all races and backgrounds.
McKesson Careers
McKesson hires full and part time employees for various positions in its distribution, and technology solutions. McKesson Distribution Solutions hires employees to operate pharmaceutical distribution centers across the country. The corporations Technology Solutions team provides software development, implementation services and consulting services to health care givers.
There are also many corporate careers at McKesson. The company seeks top talent in Human Resources, Legal, Finance and Accounting, Marketing, Corporate Strategy, Corporate IT and Six Sigma.
How old do you have to be to work for McKesson? Age requirements can vary by state and position so check the age requirements for the state and position you are applying for. In general, you must be at least 14 years old to work in the United State but many states have a minimum employment age of 16 or 18 and some states only allow minors over the age of 14 to work if they have a work permit.
McKesson strives to compensate employees based on experience, skills, competencies and responsibility. Wages are typically set at market rates. Entry level positions are typically at or above minimum wage while more skilled positions pay significantly more. Minimum wage varies by state but is generally around $7.00 or $8.00 per hour.
Work hours vary by location. Most positions have typical 9-5 schedules but some facilities require employees to work swing shifts or to start early in the morning or work late into the night. The company offers a full benefits package including health insurance, a 401K profit sharing retirement plan, gym discounts, paid-time off.
Job Descriptions & Salaries 
Customer Service Representative
Customer Service Representatives are responsible for providing courteous service to retail pharmacies and other McKesson customers. They serve as the first point of contact for the customer. Duties include handling product orders, answering customer questions and providing resolution to customer concerns. 
Pharmacy Caseworker
Pharmacy Caseworkers work directly under the supervision of a Pharmacist. They perform various tasks including dispensing drugs, entering drug orders into the computed system and taking care of third party billings. They are also responsible for ordering stock and maintaining inventory. 
Field Service Technician
Field Service Technicians work directly with the company's software customers. Responsibilities include installing, maintaining and troubleshooting software on the client's computer. The work is typically performed off-site and requires coordination with the client, travel, and after hours work. 
Lab Sales Specialist
Lab Sales Specialists work to grow lab business through the company's physicians, nursing homes, urgent care centers, and community health clinics. Responsibilities include prioritizing lab sales opportunities, analyzing customer information and assisting customer in placement of equipment.
McKesson Interview Questions
Use these questions to prepare for your interview.
Why should we hire you? This a commonly asked interview questions. Do some homework about the company ahead of time so you answer in a way that matches their needs. You want to highlight how your skills match their requirements and that you understand (and will fit into) their culture.
Tell me about yourself. Interviewers who ask this question want to learn about your background and experiences. This is a great opportunity to talk about your skills as well as any similar jobs that you've held. It is also a good idea to mention your favorite hobbies and extracurricular activities. Focus on active and healthy hobbies such as playing an instrument or gardening.
What are your goals? The interviewer wants to get an idea of your overall level of ambition with this question. Talk about both your short term and long term goals. Try to keep things relevant to the position. For example, a good goal might be "I want to become a member of a team that develops positive relationships with its customers."
What attracted you to this job? This is where it pays to do your homework ahead of time. Focus on why you are interested in the job but try to say something about the company at the same time. For example, it's better to say something like "I am looking for a long term job with a company that values the health and wellness of its employees." instead of saying "I live down the street and can walk to work."
Advice for the Application Process
The McKesson Corporation application process is a multi step process. You can find McKesson Healthcare Jobs online and apply for them online. If you are qualified for the position, you will be contacted for an interview.
To prepare for the interview, jot down a few notes about your work experience and your strengths. You can refer to this list during your interview and check it as you go to be sure you remember to mention all of the important stuff.
Also bring any questions you have about the job to the interview so you remember to ask them. You want to be sure you have all the information you need to decide if you will take the position.
After the interview, the hiring manger might let you know if you are hired on the spot. You should be prepared to accept the position if it is offered to you. If they don't offer you a position, thank them for considering you and ask them how you can follow up on the hiring process or if there are any additional openings you should consider applying for.
How to apply for McKesson Healthcare job online? Follow the links below, to find a McKesson Healthcare job application online, obtain a printable application for McKesson Healthcare, and to apply for jobs at McKesson Healthcare.
Also See:
Lamborghini: Visit the Lamborghini application.
Mercedes Benz: See our guide for careers at Mercedes Benz.
Discount Tire: Checkout the application page for work at Discount Tire.
BMW: Use the BMW job application to apply here.
Alamo Car Rental: Use the Alamo Car Rental job application to apply here.
https://www.youtube.com/watch?v=mZ_uCCDvWDY
Company Links
https://jobs.mckesson.com/jobs?page=1