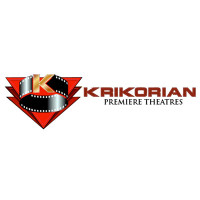 Krikorian Premiere Theatres of Southern California provides a high quality theatre experiences in all 7 current locations. KPT takes the customer experience seriously focusing on amazing architecture, classic style, and the best customer service around. Each Theatre is made to impress with imported crystal chandeliers, travertine stone floors, custom carpeting, and more. Style and excellent customer service are the business model here.
George Krikorian founded KPT in 1984 in the Palos Verdes Peninsula in southern California and expanded rapidly. Always holding a high standard of entertainment in 1996 Mr Krikorian rededicated the company to the incredibly high quality standards it has today. Today it is Todd Cummings Vice president of Operations who handles most of the day to day operations and makes sure that the company motto "Movie going is always a premier event" is their business practice.
The customer comments keep pouring like "What an awesome experience" and "Thank you KPT that is what movie going should be". Continuing to help out in the community as well with donations and support for the Cystic Fibrosis Foundation, and Variety – The Children's Charity.
Wages are based on experience and position, but all staff get the great benefits of free movies, and exciting and fast paced atmosphere, and the amazing smell of fresh popcorn. The experience gained dealing with customers is invaluable.
How Old you need to be work at Krikorian Premiere Theatres?
To work for Krikorian Premiere Theatres you need to be at least 16 years of age, and for a supervisory or managerial role at least 18. Current staffers say "Great and cooperative coworkers and access to free movies, management is helpful and friendly, fun to find out what is the next big movie". Check your nearest location to join the team and experience the movies like never before.
Company Links
http://www.kptmovies.com/Careers.aspx