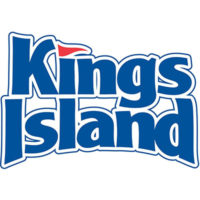 Kings Island is an amusement park located in Mason, Ohio. Its main purpose is the entertainment of families and children with roller coasters, rides, games, and events.
The park was founded in 1972 by Taft Broadcasting Company with the purpose of expanding/moving Coney Island, their nearby amusement park that was facing challenges of flooding. Kings Island is now owned and operated by Cedar Fair.
This amusement park entertains well over 3 million visitors per year, with the help of their thousands of employees. It houses world record-holding coasters like The Beast and Banshee, and the kid's zone has won the Golden Ticket Award for over 14 years straight.
The company provides medical, dental, and vision coverage and offers disability, life, and pet insurance. Workers receive paid vacation days, paid sick leave, and paid company holidays as well as free passes into the park.
Employees get enjoyment and fulfillment working at the park. It is a notably fun opportunity and learning experience. Many past and current employees have expressed appreciation of their colleagues and experiences while working here. The company also works hard to accommodate schedules for school and personal needs.
How old do you have to be to work at Kings Island?
You must be fifteen years old to work at the park. However, many jobs do require a higher age, such as the warehouse attendants and office assistants who must be 18. 44% of jobs go to teenagers, though, so the employee community is dominated by younger workers.
Kings Island Careers
Kings Island has many entry-level and professional jobs. Much of the work revolves around providing food, care, merchandise and entertainment for all the visitors and helping those who come or are interested in coming to the park.
Office Assistant: The person who holds this job will check voicemails, make phone calls, calculate payroll hours, run reports, and resolve payroll conflicts, amongst other small tasks. They will be communicating with the Operations Management Team and other operations associates.
Security: Those on the security team work to protect those at the park by monitoring park access and preventing dangerous items from entering by using metal detectors. You will be interacting with guests in this position and operating on a team of other security officers to maintain safety and decorum within the entirety of the park.
Warehouse Attendant: In this position, you will be using large equipment and pulling items to deliver throughout the park, taking inventory, rotating stock, and working with Kings Island associates. A warehouse attendant will be doing physical labor and operate in all weather conditions.
Admissions: An admissions worker will be the first to greet a guest as they enter the park and be prepared to answer any questions they may have. One may work at the sales window, parking Tolls booth, processing center, or at the turnstiles. They may scan tickets, inform guests of ways to enhance their visit, take professional photos, and interact with guests in a positive and friendly way.
Lifeguard: This job is to ensure the safety and well-being for those in the waterpark. A lifeguard monitors various locations, makes sure guests are using the slides and activities in a safe and proper manner, and, if needed, is responsible for helping or rescuing a guest that may be hurt or in trouble.
Food and Drink worker: This position takes care of all the dining experiences within the park, from the coffee shop to a sit-down restaurant. There are various opportunities to work in this field, such as serving, bussing tables, hosting tables, training new members, bartending or working as a barista.
Games and rides: When operating in this position, an employee will be communicating with guests and making sure they are having a safe and fun experience. They may be operating the ride, working on line control and ride seating, running and explaining the games, and engaging with visitors in a friendly manner for any questions or comments a guest may have.
Call center: At the call center, employees interact with patrons over the phone in a positive and friendly manner. It is their job to respond to any questions or concerns someone may have and give appropriate information to guests as requested.
Guest services: A guest service employee will work as part of a team to handle guests in an organized and positive way. They will work with questions, concerns, and unhappy or unsatisfied customers and work with them to find solutions to any problems.
Entertainment: Those working in entertainment will strive to create productions that guests of all ages will enjoy. Kings Island is constantly looking for for musicians, songwriters, dancers, actors, technicians and scenic carpenters to put on high-quality, enjoyable productions.
Kings Island Application
The park uses an online application that must be completed and submitted. Upon approval, one will then be asked to come to an in-person interview.
They use an online application only. There is no in-park or in-person initial application that can be completed.
A full legal name must be used on the application. Make sure all answers are truthful and accurate in representing the person that is applying. Review all sections of the application to ensure every field is complete before submitting.
Unless you are applying for a higher management position, no resume is requested. Simply answer all questions asked, give your education and work history when prompted, and complete your certification before submitting your application.
Arrive at least 15 minutes early to the interview in clean, professional attire. Leave a cellular device, food, drink, or chewing gum out of the interview. Make sure to shake hands with the interviewers, smile, and make an introduction. Answer all questions truthfully about school, work, and prior experiences. The interviewers like to see people who are team players and excited to get to work.
Facts About Kings Island
This park works to accommodate all guests and employees in any ways possible. It is known as a fun, positive place to work or visit.  It is also an Equal Opportunity Employer, as proclaimed on multiple platforms.
This is the largest amusement and water park in the midwest, and it works to earn its reputation. Throughout the year, it holds many events, productions, concerts and even 5k races. Its rides are known worldwide and the coasters attract thrill-seekers from all parts of the country.
Obviously, Kings Island is known for its record-breaking coasters and award-winning kid's zone. It is seen as a family fun place with a variety of entertainment and things to do and see.
The park works hard to give back to its community. It hosts annual military free-days for active and retired members of the military and events to raise money for Give Kids The World, a nonprofit organization that sends kids facing life-threatening illnesses with their families on a week-long vacation. The park also has an annual Kings Island Kicks Cancer campaign, which works to raise money for a variety of organizations that are working to beat cancer and help those impacted by it.
COMPANY LINKS
https://www.visitkingsisland.com