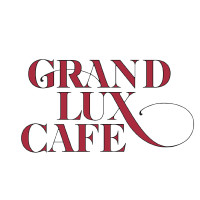 The Grand Lux Cafe is one of the brands run by the familiar faces at the Cheesecake Factory, but it takes on a different spin with upscale, internationally inspired dishes.  To find out how to apply for the Grand Lux Cafe online, follow the link at the bottom of the page to submit your Grand Lux Cafe application.
The Grand Lux Cafe's original design is inspired by European styles and was commissioned for The Venetian, a hotel and casino in Las Vegas.  The restaurant proved so popular that the Cheesecake Factory decided to expand the business, and now there are thirteen different locations scattered across the country, and they are still looking to open more.
The food offered by the restaurant is drawn from all over the world, mixing European and Asian cuisine with Latin American flavors and of course, good old American comforts.  You can find dishes ranging from Spanish tapas, Thai spring rolls, Asian short rib tacos, Italian pasta and French fries, although that recipe didn't travel as far as the others.
The Grand Lux Cafe prides itself on the atmosphere created not just by the food and the exceptional staff, but also by the buildings and décor.  You'll find leather seats with wood paneling and cozy fireplaces.  With inspiration drawn from Italian, French and Austrian architecture, the restaurants are truly a unique fusion.
Grand Lux Cafe Careers
There are many different job opportunities available for hourly staff.  The typical careers available are Dishwashers, Bussers, Hosts, Servers, Line Cooks, Prep Cooks, Bartenders, Cashiers, Stewards and Pastry Chefs.  Many of these jobs are entry-level and won't require much experience.  For those with managerial experience there are also employment opportunities for Kitchen Managers and Restaurant Managers.
For Grand Lux Cafe jobs in the corporate side of the industry you will need to make a direct application to the parent company, The Cheesecake Factory.  There you can choose career paths working in Research and Development, Finance, Administration, Communications and IT amongst many others.  There are also a number of internships available for students and graduates.
How old do you have to be to work at Grand Lux Cafe?  You must be at least 18 years old or over to apply for jobs at Grand Lux Cafe.
The restaurants open at 11am on weekdays and close at 11.30pm Monday to Thursday and 12.30am on Fridays.  On the weekends the opening time is 9am and the restaurant closes at 12.30am on Saturdays and 11.30pm on Sundays.
The benefits available in Grand Lux Cafe careers will vary depending on the positions but many members of staff will be entitled to medical, dental and vision insurance, flexible spending accounts and health spending accounts, 401(k) retirement plans and other insurances and services in the Employee Assistance Program.  All staff will enjoy discounts as well as opportunities for training and advancement.
Job Descriptions & Salaries
Server – The responsibilities of a Server include a number of things.  You will be expected to deliver high quality customer service when greeting customers, taking their orders and delivering food to the tables.  You will also help to maintain the presentation standards of the restaurant.  The pay for this job typically starts at $6/hour plus tips.
Host/Hostess – As a Host or a Hostess you will be the front line in the restaurant and will need to be welcoming and friendly.  It is important that you are knowledgeable about the menu and are able to answer any enquiries the customers may have.  The pay for his role is usually between $9-10/hour.
Line Cook – The job description of a Line Cook requires you to be able to prepare all of the menu items to the exact specifications.  The kitchen is exhibition-style so you need to have a very professional attitude and keep to the highest standards in every aspect of your work.  Line Cooks usually earn around $38k/year.
Restaurant Manager – As a Restaurant Manager you will have oversight over everything that takes place in the front of the restaurant.  You will need to manage the performance standards of the restaurant including how staff behave and ensure profitability.  You will be expected to be able to multitask to ensure all aspects of the restaurant are working well.  The salary for this position is between $35-70k/year.
Grand Lux Cafe Interview Questions
Once you have submitted your Grand Lux Cafe application, prepare yourself well for your interview to give yourself the best chance.
Why do you want to work here?  Make sure you have done some reading on what the company values are and give an answer explaining why you think they are relevant to you.
What do you know about the company?  In your research make sure you look up the kind of service offered and a bit about the history of the company to demonstrate your enthusiasm for the job. 
Have you ever had to deal with an angry customer?  It's always helpful if you can give specific examples in these types of questions.  You need to be able to show the hiring manager that you are able to stay calm under pressure.
What do you think are the most important parts of customer service?  There isn't a strict definition for this, but make sure you put some thought into your answer.  Think about the best examples of customer service you can and explain why you thought they were the best.
How do you handle conflicting priorities?  The ability to multitask will be very beneficial no matter which of the Grand Lux Cafe jobs you are applying for.  Again, it's always helpful if you can refer to examples from your previous jobs.
Advice For Application Process
The company strongly encourages applicants to apply for Grand Lux Cafe jobs online.  You can do this by searching Grand Lux Cafe job application online and fill in their online application form for the various restaurant-based jobs listed in the different locations.  For corporate jobs you will need to apply online via The Cheesecake Factory website.
If you don't want to apply online you may be able to apply for some entry-level jobs in person, but be aware that this is not the preferred method.  Some locations may have a free application form for you to fill in if you go down there with your resume.  You can't download a printable application for Grand Lux Cafe.
The entire process for applications will probably only a take a few weeks at most.  You will be contacted and asked to come in for up to three interviews at your local restaurant depending on your position.  You will also need to pass a background check to be eligible for employment.
At your interview, make sure that you are well presented and turn up at least 10 to 15 minutes early as this gives off a good impression.  Remember to smile and maintain eye contact with your interviewer.  It's important to keep up a positive attitude throughout and to answer all of their questions in complete sentences.
Also See:
Saltgrass Steak House: For career opportunities, fill out the Saltgrass Steak House online application.
Village Inn: Village Inn offers opportunities for both, beginners and experienced roles.
Atlanta Bread Company: For employment at Atlanta Bread Company visit the application page.
Piccadilly Cafeteria: See this page for jobs at Piccadilly Cafeteria.
Bill Miller Bar B Q: See this page for jobs at Bill Miller Bar B Q.
Company Links
http://www.grandluxcareers.com
http://www.grandluxcafe.com/aboutus.htm