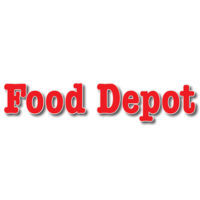 Food Depot is a grocery store that works on the Cost Plus 10% model. While the stores vary in size, they all feature the same departments: dairy, frozen foods, meat, and produce.
The company was founded in March of 1975. Friends Gerard Taylor and Raymond Johnson bought an existing grocery store and remodeled it into their first brand, Quality Market. The idea for the Food Depot concept came about in 1988.
There are over 30 stores located all over the state of Georgia.  Food Depot was selected as "Southeast Region Retailer of the Year" in 2001 by SUPERVALU. It has remained in their Top Ten ever since.
Full-time employees, mostly managers and executives, are offered benefits such as medical insurance, life insurance, stock options, 401K and vacation. Part-time store employees are not offered benefits.
Employees say that what they enjoy about working there are the flexible hours and paid breaks. There is a great 'team player' atmosphere. They give you new tasks if your department is not busy.
How Old Do You Have to be to Work At Food Depot?
You are able to work there if you're as young as 14 yrs old. If you are under the age of 18, a Work Permit is required. Employees that are 14 or 15 cannot work during school hours according to state law.
Food Depot Careers
The following are some of the many careers that are available at Food Depot. Specific duties can vary with an individual store's needs. The hiring manager will discuss your job duties with you, usually at the interview.
Cashier: A cashier rings up the customer's items at the cash register. They will call for a price check if the item will not scan. They are responsible for entering in any coupons. They also maintain the cleanliness of the checkout area. Assists other departments when business is slow.
Courtesy Clerk: A courtesy clerk is often known as a "bagger", as they place the customer's items in bags as they are rung up. When there are few customers, they will go out to the parking lot to retrieve the shopping carts and bring them back in.
Lead Cashier: The Lead Cashier supervises the shift. They decide when it's time for each cashier to take breaks. They will re-task cashiers to other departments if business is very slow. Assists the management in creating the work schedule.
Stocker: A stocker helps unload pallets of products from the trucks. They then locate the area of the store that the product belongs in, and then arranges them on the shelf. They check the dates on each item and place new product in back.
Produce Clerk: A produce clerk receives the produce (fresh fruits and vegetables). They maintain the display areas in the produce department. They also stock produce and makes sure that there is no spoiled product. Makes sure department stays clean throughout their shift.
Deli Counter Clerk: At the Deli counter the clerk assists customers who need sliced meats and cheeses. They weigh the amount the customer requests, then wraps and prices it. When needed, they will make the store's custom salads and slaws.
Meat Cutter/Butcher: A butcher is trained on how to slice a carcass into various cuts of meat. Other animal products are packaged accordingly, priced, and displayed. They also run the Meat Counter and assist customers with requests.
Bakery: The baker generally starts their day before the store opens. They make the doughnuts, bread, and other baked goods. During the rest of their shift, they assist customers by packaging their purchases, and taking orders for custom birthday cakes and other goods.
Customer Service Associate: A customer service associate works at the front desk, answering the phones. They will mostly take messages and relay them to the appropriate department. If there are customer complaints, they will notify the supervisor or manager. Sometimes a cashier is designated to also act as the CSA.
Assistant Store Director (Supervisor): The assistant store Director oversees multiple departments of one store. They monitor daily functions not related to assisting customers directly. This includes employee scheduling, product ordering, bank deposits, tax paperwork, and employee discipline. During a shift they are responsible for correcting any problems that arise.
Food Depot Application
For the application for Food Depot, you'll need to bring in a completed application and the proper verification identification. They use E-Verify to confirm an applicant's right to work in the USA.
There is no online application. However, you can download the application from the website. Once it's completed, you bring it to the location that you wish to work at. There is a Store Locator on the website, too.
On the application, they will ask you what position and salary you want. Research ahead of time to find out what the average salary is. You don't want to go too high, or too low.
You won't need a formal resume to apply. The information about your previous work history and three references go on the application. Contact your references ahead of time to make sure they know that Food Depot may call.
Look up common interview questions for the industry, such as "Why do you want to work at Food Depot?" It's a good idea to find a friend to practice with before the interview. This will help you be less nervous.
Facts About Food Depot
The culture at Food Depot is friendly, very small-town-like. It's described most as "laid back". There's a family atmosphere which makes it a great place for getting a first job.
Food Depot is a chain that's dedicated to serving the suburban areas and small towns outside of Atlanta in Georgia, who may not have much of a choice when it comes to large, inexpensive food stores.
The company is known for sticking to the basics. They don't have a floral department or a bank branch. They just concentrate on the traditional grocery values like selection and cleanliness.
They don't have online social media accounts. They prefer to let each store get to know the local community one-on-one, serving their town in a personal manner.  It includes employees and their families, along with their customers.
COMPANY LINKS