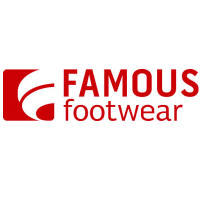 Famous Footwear is an online seller of casual and athletic shoes from hundreds of famous brands. The company offers a wide selection of shoes for men, women and children from brands like Converse and Nike.
The company was founded in 1960. Its founder, Neil Moldenhauer, established the company in Madison, Wisconsin. The company has a corporate office located at St. Louis, Missouri.
Today, the company has more than 1,000 local stores, and employs more than 5,000 people. Famous Footwear is a sister company of Caleres Inc., a diverse selection of international footwear brands.
Employees receive benefits like disability insurance, dental, medical and vision plans. Also, the company gives 401(k) retirement plans, education assistance, stock purchase plans, holidays, sick leave, and paid vacation.
The company offers a comfortable working environment and flexible schedules. These are two things loved by their employees, aside from competitive salaries and more benefits.
How old do you have to be to work at Famous Footwear?
The minimum age to work at this company is 16 years old. Entry-level positions are open for 16-year old applicants. Management positions are good for older applicants age 18 years old and above.
Famous Footwear Careers
Applicants who show a keen interest in footwear and excellent interpersonal skills are ideal fits for the vacancies. Both entry-level sales jobs and managerial roles require continuous communication with fellow coworkers and customers. The company provides paid training and continuous career development. Further, employees get instant access to competitive salary scales and benefits. Famous Footwear accepts applicants for the following positions:
Sales Associates: Sales associates greet customers, explain the latest promos and sales, and provide advice and tips on products. They also complete all transactions at the sales counters. Their job requires the sales associates to be computer literate and with excellent communication skills to render professional service to customers.
Stock Associates: Stock associates stock out merchandise and unload deliveries from trucks. Their job includes visual merchandising and a few instances of customer interaction. Stock associates may have erratic work schedules. This entry-level job involves manual labor and is more suitable for those who can work with minimum supervision.
Store Managers: Store managers handle administrative tasks including inventory, payroll, and sales figures reporting. They also order merchandise and ensure store prosperity and growth. During peak hours, they may help their stock associates and sales associates in doing remedial tasks.
Shoe Designer: A footwear designer creates new, trendy designs and numerous sample patterns for men's, women's, and kids' footwear. He or she needs to have skills like attention to detail and accuracy. A footwear designer must be good at visualizing designs, and he or she should show excellent drawing skills.
Quality Assurance Specialist: A quality assurance specialist will monitor and record the results of processes or procedures in the manufacturing industries. All results are continuously compared to programmed expected ranges and aberration from expected outcomes, leading to corrective measures. A quality assurance specialist helps in error and defect prevention through processes or procedures monitoring.
Human Resource Representative: A HR representative is responsible for creating, sustaining, storing, securing, or discarding employee records. He or she assists in the administration, training and hiring processes. An HR representative should adhere to the rules and regulations implemented by the company. In addition, he or she must ensure that the company's practices comply with local, state, and national regulations.
Merchandiser: A merchandiser is responsible for organizing the products in the stores. His creativity in organizing the display help the store itself in enticing target customers. Also, he delivers educational materials for training newly hired employees. A merchandiser also teaches some sales techniques to regular employees.
Buyer: A buyer determines what items get to store displays, in catalogs or on the web. He does the footwork and research and creates deals to purchase products in huge quantities for the company. These items will be sold to customers or used in creating new materials or products.
Material Handler: A material handler works in the production facilities and warehouses to move items. His job includes ensuring that all production areas have stocks and products to accomplish orders and move finished products quickly. At times, a material handler works with automated machines and sensors in fulfilling the orders.
Logistics/Transportation Manager: A logistics/transportation manager organizes the distribution and storage of goods. He ensures that the products are distributed in a timely manner. Also, a logistics/transportation manager is involved in stock control, transportation, monitoring, and warehousing.
Famous Footwear Application
Interested applicants have two ways to apply for vacancies. They may visit the company's official website and apply. Or, they may visit the stores and submit their application in-person.
The company accepts online applications for any vacancy. However, walk-in applicants will have more chances of getting hired faster than those candidates who apply online.
Applicants should fill out the given application form. Personal details like contact number and email address should be provided. In this way, the HR manager can easily get in touch with them for the interview.
For CVs and cover letters, applicants must provide comprehensive details, especially about their work experiences. They must mention all their previous employers and each one should have a short but informative description.
Qualified applicants who will be called for interview should dress up in a casual-business attire. Wearing a pair of shoes bought from a Famous Footwear store will serve as a conversation piece. Also, it will help the applicants show their strong interest in fashion. To pass the interview, be ready especially for special questions related to customer service and sales.
Facts about Famous Footwear
The company believes that shoes are empowering them to take the succeeding step to be the leader in the industry. They support their associates in each step forward. They give value to creativity and customer service.
They created a rewards program to satisfy more their customers. Also, the company supports the March for Babies. The company is continuously looking for ways to give back to the community.
The company gains its reputation for providing high-quality products and unmatched customer service. They give value not just to their customers, but to their employees as well. They offer great deals for customers while their employees receive discounts and great benefits.
Famous Footwear is a national promoter of March for Babies, a special program intended for the unborn children. Every year, they collaborate with March of Dimes to support their program for premature birth prevention. Their funds come from their campaigns in the stores and corporate office.
Application Links
Company: www.famousfootwear.com
Careers: https://jobs.caleres.com/category/all-famous-footwear-jobs-jobs/3530/33687/1
Application: N/A