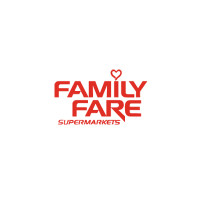 Owned by a company by the name of SpartanNash, Family Fare Supermarkets is a grocery store chain that was originally founded in the state of Michigan.  When shopping in any one of the stores owned by this company, you can expect quality customer service as well as the highest quality ingredients for your kitchen.
In 1966, co-founders Ron Kunnen and Don Koop began a journey into the supermarket industry and opened their very first store located in Hudsonville, Michigan.  Since that time, the company has added additional stores crossing three different states.  They continue to look for opportunities of growth, and have been able to maintain its success through multiple corporate reorganizations over the years.
As proud members of the communities that they operate within, the employees of Family Fare go the extra mile to provide friendly customer service while supplying fresh locally grown foods.  The confidence in the products that line the shelves in each of their stores is backed by their well-known "200% Freshness Guarantee".  If any of the items you buy do not live up to your standards, the store will refund the full amount spent.  Commitment to their brand truly shines through this program, as well as the overall company vision.
For all of your grocery shopping needs, Family Fare is ready to serve you and your family the best products available, from farm to table.  For ease and convenience to their customers, they also offer fantastic recipe ideas and price dropping coupons on the store website.
Family Fare Interview Questions
Why do you think our organization should hire you? Explain some benefits to hiring you that any employer would find valuable. This is the time to generalize. Why are you a hirable person? Explain that you are timely, diligent, dedicated, organized, competent, responsible, and/or good at what you do. Be honest in your answer, but don't use specifics this time. This should be an answer that is applicable for any position you are applying for.
What have you learned from previous work mistakes? This question is a good chance to express how you are able to grow from your experiences. While answering this question, offer an explanation of a situation where you made a mistake, but offer also an example of another situation where you avoided that same mistake, and were able to succeed.
Would you put the needs of the company above your own needs? Explain that you are willing to sacrifice time and energy for this position, but do not be overeager to answer this question too positively. Don't be willing to sacrifice more of your life than you have to. Your answer should allow you to appear committed to the position and willing to work hard, while at the same time expressing the self-awareness that some sacrifices are not worth the risk.
What sort of work have you enjoyed the most in the past? You can mention anything you'd like here, as long as it was positive for both you and the company. Express what you found fun about your previous work, as well as how you were able to channel that enjoyable and positive energy into being more successful. If you find lots of things fun, be sure to express this positivity, and put emphasis on your motivation to make things enjoyable, even if they are difficult and challenging. Indeed, it may be good to mention that you enjoy a challenge, if that is applicable to you.
Company Links
http://www.indeed.com/cmp/Family-Fare-Convenience-Stores