About Family Dollar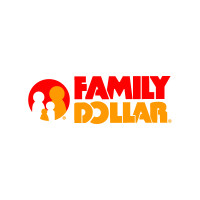 Family Dollar is a local neighborhood value retail store. Their goal is to provide items for all the needs of the family, while maintaining local neighborhood sized shops in nearby locations. Using smaller sized shops the chain focuses both on urban locales as well as smaller rural areas. They provide a wide range of goods both store brand as well as name brand, all aiming at a low-cost price point.
The first Family Dollar store opened in 1959 in Charlotte, North Caroline based on the idea of being able to offer low-overhead, self-service retail shops. Early on the innovation of the company was in creating uniform store layouts – allowing customers to recognize themselves in any shop and retail managers to focus solely on serving their customers.
Family Dollar employees many people across their 8,000 stores spread across almost all of the United States. They have reached both the S&P 500 as well as Fortune 500 indexes, being recognized as one of the leading local neighborhood retail outlets in the country.
Store Careers
Store Careers lie at the heart of the career opportunities offered at Family Dollar. Being part of the store work areas mean taking responsibility for all aspects of ensuring well-stocked, clean and well-managed stores. This type of career ladder starts at entry level with Customer Service Representatives, continuing to Assistant Store Manager and Field Specialist and finally Store Manager.
These roles all work within a single Family Dollar store. Progressing beyond the store level means taking responsibilities on a district and region level in District Management, Regional VP and finally VP. These roles work with several stores within one geographical area.
Career site for Store Careers: http://corporate.familydollar.com/Pages/storecareers.aspx
Distribution Center Careers
Working in one of Family Dollars 11 distribution centers, DC employees are responsible for ensuring timely re-stocking and deliveries to all of the retail chain's 8000 outlets. These careers offer a fast paced work environment where you are challenged to perform well both physically and mentally throughout the entire shift.
Career Roles include Shipping Loaders whose responsibility includes loading and accurately packing of shipping trucks, Bulk Order Fillers who manage the fulfilment of orders from stores and Forklift Operators who transport the packaged goods to the correct locations within the warehouse.
Career site for Distribution Center Careers: http://corporate.familydollar.com/Pages/distribution-center-careers.aspx
Store Support Center Careers
The central store support center is located just outside of Charlotte, North Carolina and is responsible for providing back-end services to all the stores and distribution centers in the Family Dollar Network. As a Store Support Center employee you develop the Family Dollar brand, its operations as well as ensure a strong infrastructure for all the stores and DCs.
The store support centers offers a wide variety of roles. Amongst the many varying careers in the support center there are roles in Human Resources, Finance, Corporate Communications, Information Technology, Loss Prevention Real Estate, Supply Chain and Legal.
Career Site for Store Support Center Careers: http://corporate.familydollar.com/Pages/homeofficecareer.aspx
Benefits offered at Family Dollar
Family Dollar offers matching contributions to 401(k) retirement savings plan. They also enable members to become part of a credit union for easy access banking services for savings and loans. When it comes to health and welfare, the store provides a series of options for their employees to choose from including medical, prescription, vision, dental, life insurance, short- and long-term disability as well as dependent care flexible spending accounts.