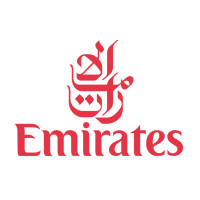 Emirates is a commercial airline based in Dubai in the United Arab Emirates.  It is the largest airline in the Middle East.  If you're interested in working in this industry you can find out how to apply for Emirates online by using the link below to see which locations are hiring and submit your Emirates application today.
The airline began officially in 1985 with help from many sources including the local royal family and the neighboring Pakistan International Airlines and has grown exponentially since then, becoming a major airline across the world.  The 3rd Terminal at Dubai Airport had to be built especially for Emirates to be able to cope with the demand.
The company is one of the few airlines to fly to all 6 of the inhabited continents.  The airline flies to over 140 different destinations across the world and particularly in Southeast Asia.  They also provide services for booking tours, hotels and other transport services at their destinations as well as expanding into other services such as catering.
The company also has a history of sponsoring various different sporting events.  It has sponsored events in Soccer, Rugby, Tennis, Motorsport, Australian Rules Football, Horse Racing, Golf and Cricket, diversifying its interests across the world.  Additionally it has become involved in many arts events such as music and film festivals.  Use the information below and apply online today.
Emirates Careers
There are a wide range of Emirates jobs based in their main hub in Dubai, but there are also numerous opportunities across many international locations.  These roles include Cabin Crew, Pilots, Baggage Handlers, Airport Technicians and other maintenance staff and Customer Service Agents.  Each job has very different specifications so be sure to check before you submit any applications.
In the corporate office there are a number of other general career paths, such as in the departments of Analysis, Finance, Communications, Marketing, Human Resources, IT, Project Management, Safety and Security, Strategy and Planning and Commercial.  There are also High School and College Graduate schemes although some of these are only for citizens of UAE.
How old do you have to be to work at Emirates?  You must be at least 18 years old or over to apply for jobs at Emirates.
There are many benefits to Emirates careers.  In addition to health insurance and pension schemes there are a number of perks that don't come with other careers.  Cabin Crew are provided with accommodation and a free ticket to their home country once a year.  There are also discounts on travel and hotels as well as attractive profit sharing schemes.
The airline operates 24 hours a day, 7 days a week.  Each role works in shifts and your working hours will depend on what position you apply for.
Job Descriptions & Salaries
Cabin Crew – Most of these jobs are located in Dubai in the United Arab Emirates.  The job description for a member of the Cabin Crew is to ensure the safety and comfort of the passengers.  You will need to learn all of the necessary safety procedures for flying as well as assist at check-in desks.  The starting pay is around $21/hour.
Pilot – There are often job opportunities for pilots with commercial experience with the company.  You will need to adhere to all safety and security policies and procedures when flying.  It's also important to deliver a high level of customer service as customers need to feel assured while flying.  The base salary starts at around $12k/month plus hourly flying pay.
Aircraft Technician – In this job your responsibilities will be to carry out all appropriate checks and inspections on the airplanes that are due to fly.  It is very important that you have very high standards.  There will also be other routine duties including refueling and carrying out quality checks on in-flight systems.  The pay is around $7000 per month.
Lounge Agent – Working in the Premium Lounge you will ensure that all customers who enter are given top quality customer service and have all of their needs and enquiries attended to.  There will also be administrative duties including producing reports and handling and monitoring stock levels.  The hourly pay is around $15.
Emirates Interview Questions
Once you've submitted your Emirates application, prepare yourself well for the interview by practicing some typical questions like these.
Why do you want to work here?  Don't just give a general answer about wanting or needing a job, they want to know that you want to work for them specifically and why you would fit in with the company culture. 
What do you know about the company?  They will expect you to have done some research about the company before you attend the interview or open day so make sure you've read up on their history.
Name some tourist attractions in this city.  Customer service is a very important part of Emirates jobs, so you will need to demonstrate that you can anticipate their needs.  When doing your research find out a couple of things to do in the city you're in.
What was the most difficult or stressful situation you came across in your previous employment? Be sure to end on a positive when you answer this question.  Explain what you learnt from the experience and what attributes you have that helped you handle the situation.
How would you handle an agitated customer?  It is important to be able to deliver excellent customer service while under pressure and to be able to diffuse a potentially tense situation.  Try to give an example from your previous employment when you have done this.
Advice For Application Process
By searching for Emirates jobs online you will find a list of their vacancies on the careers section of their website.  You will be required to create a profile and submit an Emirates job application online by filling in the online application form.  It's not possible to download a printable application for Emirates or apply in person with a resume.
You can submit a free application for any one of their open days that they run in various cities but you will need to make your own travel arrangements. There will also be a number of psychometric tests to be completed at the assessment days including situational judgment tests and personality questionnaires as well as group activities.
The assessment days are advertised on their website and other recruitment websites and are mainly for Cabin Crew but sometimes for other roles. For most other roles you can submit a direct application without attending an open day. The assessment day will usually involve an interview if you pass the initial phases, although it may be carried out the next day.
You'll be expected to do some role-playing activities to see how you would behave in certain situations. It's also a good idea to be able to answer questions about your experience in customer service.  For Cabin Crew be prepared also to bring pictures of yourself with you and to have measurements taken.
Also See:
Qatar Airways: For employment at Qatar Airways visit the application page.
Qantas Airlines: Visit the job application for Qantas Airlines to apply today.
Carnival Cruise Lines: See our guide for careers at Carnival Cruise Lines.
Southwest Airlines: Checkout the application page for work at Southwest Airlines.
Korean Air: For career opportunities, fill out the Korean Air online application.
Company Links
http://www.emiratesgroupcareers.com/english/
http://www.emirates.com/english/about/about_emirates.aspx