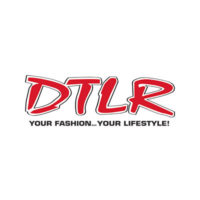 DTLR is a lifestyle retailer that deals in the latest, fashionable "street-inspired" footwear, apparel, and accessories. It is intended as a "one-stop shopping" store, with products that are mostly targeted to young urban males.
Founded in 1982 in Baltimore, the company was originally called "Athletic Attic", carrying sports apparel and footwear for urban athletes. Following initial success, it would later open other stores under the name of "Downtown Locker Room", to be shortened to DTLR in 2009.
After over three decades in business, DTLR has over 100 stores in twelve states plus Washington, D.C. A large fraction of these is in Maryland. It currently hires over a thousand employees.
Employees at DTLR enjoy a number of benefits. These range from product discounts to health/dental/vision/disability/life insurance, a 401K, vacation packages, and scholarship programs.
DTLR stores generally have a laid-back, relaxed atmosphere, and many employees talk of this as one of their favorite things about the job. Many also appreciate their co-workers and the links that they are able to form with the local community.
How Old Do You Have to Be to Work at DTLR?
The minimum age for the most common position – the sales associate – is 16. Some managerial positions may require a bachelor's degree, even though there is no official age limit.
DTLR Careers
DTLR is always hiring people to staff its stores. The three most common jobs by far are that of the sales associate, assistant manager, and manager. Other openings may become available from time to time.
Sales Associate. The foot soldiers of DTLR. As a sales associate, you will be in the stores, interacting with customers and giving them the best experience possible. You should field their questions, cashier, bag items, and assist with the reception/transfer of merchandise.
Assistant Manager. As an assistant manager, you must help supervise the store associates and to ensure that the customer has an outstanding store experience. Additionally, you should assist the store manager with hiring and with the daily planning of tasks and goals.
Store Manager. In this job, you are in charge of operating an entire DTLR store. You need to recruit associates and management candidates, ensure that sales and profitability are maximized, and evaluate performance issues so as to make proper adjustments.
District Manager. As a district manager, you are in charge of the several DTLR stores in your region. This means ensuring that all stores remain consistent with company policies, standards, and culture while at the same time maintaining their own unique community feel.
Marketing Department Staff. DTLR's marketing involves going out and interacting with the local community through local advertisements and social/charity events. As part of the marketing department, your goal is to coordinate these activities and to organize new events in a manner that maximizes DTLR's community presence.
Male Model. Model positions are usually not advertised openly. However, DTLR is always on the lookout for new talent to pose for its advertising campaigns and display the latest lifestyle outfits at fashion shows.
DTLR Radio Intern. Interning at DTLR's own radio station is a great way to get a better feel for the company's culture, in addition to having the experience of working in a studio. As an intern, you will assist with analyzing current music trends, preparing playlists, and working together with the radio jockeys.
Laborer. DTLR warehouses are in occasional need of laborers who can keep accurate loading records, operate a forklift (and other power equipment), and wrap/stage/load pallets. Keeping the work area clean and organized is also a must.
Footwear Buyer. The footwear buyer is charged with meeting planned sales and strategically purchasing merchandise so as to get the best possible results. He/she should also monitor the planned versus actual sales to identify trends and opportunities. Maintaining good relations with vendors is vital.
DTLR Writer. One of the important ways in which DTLR interacts with its customer base is via its blogs and newsletters, and the company is always interested in new and talented writers for this task. You should have a good understanding of DTLR culture and fashion, while being able to convey this in an engaging manner in your writing.
DTLR Application
There are several ways to apply to work at DTLR, but doing so through the DTLR website is easiest. Alternatively, you may call the work hotline at 1-877-DTLR-JOB. Those who are interested in becoming a street team (marketing) member or in modeling for DTLR are encouraged to e-mail the company directly at contactus@dtlr.com.
DTLR does not do printed, in-store applications. The best way to apply is by filling out an online application form on the company website.
Contrary to many employers, DTLR does not display the list of available positions first. Instead, you have to register and fill out a comprehensive profile, after which the relevant available positions are shown. The profile requires your basic information, your education history, and references from past employers (if applicable).
Certain positions may require you to send a résumé, in which case follow the old-age practice of presenting a professional document that highlights why you are suitable for the job. For most positions, the "résumé" is somewhat included in your online profile already.
When going for your interview with DTLR, remember that this is a company that is community-centric. Consequently, it is more keen on applicants who are already involved with the local community or would like to be. Furthermore, it is good to show that you work well in a team and have some understanding of fashion.
Things to Know About DTLR
DTLR has a strong urban community and hip-hop music culture, which is present in its events and in the store atmosphere. It has a strong neighborhood-approach, with each individual store run like an independent business.
Because of its neighborhood approach, DTLR does not garner huge national media attention the way big fashion retailers might. However, DTLR stores are often famous as community centers and event organizers in their locales.
DTLR is also well known for offering limited-availability merchandise from such brands as Nike and Brand Jordan. They have their own radio station, which plays both established and rising artists, and often host popular music artists in their stores.
In an effort to be good citizens, DTLR stores regularly contribute resources to local community development and encourage their employees to get involved in community service. They also sponsor book clubs and community sports camps, as well as raise money for charitable organizations.
COMPANY LINKS