Overview :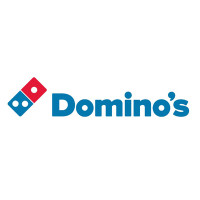 Domino's Pizza, Inc. which is more commonly known as the "Domino's" is a chain of restaurants based in America. Internationally, they are a well-known franchise for pizza delivery, having their headquarters at Michigan, USA.
History :
Initially, what was a small pizza store named DomiNick's, was bought by Tom Monaghan in 1960. With his brother, Tom bought the store for $500 taking a loan of $900. By 1965, Tom became the single owner and renamed the store to its current identity.
Wide-spread Menu:
The menu mainly consists of pizzas, pastas, sandwiches, American-Italian cuisine, wraps, chicken wings and desserts. Each category of serving offers a variety of options to choose from.
Expansion :
Domino's is the second-largest pizza chain in the US, and currently the largest chain in the world, with more than 10,000 stores around the globe in 70 countries.
Current Ownership:
Tom Monaghan sold the company (almost 93% shares), to Bain Capital, Inc. In 1999, the company appointed David A. Brandon as its Chief Executive Officer. But currently, the CEO is J.Patrick Doyle.
Innovations :
Introduced in 2008, the Pizza Tracker allows the customer to track their delivery. Also, in 2015, the Pizza Car was mobilized which had a live oven on board and could carry more than 80 pizzas at a time.
Activities of Charity:
Domino's set up a partnership with Make-A-Wish Foundation and gave away more than 12,000 pizzas in two years to the relief workers. Domino's has also helped raise and donate millions of dollars to the American Red Cross and other charitable trusts.
Delivery :
The company offers 30-minutes or free delivery option to the customers. Much to the satisfaction of the employees, there is no reflection of the delivery delays on their work payments.
Career At Domino's:
Here you get to search for the job vacancies available at your place and apply for it respectively. Also, the website describes the work environment and recognition that you could expect while working for them.
If you wish to apply then you can see additional information on Dominos application on their website.
Benefits of Working at Domino's :
While the pay is competitive, you get to enjoy paid training and holidays as well. The career progression is fast and recognized employees get awarded for the work.