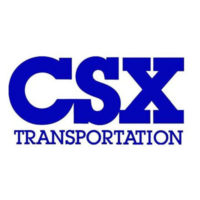 The history of CSX goes as far back as 1820, when the first carriers, still drawn by horses, had its beginnings. Over 190 years of being in business, this company knows what it is doing and where it is heading.
After years of John William Snow being at the head as CEO of this company, in 2017 Hunter Harrison was announced as the new chief executive. To date more than 34000 people work for this company.
The headquarters of CSX are situated in Jacksonville, Florida, and to date it owns an estimate of 34 000 km of rail.
The official company was started on 1 July 1986, when the combining of the chessie system and the seaboard system was finalized. The name has its origin from the combining of the two systems, chessie and seaboard. The X as part of the acronym represents nothing; it is just a place holder, as all the acronyms related to the business were already taken.
The main function this company fulfills is transport alternatives for different industries and different products. These products include coal, chemicals, metals, food, automobiles and agricultural products.
Safety is a big priority to CSX. They do all in their power to ensure the safety of the employees and their families, their customers and the community in general. For this reason regular physicals and drug tests are administered at random intervals.
How Old Do You Have To Be To Work CSX?
All the positions at CSX have a minimum age of 18 but the norm is 21. A National Diploma or GED Certificate is a prerequisite as well as having a driver's license. Most of positions provide training when you are accepted, so this is a great place to start and better yourself.
CSX Careers
Careers at this company are in a very wide range. Whether your interest is in the clerical area; mechanical; transportation; intermodal or even engineering or corporate you will find a job suited for you. There are also various internship programs you can apply for.
Field Clerk: This clerical position's job includes performing general office duties as well as transportation of the different crews. Some janitorial duties are also included; basically, anything anyone needs help with will fall in your department. A crucial part of your job is ensuring that all railroad rules and regulations are being met.
Janitor Messenger: This also falls under the clerical division. Your main function will be general janitorial duties. In the event of nothing pressing you will also be required to transport the crew and ensure safety regulations are met. You will also need to inspect the cars on track for correct positioning.
Assistant Signal Worker: This position falls under the Engineering division. It requires flexibility in time and most projects require travel away from home for extended periods of time. You will assist in installation, maintenance and repair of railroad equipment. It is important to know and enforce rules and regulations for safety. You will receive in service training.
Communications Maintainer Technician: This post in the engineering department will need you to take charge of communication equipment, both electrical and electronic. All maintenance, installations and repairs need to be kept up to standard. You will transport inventory to the different sites and be in charge of the stock control.
Chief Yardmaster:  This intermodal position requires fast working and thinking. You will need to make sure yard work is done timely and that all train cars are placed correctly and moved on the correct time. Supervision of all yard crew is also necessary and it will be your duty to ensure operations are within budget.
Intermodal Service Worker: You need to do whatever is needed and be wherever you are needed. This will ensure that you never have a dull moment. Your duties will include but not be limited to gate inspections, lift operations, holster driving and the securing of incoming and outgoing equipment.
Carman: This mechanical position includes the building, inspecting and repair of all rail cars. Compliance with all rules and regulations for safety needs to be ensured at all times. In combination with all the welding, painting and sandblasting you will also need to be able to operate cranes, forklifts and other car moving equipment.
Diesel Mechanic: For this job you fall under the mechanical division. The repair, inspection, maintenance and service of all the diesel locomotives will in your job description. As with all positions in CSX you will have to know and help with ensuring that all rules and regulations of safety are upheld.
Freight Conductor: This position in transportation mostly requires you to oversee general work flow of the yard. You will supervise the crews on the freight train and organize switch engine crews. Ensure all cars are in place for loading and unloading; all equipment on cars need to be checked before leaving; and constantly uphold your supervision of what is going on in the yard.
Longshoreman: In the transportation division the longshoreman is responsible for the operation, maintenance, repair and service of machinery. You will need to be able to operate electric and gas welders. In conjunction with the repair and maintenance of anything and everything you will also be expected to do general clean up duties.
Corporate: The corporate section incorporates the management of all the different divisions. If your interest is towards information technology, finance and accounting, human resources, marketing or sales this is the right division for you. Most management positions also fall under this division.
CSX Security Application
The application process at CSX is very easy and straight forward. All positions are on the official website and are updated regularly, so you can check regularly for new positions.
The easiest and most effective way to apply for a position is online. It is an online resume and very thorough. Unless you know someone who works there, and who is able to submit your resume to the correct person, I would suggest you rather follow the online application route.
Make sure all the information on the resume is correct, especially the contact numbers. Take your time when completing the application, nobody is looking over your shoulder, so relax and do it properly.
When you are invited for the interview, be calm, rested and professional. Make sure your appearance is pleasing, be clean and neat. Even if you are applying for a yard or manual position, for your interview you need to look professional.
No late parties the night before an interview, it will dull your mind if you are not fully rested. Rather save the celebrations for after you have been appointed in the position. 
Things To Know about CSX
This company fosters an environment of encouraging everyone to better themselves, by offering constant training and development courses. Training the employees also enhance their self-esteem and self worth, which brings positivity to the community and the company. If the employees better themselves, it will benefit the company in turn.
CSX is very involved in their communities and takes great effort in helping communities in need. Grants are given to community organizations to distribute fresh food and perishable products. With the On Track program some of the most poverty stricken and distressed communities are helped.
This is only a few of the community serving projects this leader in the industry is involved in.
One of the biggest concerns of this company is safety, in life, work and in home. They use the help of students to get their message across age and cultural barriers, educating everyone that 'safety is a way of life'.
COMPANY LINKS