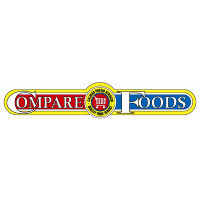 Compare Food is a chain of supermarkets with a presence in New York City, Long Island, Connecticut, Rhode Island, Massachusetts, South Carolina and North Carolina. They sell all the regular brand name products in a friendly, family oriented environment.
The food retail chain was originally started by the Peña family in 1978 in Woodside in Queens. When this first supermarket proved a success, they expanded across New York to Manhattan, Brooklyn, Bronx and other locations in Queens. In 1989, these initial retail stores were expanded into what became Compare Foods.
Compare Foods now has 14 supermarket stores and is known for its strong customer service and local connections. Compare Foods supermarkets engage with local non-profits, schools and clubs in order to give back to any community they are present in. They often cater to local specific local communities like Italian or Hispanic communities.
While Compare Foods doesn't provide a specific set of benefits to staff, however, several of the stores offer a 10% employee discount on all shopping. There are also local benefits offered in specific stores.
How old do you have to be to work at Compare Foods?
New York State Law requires that you are above 14 years old to work in retail and if you are between 14 and 18 years old you will need specific work papers prohibiting certain job tasks. You cannot – for example – perform certain deliveries. People enjoy working at Compare Foods because it offers a friendly environment and is – in comparison to other retail chains – family oriented and owned, with a decentralised management.
Compare Foods Careers
Customer Service Associate / Cashier: As a customer service associate or cashier your responsibilities include managing one of multiple check-out counters. You need to be good at customer interaction and continuously meet customers checking their wares out in a positive way. The job requires good stress tolerance as there are intensive periods when you need to handle a large number of customers. Hourly pay: $9-$10.
Deli Associate: Working in the deli means ensuring the proper presentation, packaging, and sales of fresh deli items. A good knowledge about the various types of deli items Compare Food sells is beneficial. Hourly pay: $8-$10.
Stocker: As a stocker you work in the back of the store as well as in the front, ensuring that the inventory is kept up to date and that new orders are placed as required. You also work in the aisles of the store ensuring that all shelves are continuously re-stocked and kept neat and presentable. Hourly pay: $8.
Front-end manager: The front-end manager is responsible for the entire front end of the store. This involves ensuring that the store is kept clean, neat and well-stocked. It also includes managing specific in-store promotions, handling front-of-store staff as well as tracking daily sales. Annual pay: $20,000.
Company Links