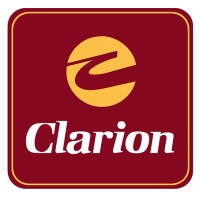 Clarion Hotel is a brand of hotels under Choice Hotels International, Inc. The brand has more than 250 locations across the United States and 33 other countries. Guests can expect restaurants, bars, 24 hour conference rooms, fitness centers, and pools. You can find a Clarion Hotel application link at the bottom.
Choice Hotels International, Inc. is a holding corporation to Clarion and hospitality companies Comfort Inn, Comfort Suites, Quality Inn, Sleep Inn, Cambria Hotels and Suites, Mainstay Suites, Suburban Extended Stay Hotel, Econo Lodge, Rodeway Inn, and Ascend Hotel Collection. It has over 6300 hotels across the world. You can browse job opportunities at their website, below.
Founded in 1939 as Quality Courts, Choice Hotels International now has its corporate headquarters in Rockville, Maryland, and its tech and ecommerce offices in Phoenix, Arizona. While no applications are available for employment at hotel locations online, corporate jobs and franchise opportunities are posted on the website below for those interested in working in the hospitality industry.
Clarion Hotel careers come with numerous benefits, and those in the corporate office enjoy subsidized childcare, massage, fitness classes and other educational classes, and more. Management listens to employees, and takes regular employee surveys. If you'd like to know how to apply for Clarion Hotel online, go to the website at the bottom for a free application.
Clarion Hotel Careers
Choice Hotels International has many corporate level careers listed online. Positions are available in Business Strategy, Property Systems, Information Systems, Finance and Accounting, Brand Performance, Marketing, Sales and Business Development, Franchise Services Operations, Franchise Growth, and more. You can visit the website to upload a resume or download application form.
There are many entry-level Clarion Hotel jobs available across the country as well, but you will not be able to see if your local branch is hiring online. Entry-level positions include Front Desk Clerk, Housekeeper, Bartender, Restaurant Server, Cook, Night Auditor, and more. You can go to the website below to find Clarion Hotels near you and get contact information.
How old do you have to be to work at Clarion Hotel? You must be 18 to work at Clarion Hotel. Most entry-level positions will require a high school diploma or GED, but some do not. The company actively recruits college students for internships. The Internship Program is offered in the summer.
Corporate careers with this company come with multiple benefits. Beyond the comforts that are offered at the corporate offices, employees receive 401k, insurance, paid leave for a variety of reasons, and hotel discounts. Among the more unusual offerings are pet insurance, and adoption assistance. Apply online for Clarion Hotel jobs at their website.
Clarion Hotel Job Descriptions
Analyst, Technical – As a Technical Analyst, you would identify customer business needs and translate them into practical applications in the IT department. You would need a bachelor's degree in computer science and engineering, or similar, and three years of experience. Expect a starting salary near $40,000/yr. with lots of room for growth.
Analyst, Digital Channels – A Digital Channels Analyst works as part of the marketing team. Responsibilities are to analyze and implement all of the digital marketing for the company. A bachelor's degree in marketing, or a related field, and two years of relevant experience is required. Starting pay around $70,000/yr. is typical for this position.
Specialist, Sales Support – As a Sales Support Specialist, you would work with a team to promote business to business support among the brands to grow the customer base. This position would require a bachelor's degree and two years of experience. See the website below for a printable application for Clarion Hotel.
Supervisor, Expense – The Expense Supervisor monitors all of the credit card activity and booking system activity, and provides customer service to staff and vendors. This position requires a BS in finance or accounting, and two years of supervisory experience. If you are interested in this career, visit the website for a detailed job description and a direct application.
Clarion Hotel Interview Questions
These are some questions you may be asked at your interview with this company.
What do you see as your strengths? This is a common question for an interviewer to ask. If it's hard for you to praise yourself, think of what you might say about a friend who has the same qualities. You won't need to say a lot, but be sure to emphasize strengths you have that would help you in the position you're applying for.
What are your weaknesses on the job? This question is harder to answer than the last one. Be honest, but be careful that you don't leave your interviewer with a poor impression of you. Talk about ways you could improve, so those things don't become a problem in your future position.
What do you think you can bring to this company? You know why you would like to work for them, but they need to know why they should consider you for one of their Clarion Hotel jobs. Think about the skills you have that would help you do your job.
Where do you see yourself a year from now? Some people stay in the same position working in the hospitality industry for many years, but there is a lot of room for advancement. Let your interviewer know if you are content to stay put, or have the ambition to move up in the company.
How do you organize your time? This question will tell your interviewer a lot about what kind of worker you'll be. You might even find ways to improve your time management skills by thinking about your answer. Go to the website below to view Clarion Hotel jobs online and fill out an application form.
Advice For Application Process
Careers in the hospitality industry are built around making people feel good. This company is looking for people who are welcoming to guests and in general. They also want employees who are innovative. You will stand out to them if you can demonstrate that you have these qualities. See the website below to get a Clarion Hotel application.
Another thing that will help you through the online application process is a thorough understanding of the hospitality industry, and of this company in particular. Take the time to research this company, and other hotels as well, before your interview. You will appear much more polished and feel more confident.
If you would like to apply for jobs at Clarion Hotel, go to the website below to get a printable application form.
Also See:
Baymont Inn And Suites: Visit the Baymont Inn And Suites application.
Fairfield Inn: Use the Fairfield Inn job application to apply here.
Holiday Inn: For employment at Holiday Inn visit the application page.
Renaissance: Checkout the application page for work at Renaissance.
Candlewood Suites: Checkout the application page for work at Candlewood Suites.
Company Links
http://www.choicehotelsdevelopment.com/#&panel1-2
http://careers.choicehotels.com/