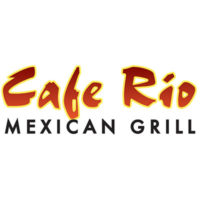 Café Rio is a casual-dining Mexican restaurant that offers fresh food on the "farm-to-table" model, making all the food products in their dishes onsite, from scratch. This includes making the tortillas where customers can watch.
The company was founded in 1997 by Steve and Tricia Stanley in St. George, Utah. They based their restaurant style on the motto "fresh food, made fresh". In 2004 the company was sold to Bob Nielson, who expanded the company outside of Utah.
They are now based in Salt Lake City, and have almost 100 locations in more than ten states. They've won over 100 awards, ranging from Best of City Search to the Alfred P. Sloan Award. They've won in the Oxnard Salsa Festival.
Full-time employees in both the restaurant and offices are offered benefits such as medical insurance, life insurance, stock options, 401K and vacation. Part-time store employees are not offered benefits, but get perks such as discounted food.
Employees say that what they enjoy about working there are the flexible hours. Most people also report making friends with their coworkers, which makes for a more fun work atmosphere. You get some holidays off, which is unusual in hospitality.
How Old Do You Have to be to Work At Café Rio?
For "front of house" positions, you must be at least 16 years of age. Kitchen crew and delivery drivers must be at least 18. Other positions don't have an age limit, but you must have experience. Being bilingual in Spanish is a plus.
Café Rio Careers
The following are some of the many careers that are available at Café Rio. Most stores cross-train so that someone who works front-of-house can work in the back if the need arises.
Cashier: A cashier rings up the customer's order at the register. You need to handle not only sales, but refunds and discounts as well. Café Rio requires you to be able to accurately count back cash to customers. You count out and verify your own cash drawer at the end of the shit.
To-Go-Cashier: Same duties as the main cashier, with a focus on the orders that are going out for delivery or are being picked up by the customers. Must be organized and detail-oriented, to make sure that the orders go to the correct customer.
Prep Cook: The Prep Cook prepares the kitchen for the day's work. This includes setting up the work stations and ingredients according to the prep list created by the chef. Keeps kitchen stocked during the shift, and labeling and storing ingredients safely.
Line Cook: Prepares food for service – chopping vegetables, preparing sauces, etc. Prepares simple dishes such as salads, as required by the executive chef (not many casual dining places have a chef, but Café Rio does). They ensure that the main and side dishes come out simultaneously.
Server: The server greets the customers when they come in, and answer any questions that they may have. They take their orders and communicate any special requests to the kitchen crew. When the order is ready they deliver the order. If there are any complaints or customer issues, they will handle it, or bring it to someone who can.
Dishwasher: A Dishwasher is responsible for cleaning all dishes, glassware, kitchen equipment including pots and pans, utensils, etc. They maintain the area, keeping it organized as well and clean and sanitized.
Lobby: Service Crew works in the lobby area of the restaurant, making sure that the customer area is clean, that areas like the drink station are fully stocked. Communicates customer needs or requests to kitchen crew if need be.
Tortilla Maker: Some stores have one designated tortilla maker, and some will assign one of the kitchen crew to run the machine for the shift. Almost all the dishes feature at least one tortilla, and the equipment is placed where the customers can watch, so this is a crucial position.
Delivery: The Delivery driver picks up to-go orders from the restaurant, and then delivers them to customers at external locations. You need to be able to lift and carry at least 50 pounds for this position, as well as being comfortable working in varying temperatures.
Expeditors: The Expeditor coordinates between the front and back of the house during the busiest times. They make sure that the oldest orders are picked up by the servers first, make sure all the dishes in a single order go out at the same time, and remind the kitchen of what dishes are coming up so that they'll be ready.
Shift Manager: The Shift Manager assigns the employee tasks for the day, and is in charge of opening and closing the cash drawers. Ensures customer satisfaction by supervising the restaurant to make sure all areas are running smoothly and efficiently.
Café Rio Application
To apply at Café Rio, you can search for jobs on their website or on job-seeking websites. On their site, you can fill out the information yourself or use your resume online; there is a separate link for each option.
You must apply online. The "Careers" link is right at the top, and it's very easy to search jobs in your location. There is a clear job description, so you can be sure that it's a position that you want to apply for.
If you don't already have a resume, it would be a good idea to write out your job experience and references ahead of time, so that you can move through the online application more quickly, and makes the process feel less frustrating.
In case you don't have any job experience, you'll want to list your relevant skills. If your attendance was very good in school, make sure that the hiring manager knows that you're reliable. You can go in to ask current employees for advice, if it's not busy.
Interview questions usually include "Tell me about yourself", "Why Café Rio", and sometimes "Are you willing to sing 'Happy Birthday' right now?" (this is something that is done for customers). Be prepared for a variety of questions, like "what does customer service mean to you?"
Facts About Café Rio
The culture at Café Rio states that they are dedicated to the way that their food is made, and the people who make it. They make sure the employees feel like a team, for successful customer service.
In addition to the awards mentioned before, they've been named by Sandelman and Associates as the #1 Mexican chain in the USA for customer satisfaction, seven years in a row.
The company is known for the freshness of the ingredients that they use in their food. They're locally sourced when possible. Even their drinks are made from scratch from fresh fruit.
Local restaurants offer fundraising options for communities that want to raise money for various charities or projects. You can even find a participating location on the company's website.
COMPANY LINKS