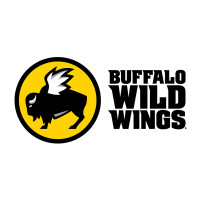 Buffalo Wild Wings is an American restaurant chain which focuses on creating a family-friendly sports pub environment. The menu items range from a delicious variety of burgers and sandwiches to their signature chicken wings which are available with over twenty different sauces ranging from mild to super spicy. The environment is laid back and casual with sports games aired on numerous television screens and fun music always playing in the background.
HISTORY
The company was started out of Columbus, Ohio in 1982. The two founders of the restaurant chain were Jim Disbrow and Scott Lowery. These two men formed their restaurant out of a desire to recreate the signature New York style wings they had both grown to love but could not find in the Midwest. The first location was opened near The Ohio State University and since its conception, the company has expanded to more than a thousand locations with intentions on expanding even further over the next decade.
CAREERS AVAILABLE
When looking at employment opportunities that are available, there are several options to choose from depending on one's eventual career goals. Entry level positions are available at restaurant locations all across the country and include jobs in the kitchen and in the front of the house. These positions would include the roles of servers, hosts and line cooks. For those who are more interested in management positions, there are options at restaurant locations as well as at the corporate level. Restaurant level management would include front of house managers, kitchen managers, and store managers while corporate level positions would include regional leadership and advanced human resources positions.
You can apply for jobs at Buffalo Wild Wings after reading our guide.
WORK ENVIRONMENT
The work environment is above all fast paced and casual. The ideal employee for this company must be able to handle large crowds of people while maintaining a fun and light atmosphere. Whether in the kitchen or in the front of the restaurant, one should expect noise and lots of people. However, while this environment can be stressful, it can also be a lot of fun because there is always a good sports game to view and fun new people to encounter.
PAY SCALE
The pay scale varies depending on the location of the restaurant and the position one is applying for. Servers will make significantly less per hour than cooks, but servers are able to earn tips which could far exceed the hourly wage of similar positions. As a whole, however, applicants can expect to be offered a dollar or so more than the minimum for their region. This does depend on experience as well.
INTERVIEWING
The interview process for entry level positions is usually semi-casual. There is no need to dress in a formal outfit, but the applicant should look presentable and well groomed. The most more important part of the interview process will be the relevance of the applicant's previous work experience in reference to the job he or she is trying to get. It is also important for the person being interviewed to adequately demonstrate how he or she can handle the kind of busy work environment that one will deal with.
BENEFITS
The benefits package for entry level positions is limited. The company does provide employee discounts and free lunch meals depending on the location and policies of the location one is working for. Benefits such as health care and retirement plans are only available for full-time employees and are slightly more expensive than other companies. However, compared with other restaurant chains, their health and retirement plans are within reason. Sick days and vacation time are also included in many benefits packages of different branches, but once again these are usually only available to full-time employees who have passed the probationary period.
PROFESSIONAL SUPPORT
The company provides excellent training and support structure for their employees. When executed properly, the training program prepares employees with the tools and product knowledge needed to effectively handle most situations that may arise during a given shift. The company has also laid out a fair chain of command and process for reporting grievances that can be utilized by employees when addressing disputes. The training program provided by the company is also an excellent way for entry-level employees to gain the experience needed for management promotions and possible pay increases.
SCHEDULING
As a restaurant chain, the company receives the majority of its business during lunch and dinner times. In addition, the amount of business tends to fluctuate depending on the day of the week with the busiest days being on the weekends and the slowest days being at the beginning of the work week. For this reason, applicants should have availability during most weekends and evenings. Applicants should also expect a flexible schedule that may vary in the number of hours from week to week. In addition, it can be more difficult to find coverage for missed shifts in a restaurant environment, so time off must be requested well in advanced and sick days should be used only during the most severe situations.
CHOOSING TO START A CAREER
If someone is trying to decide whether or not to apply for a position, there are three main questions that he or she should ask: 1) Am I able to remain calm in a fast-paced, high-stress environment? 2) Am I flexible in my availability? And 3) Do I have a strong work ethic? If the answers to these questions are yes, then the applicant is ideal for a career with the company. In the end, if the employee is patient and willing to work hard, there are promotional opportunities and the individual will be rewarded.