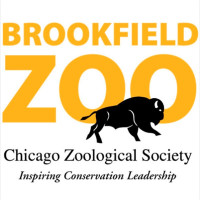 Located in the suburb of Brookfield, Illinois the Brookfield Zoo houses close to 450 species of animals and covers an area of 87 hectares. The zoo has gained international fame for the use of moats and ditches in place of cages in order to separate the animals from the visitors and other species. The zoo has a number of firsts to its credit – the 1st indoor dolphin exhibit and the 1st rain forest simulation exhibit in the world.
The zoo opened on 1st July, 1934 on a piece of land that was donated by Edith Rockefeller McCormick. Within a year of its opening, the zoo received more than one million guests. In the 1950s the zoo added a central fountain, a children's zoo and a veterinary hospital. It houses one of the largest indoor zoo exhibits in the world which has been designed by renowned French architect, Pierre Venoa. The zoo is managed by the Cook County Forest Preserve District and the Chicago Zoological Society.
The Brookfield zoo is famous for the water fountain which is named after the former US President Theodore Roosevelt. The zoo has achieved success in breeding sitatunga which is basically a type of antelope. The zoo employs close to 450 full-time employees and hires around 1200 seasonal workers.
The employees are offered choice of medical plans, vision plan, dental plan, USD 10000 life insurance at no-extra cost, disability insurance, day care benefits, choice of dependant life insurance, paid vacation and many more. The zoo also offers 8 paid holidays each year including your birthday! If all these seem exciting to you then you can join the Brookfield Zoo.
How old do you have to be to work at Brookfield Zoo?
You should be at least 18 years of age to work as a volunteer for Brookfield Zoo. But for zoo-keeping positions you need to have a Bachelors degree in biology or animal husbandry or zoology and/or relevant experience. Employees will enjoy the family friendly atmosphere and the fast-paced work environment.
Company Links
https://www.czs.org/Brookfield-ZOO/Careers