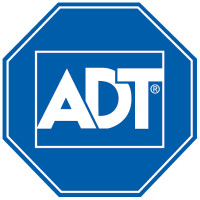 ADT is an American home and business security company headquartered in Boca Raton, Florida. The company name refers to American District Telegraph, the telegraph company from which the security business sprang. The company provides security services for over 6 million residences and business around North America.
The company works in several areas, including health, business security, home security, and automation solutions. Options for businesses include intrusion detection devices and video surveillance. The video surveillance is available in high definition and can be accessed remotely. Home options include these same security measures plus flood, smoke, fire, and carbon monoxide detection.  The health surveillance options are intended for elderly customers primarily and include fall detection alerts, help buttons, and GPS location. Automation solutions refer to the ability to manage business or home security systems from the owner's smartphone.
The company was first founded in 1866 when the president of the Gold and Stock Telegraph Company realized the capabilities to use the telegraph to quickly report burglaries. Fifty residences organized together, connecting their telegraph lines to a central station that could be monitored for alerts of a burglary. American District Telegraph officially formed in 1874 when several small telegraph companies merged. As the telephone stole business from the telegraph throughout the early twentieth century, the company shifted its focus to home security and fire alarm services.
The company's devices, installed in the homes and businesses of their customers, report back to the Customer Monitoring Center. If the center receives an alert, the customer and the police are notified. The service is running 24 hours a day, 7 days a week, hence the company slogan "Always There."
ADT Interview Questions
Do you know anyone who currently works for this company? Companies all take a different stance on this issue. Some companies offer bonuses to employees who refer other employees, while others don't allow family members or friends to work together. You may want to research the company policy or check in with the employee you know within the company. If you don't know anyone, then just tell the interviewer and they will move on.
Do you have any questions? Before going into an interview, you will always want to prepare a few questions you may have for the interviewer at the end of the interviewer. It is a good idea to write these down on whatever you brought with you to take notes. Good questions could be, "How soon are you looking to have someone start the job?" and "Are there any special assignments or jobs that I might be able to help on?"
What do you look for in a boss? There are a lot of ways to answer this question, but be sure to not get too specific. Some great qualities to answer with include upbeat, positive, fair, knowledgeable and easy to talk to. You can also say you would like a boss who is a great teacher. Most supervisors or managers will already have these qualities anyway.
How long do you expect to work for this company if you are hired? You will never want to give a specific length of time. You will want to say something to the effect of, "For as long as the company and I feel that we are productive together" or "I would like to be with this company for a long time." You would never want to tell an interviewer that this is a short-term gig for you.
Company Links
https://adt.taleo.net/careersection/external/jobsearch.ftl