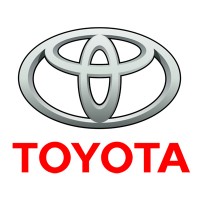 Toyota Industries was established in 1926 by inventor and industrialist Sakichi Toyoda, one of the fathers of the Japanese industrial revolution. The Toyota Motor Company in turn was founded in 1937 by Sakichi's son, Kiichiro Toyota, after extensive research and development into engine, battery, machine and automobile technologies by the original firm. For information on Toyota careers, to search for available opportunities, and to apply online, please click the Toyota application link below.
Built on a mission statement of providing highly valued and respected products and a highly satisfying ownership experience, Toyota today is one of the largest companies in the world, producing over 10 million vehicles annually. The company also directly employs over 300,000 employees worldwide, including over 39,000 American workers, with plants in ten locations across the country that manufacture 1.25 million vehicles a year.
The Toyota Way, the values and philosophy that guide all aspects of the corporation, is based on respect for people and a goal of continuous improvement, as summarized by five principles: Challenge, Improvement, Go and See, Respect, and Teamwork. These principles are the foundation of the organization's much-admired reputation for problem-solving, long-term thinking, and adding value by developing its people.
As a result of this vision, Toyota USA was named one of the Top 50 Companies for Diversity in 2014, a tribute to its mission to actively encourage respect, trust, and understanding among employees. This commitment to diversity extends to the over $1 billion of business conducted with minority-owned suppliers every year, and is part of what makes Toyota one of the best companies and employers in America.
Toyota Careers
A career with Toyota jobs can mean incredible opportunity for qualified individuals, and the potential to contribute to society in a meaningful way. The company's philosophy encompasses a strong responsibility to exceed the expectations of its customers, the industry, and its employees. Committed to a fair and diverse workplace, Toyota strives to have a work environment in which all employees are treated fairly and respectfully.
This corporate vision supports equal access to opportunities and resources so that every employee can contribute equally to team success, so joining Toyota also means joining its wide range of associated and supplementary groups and divisions. Ambitious and hard-working individuals can earn additional qualifications to improve their own skills and can find job opportunities at any one of a diverse range of departments.
Get Your Degree!
Find schools and get information on the program that's right for you.
Powered by Campus Explorer
How old do you have to be to work at Toyota? You must be at least 18 years old to apply for jobs at Toyota. For instructions on how to apply for Toyota online and to fill out the Toyota job application online, see the Toyota careers website. For information on required education, skills, certifications, and qualifications, please check the direct application for each position individually. (Currently there is no option for a printable application for Toyota, a printable application form or a download application form – all applications must be submitted online.)
Benefits of employment depend on the specific position, but may include: paid holidays, flexible work schedules, lease programs, volunteer community involvement programs, educational reimbursement programs, vehicle safety training programs, credit union membership, comprehensive health care plans, pre-tax spending accounts, competitive retirement plans, same-sex domestic-partner benefits, and on-site fitness facilities. See the link for Toyota jobs online for more information on.
Job Descriptions & Salaries
Credit Analyst – The credit analyst works with Toyota Financial Services to analyze and determine credit approval for dealership customers, and also directs and oversees credit investigators and contract analysts. The credit analyst uses established guidelines to make decisions on retail and lease offerings and is both accurate and efficient in providing service to dealership personnel. A B.A. or B.S. degree or equivalent experience is required, with preference given to candidates with qualifications in Finance or Accounting.
Service Parts Engineering Specialist – The parts specialist deals with the daily management of supplier and in-house parts, including quality approval, repair recommendation and technical analysis. The specialist must continuously review processes to solve problems and to develop control strategies, procedures and methodologies. A Bachelor degree in Engineering or equivalent is required, and Toyota technical experience is desirable.
Customer Service Team Leader – The team leader must coach and motivate, to ensure quality customer service and effective, efficient handling of communications, both with customers and management. Training, supervising, and evaluating staff and group performance levels is key, as is the ability to provide guidance on complex or sensitive issues. The position requires a B.A. or B.S. degree or equivalent, a minimum of three years' experience in customer service, proficient knowledge of Microsoft Office, and organization and interpersonal skills.
Engine Calibration Engineer – This engineer position requires working as part of a team to engage and lead engine development activities, such as the calibration of emissions, fuel, power, and vehicle performance. Responsibilities will include data collection, analysis and technical report generation, to help develop new products and procedures. A Bachelor's degree in mechanical, electrical, or automotive engineering is required, as are proven problem-solving skills, communication and leadership skills, motivation, independence, and reliability.
Toyota Interview Questions
Once you have completed the free application online, you may be called for an interview. It is always useful to properly prepare for an interview – the following are some common questions asked by interviewers.
Why do you want to work at Toyota? Be knowledgeable about the company, and the job you are interviewing for. Your resume is important, but enthusiasm and attitude also count for a lot in your Toyota application.
Do you have any related experience? Explain any work you have done in similar jobs or similar fields, this will make you more of an asset to a potential employer. If you do not have skills directly related to the position you are applying for, highlight any skills that speak to your general abilities and desirability as a worker.
What do you think is your greatest strength, as an employee? Don't be afraid to speak up about your best qualities, but be honest. This question is often asked by hiring managers who want to learn more about your attitude as a person, and how you will fit in with the other employees and the company culture.
Can you give an example about a problem you had at work, and how you solved it? Remember that the important thing here is how you handled the problem, not how it began. Did you need to rely on a manager or a superior to fix the problem? Are you someone who works to resolve issues with co-workers? Can you think creatively to solve a technical problem?
Where do you think you will be in five years? The answer to this question can show whether you are ambitious, open to new challenges, and willing to take on new tasks and responsibilities.
Advice for the Application Process
When filling out a job application form, be sure to read each question carefully, and to double check your spelling and grammar. Even small mistakes on an online application can show an employer that you are not attentive to details or not able to follow simple directions, so take the time to make sure everything is correct.
To apply for jobs at Toyota, you may be called for an interview. When preparing for an interview, wear sensible and appropriate clothing. For technical jobs, make sure your clothing is clean and neat and is not vulgar or overly revealing.
Business-casual clothing is a good bet for almost any junior management or entry-level position. For an interview for a management position, business attire such as dress shirts and ties, or modest skirts and tops, will always look good.
Prepare for the interview with Toyota jobs by practicing your interview conversation, anticipating questions the interviewer may ask and your responses. Read up on the company and the role responsibilities by looking at Honda jobs online so that you know what the interviewer is looking for. Interest in the company and knowledge about the job will show that you are going the extra mile.
The interview itself may be short, between 10 and 30 minutes.  Be relaxed, good humored and friendly, show a positive attitude. You do not need to be very formal, just conversational and polite. Be sure to ask about salary, job responsibilities, available benefits and opportunities for advancement.
Also See:
Molina Healthcare: For employment at Molina Healthcare visit the application page.
CVS: CVS offers opportunities for both, beginners and experienced roles.
Lamborghini: Visit the job application for Lamborghini to apply today.
AutoZone: See this page for jobs at AutoZone.
Meineke: For career opportunities, fill out the Meineke online application.
Company Links