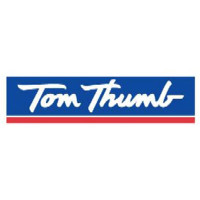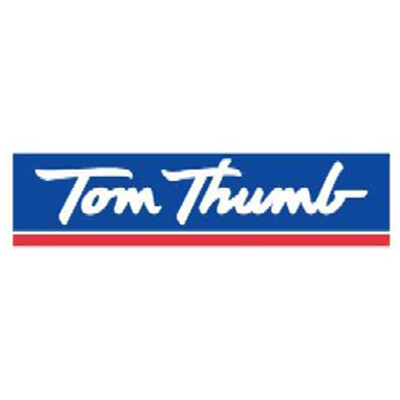 Tom Thumb is a regional grocery chain that mainly caters to neighborhoods in the Dallas and Fort Worth Metroplex areas. Today, they operate under the consolidated banner of supermarket brands owned by Albertsons Companies.
The grocer was established in 1948 by Dallas locals, J.R. Bost and Bob Cullum. Thanks to their local expertise, the chain grew to 20 stores within eight years and became one of the early pioneers of online grocery shopping.
Today, there are over 57 stores operating in North Texas as part of the Albertsons Southern division of supermarkets. They now contribute a crucial stake in Albertsons' store operations that serves over 265,000 customers nationwide.
Corporate and retail employees are rewarded with holistic compensation packages with major benefits that include but are not limited to medical and dental coverage, employee assistance, dependent support, career education, and a comprehensive 401(k) Employer Match Plan.
Tom Thumb fosters a working environment built on their philosophy of diversity and inclusion. The value and contribution of every employee is given due recognition, which allows for steady career growth and numerous advancement opportunities within the company.
How old do you have to be to work at Tom Thumb?
Interested candidates must be at least 18 years at the time of application to be considered for any of the positions. If applicable within a state, underaged applicants may have to secure working permits before they can be hired.
Tom Thumb Careers
As part of the Safeway brand, the company offers a wide range of careers under a retail, manufacturing, and corporate environment where you can also manage local supermarket brands aside from Tom Thumb. Here's a list of available job positions to expect from the company's extensive supermarket network:
Office Coordinator: A Office Coordinator is responsible for the management of all employee payroll and vendor related processes. Coordinators are expected to compile and generate reports covering compensation, taxation, benefits, and more. This role shall also provide administrative, clerical, and customer service assistance whenever necessary.
Order Selector: An Order Selector is in charge of the day-to-day routing and receiving of all merchandise to be stocked and shipped to designated stores. This role requires one to apply merchandise selection, shipping, receiving, and inventory management procedures in according with warehouse and proper safety guidelines.
Plant Office Assistant: A Plant Office Assistant is responsible for the coordination of all transportation and vendor purchases made by a designated division. This role shall be tasked with general buying duties in accordance with departmental requirements.. If requested, shall be expected to assist with administrative and clerical support within their department.
Cashier: A cashier is responsible for all front-end transactions between the store and direct customers. This position shall conduct customer service methodologies in accordance with customer expectations and company guidelines. Cashiers are also expected to provide clerical and administrative support within their respective store.
Production Scheduler: A Production Scheduler is mainly responsible for creating and reviewing production timelines in relation to production specifications, manpower, and plant capacity constraints. This position will provide direct support to the Production Manager for the planning and implementation of designated production schedules.
Payment Services Specialist: A Payment Services Specialist is responsible for POS payment and support processes. This position is expected to resolve payment disputes, check discrepancies, ACH updates, and other customer inquiries in a professional manner. The specialist shall also assist with administrative and clerical tasks related to customer service and banking.
Inventory Control Specialist: An Inventory Control Specialist is responsible for the monitoring of merchandising inventory in accordance with store demand. The specialist is in charge of implementing consolidations or transfers of stock and generates inventory reports on a timely basis for general use across retail departments.
Store Clerk: A Store Clerk is responsible for performing administrative and clerical duties in specific store sections according to a routine schedule. Clerks are expected to be aware of all product selections and order processes for the goal of providing superior customer service to store patrons.
Accounting Coordinator: An Accounting Coordinator is responsible for managing the company's service, profit, inventory, and labor accounts in accordance with approved company practices. This position will be tasked to process necessary adjustments and reconciliations for specific cases including but not limited to verified claims on damages, allowances, accruals, and wages.
Assistant Store Manager: An Assistant Store Manager is responsible for the supervision of specific store sections and ensures that proper store processes are performed in accordance with company guidelines. Assistant managers shall also develop and implement strategies to drive merchandise sales within the assigned store.
Tom Thumb Application
You can visit their official career page to see all of the open positions in supermarket locations across Dallas and Fort Worth. To apply, you can  upload your resume through their job portal and wait for an interview schedule.
The company also accepts direct applicants. You can submit your resume to the recruitment division of your preferred branch and confirm if there are any suitable openings.
For entry-level positions, applicants are encouraged to visit their preferred work locations. Recruiters tend to value candidates depending on their aptitude for customer service over credentials. Walk-in applicants are sometimes interviewed on the day itself, so be prepared.
While most positions require a high aptitude for customer service, prior experience in the retail industry is generally not required. Increase your value instead by highlighting relevant work experiences and activities you've done in the past few years.
Qualified applicants can expect an interview within two weeks from the time of application. Hiring managers will primarily assess you based on your aptitude as a retail employee. Work on your communication techniques to raise your chances of getting hired.
Things To Know About Tom Thumb
Tom Thumb stays true to its roots as a local grocery by treating customers as if they were their own neighbors. They continuously improve the quality of life in the neighborhoods they serve by providing great products at fair prices.
The company was recently operating under Safeway's lifestyle concept until the latter became an official subsidiary of Albertsons in 2015. Of note, current branding efforts are now realigned with the traditional guidelines of the Albertsons Southern Division.
The company is known for their sustainability efforts encapsulated through four core elements— product, community, people, and planet. These initiatives are prominently manifested by their sustainably-sourced products and award-winning programs relevant to environmental conservation and community empowerment.
Supported by decades of retail success, the company has also been contributing to national advocacies in human services, breast and prostate cancer, persons with disabilities, hunger reliefs programs, as well as youth education.
Application Links
Company: http://www.tomthumb.com/
Careers: http://www.careersatsafeway.com/
Application: N/A