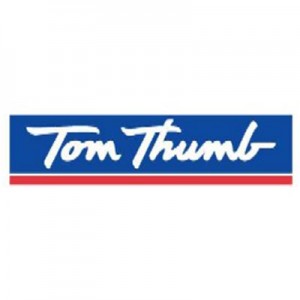 Tom Thumb is a grocery and pharmacy chain, founded in 1948 by two friends in Dallas, J.R. Bost and Bob Callum, who had family roots in the grocery business. Starting small, their goal was to provide the best shopping experience possible by consistently improving selection, quality, and service. A Tom Thumb application link is below.
Founder Bob Callum innovated in the 1950s including housewares, and health and beauty products to the grocery chain. Over the years, the company expanded to bring in Hinky Dinky stores in the Midwest, Pantry Market stores in California, and Simon David stores for specialty gourmet foods. The inclusion of Page Drugs enabled both food and pharmaceutical products to be purchased in the same store, a great advantage for savvy customers.
Today, Tom Thumb locations can provide everything from gas to medicine to delicious deli items. Fresh produce, quality meats, packaged foods, and wine, beer and spirits are all available. Specialty foods and gourmet meals are a favourite of its Lifestyle stores. Gas reward points cards and the Good Neighbor program mean savings for customers and valuable contributions to community programs.
Tom Thumb, in partnership with parent company Safeway, employs over 138,000 people, providing a healthy work environment for all staff members through its focus on diversity. Employee resource groups work particularly to connect with and support all employees, including: women, African-Americans, Asian-Americans, Hispanic-Americans, LGBT persons, single parents, new families, military veterans, families caring for elderly or special needs members, ecologically-conscious individuals, and multiple generations of workers.
Proudly local, Tom Thumb remains true to its community values, by promoting diversity and inclusiveness in both its staff and its vendors. It is also dedicated to sustainable industry through energy and water conservation, zero-waste initiatives, and fuel efficient transport. Through their Good Neighbor Program, Tom Thumb has contributed over $14.7 million to local charities since 1996.
Tom Thumb Careers
Tom Thumb is always hiring quality people to join its corporate and management teams, for roles such as store and pharmacy management, distribution and warehouse management, and corporate and office support positions.  To apply online for jobs at Tom Thumb, please visit the "Careers" page on the company website to find opportunities and to submit a resume.  (Currently, a download application form or a printable application form for Tom Thumb is not available.) Note that job opportunities may vary at different locations.
Entry-level and mid-level positions include roles such as cashier, stocker, baker, driver, and warehouse staff. These positions offer competitive wages with opportunities for advancement for hard-working individuals. Internship programs, college programs and military transfer programs are all part of Tom Thumb's aim to hire the best people and be a world-class employer. Follow the "Careers" page on the company website for information on how to apply for Tom Thumb online and to submit a direct application.
Get Your Degree!
Find schools and get information on the program that's right for you.
Powered by Campus Explorer
How old do you have to be to work at Tom Thumb? In order to qualify for employment at Tom Thumb, you must be at least 14 years old, though some positions require you to be older. Tom Thumb application forms will include any age requirements as well as any physical requirements or other needed qualifications.
Tom Thumb jobs offer many advantages to its employees, such as good wages, a supportive and inclusive work environment, health and wellness incentive programs, resources groups for diverse types of individual, career skill transfer programs for veterans, and leadership programs to foster learning and training. Benefits such as health, dental and vision care, life insurance, 401k investments, and vacation and sick pay, are offered for all non-retail employees. Benefits for full-time retail employees may vary by location, and part-time retail employees may be eligible for benefit programs as well.
Work hours may vary by site and job type. Office roles, retail front-line roles and warehouse and distribution roles may have very different schedules. Shift work and flexible hours may be available, and overnight work for roles like store stock, manufacturing and transport may also be an option. Check the requirements carefully for any position when filling out job applications.
Tom Thumb Job Descriptions
Grocery Store Manager – The store manager is responsible for the operation and management of the store, including store direction and company policy. The manager must supervise and coordinate the food managers, stock managers and night managers. The manager is responsible for maintaining stock and merchandise and meeting preset goals of labor, sales, and productivity. The care of personnel care and the training of new staff is also required.
Cashier – Cashiers must have excellent customer service skills, dealing face to face with customers throughout their shift. Cashiers must handle groceries, scan merchandise, weigh produce, remember and enter product and price codes, operate electronic cash register and process payment transactions, correctly count received cash and change, clean and stock the register area, bag groceries, and correctly process register transactions such as payments, refunds, coupons, and discounts to reconcile the cash drawer at the beginning and end of each shift.
Warehouse Worker – Warehouse work is physically demanding, with essential job functions including lifting up to 100 lbs., bending, walking, stooping and standing. The worker is responsible for selecting and palletizing merchandise for shipment to retail stores. Previous warehouse experience with an excellent safety record is a requirement, as well as familiarity with an electric jack.
Courtesy Clerk – Courtesy clerks are the heart of a retail store, interacting often with customers and helping to maintain the store in top condition. Responsibilties include bagging groceries, helping to load groceries into carts, performing price-checks, helping to maintain the cleanliness of the store, retrieving carts from parking lots, and assisting customers with their shopping.
Tom Thumb Interview Questions
Once you have completed the free application online, you may be called for an interview. It is always useful to properly prepare for an interview – the following are some common questions asked by interviewers.
Why do you want to work for Tom Thumb? Be knowledgeable about the company, and the job you are interviewing for. Enthusiasm and attitude counts for a lot.
Do you have any related experience? Explain any work you have done in similar jobs or similar fields, this will make you more of an asset to a potential employer. If you do not have skills directly related to the position you are applying for, highlight any skills that speak to your general abilities and desirability as a worker.
What do you think is your greatest strength, as an employee? Don't be afraid to speak up about your best qualities, but be honest. This question is often asked by interviewers who want to learn more about your attitude as a person, and how you will fit in with the other employees and the store culture.
Can you give an example about a problem you had at work, and how you solved it? Remember that the important thing here is how you handled the problem, not how it began. Did you need to rely on a manager or a superior to fix the problem? Are you someone who works to resolve issues with co-workers? Can you think creatively to solve a technical problem?
Where do you think you will be in five years? The answer to this question can show whether you are ambitious, open to new challenges, and willing to take on new tasks and responsibilities.
Advice For Application Process
When filling out a job application form with Tom Thumb careers, be sure to read each question carefully, and to double check your spelling and grammar. Even small mistakes on an online application can show an employer that you are not attentive to details or not able to follow simple directions, so take the time to make sure everything is correct.
When preparing for an interview, wear sensible and appropriate clothing.  For retail store jobs, make sure your clothing is clean and neat and is not vulgar or overly revealing. Business-casual clothing is a good bet for almost any junior management or entry-level position. For an interview for a management position, business attire such as dress shirts and ties, or modest skirts and tops, will always look good.
Prepare for the interview with Tom Thumb jobs by practicing your interview conversation, anticipating questions the interviewer may ask and your responses. Read up on the company and the role responsibilities by looking at Tom Thumb jobs online so that you know what the interviewer is looking for. Interest in the company and knowledge about the job will show that you are going the extra mile.
The interview itself may be short, between 10 and 30 minutes.  Be relaxed, good humoured and friendly, show a positive attitude. You do not need to be very formal, just conversational and polite. Be sure to ask about salary, job responsibilities, available benefits and opportunities for advancement.
Also See:
IGA: Use the IGA job application to apply here.
Smart & Final: For employment at Smart & Final visit the application page.
Raley's: See our resource page for more information on Raley's careers.
Tops: Use the Tops job application to apply here.
Harveys Supermarkets: Visit the job application for Harveys Supermarkets to apply today.
Company Links
http://www.careersatsafeway.com/
https://www.safeway.apply2jobs.com/ProfExt/index.cfm?fuseaction=mExternal.showSearchInterface