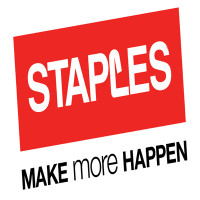 Staples is known for having a wide assortment of office products and their goal is to make shopping as easy as possible while helping their customers save money in the process.
The company was founded by Tom Stemberg back in 1985. He realized there is a need for a supermarket that sells office products when he needed a replacement for his typewriter ribbon during a holiday and a weekend.
Staples has received numerous recognitions for sales and customer and community service. The company is committed to protecting the environment as well as the people in the local community. They do this by sponsoring programs as well as giving donations.
Employees are Staples' most important properties and they take care of their people by providing training, compensation, and benefits that compete with top companies in America. From life insurance, to health coverage, to 401k funds, Staples have got their employees covered.
Career growth is the main focus of Staples when it comes to the advancement of their people. They recognize potential and train people for positions that best suit their current skills. Employees are encouraged to collaborate with each other in order to come up with ideas that will benefit the company, the employees, and the customers.
How old you have to be to work at Staples?
Depending on the position being applied for, employment at Staples require the applicant to be at least 16 years old. Some stores, however, are known to prefer those above 18 years old since some of the tasks may include working late nights, driving a delivery vehicle, or operating specialized equipment.
Staples Careers
Staples has requirement for people who want to be involved in digital solutions, supply chain, sales, retail, and corporate. Here are some of them.
Inventory Specialist: The Inventory Specialist is tasked to maintain efficient and accurate inventory controls for return to vendor, zero balance, return to warehouse, online reservations, and cross channel reservations. He or she must be able to respond resourcefully to concerns and requests coming from the customers. The position also requires basic selling skills in order to properly present solution and engage customers.
Sales Associate: The Sales Associate's responsibilities include delivering excellent customer service, processing efficient and accurate sales and return transactions. He or she should be able to perform front end tasks such as returns, cashier, and reserving items for customer pickup. The position also calls for multitasking on sales and merchandising responsibilities.
Delivery Driver: The Delivery Driver's responsibilities include loading and organizing product delivery by using the manifest to assure efficient delivery schedule and route. The products should also be delivered following the customers' requirements and that it should be received and signed off properly. He or she is also tasked to accept product returns from the customers and returning it back to the warehouse.
Office Furniture Installer: The Office Furniture Installer is tasked to load furniture onto the truck and deliver it to the customer, complete the installation or assembly of the furniture by following the installation specifications, and make sure the product is operable according to the guidelines set by the manufacturer.
Software Engineer (Data Mining): The Software Engineer's responsibilities include discovering information hidden in huge amounts of data in order to help the business in making smarter decisions and delivering better products and services. He or she will be applying doing statistical analysis, data mining procedures, and evaluating other technologies to be used in customer projects.
Active Directory and Messaging Services Engineer: The position calls for someone who will be able to show technical expertise in support of Staples application architecture which include Office 365, Microsoft Active Directory, and Exchange 2010. Collaboration with members of the project team and key stakeholders in scoping out projects is also required. He or she must have in-depth knowledge of information technology technologies, best practices and architectures as well as new and emerging technologies.
Pricing Analyst: The Pricing Analyst is responsible for product pricing and selection for all the bids proposals while maintaining efficiency and accuracy. He or she will manage and develop catalogue database of the competitors, assist and educate sales on pricing strategy and models, and ensure that sales margins fall in the prescribed levels as far as acquisition opportunities are concerned.
Service Order Coordinator: The Service Order Coordinator will be working with the leadership and sales team while complying with service agreements. He or she is expected to provide installation and service project management and act as lead between service partners, customers, and sales, to tap potential growth opportunities.
Account Consultant: The Account Consultant is responsible for establishing partnerships with high potential customers which is through regular personal meetings with the aim to drive sales growth and ensure that these customers are retained in long term. He or she will execute long and short term strategies to increase sales.
Warehouse Associate: The Warehouse Associate is tasked to facilitate customer orders in a timely and accurate manner, be involved in all physical inventories of the store, and perform housekeeping in the assigned areas. These tasks must all be done while adhering to the safety procedures and company policies.
Staples Application
Application can be done by going personally to the store or doing via the Internet on their Careers page. There is a wide variety of job openings available.
Applicants can go through the application by going to the Careers page and choosing the position best suited for them. Or they can opt to go to the store and inquire about job openings.
When filling the application form either online or in-store, the applicant should put in all necessary details for the application to be processed properly.
Put in all relevant experience in the resume for the application to stand out and be noticed by the applicant screening panel.
Be prepared for an interview when called in to the store. Come in business attire and prepare copies of the resume.
Facts About Staples
Staples' goal is to help people work better by providing them with solutions through industry-leading products. Employees treat each other as family and collaborate to make the workplace even better.
One of the most recent and most important changes in Staples is naming Sandy Douglas as its new Chief Executive Officer succeeding Shira Goodman by April 2, 2018.
Staples is known for providing high quality office products coming from the best suppliers around the globe.
Staples cares about the environment and the community and has held programs like encouraging better flu protection, donating to community projects and causes, and other social acts.
Application Links
Company: https://www.staples.com/
Careers: https://careers.staples.com
Application: N/A