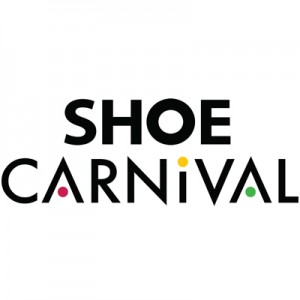 Shoe Carnival is one of the leading family footwear retail companies. It has a variety of affordable name brand and private label casual and athletic shoes. It also sells accessories including shoe care items, socks, and handbags. There is an energized environment in each store due to the upbeat music playing and the contests and games that take place. This provides a unique shopping experience for the customer.
The first store was called Shoe Biz and was opened in Indiana by David Russell in 1978. It quickly gained popularity because of its creative sales approach. Russell had a vision to create a sales environment that people would consider fun. His idea was successful, and by 1984, his company had expanded to three stores and was generating $8 million in sales each year. By 2010, Shoe Carnival had expanded to 314 stores in thirty states. Currently, there are 396 stores in 32 states and Puerto Rico.
In support of Breast Cancer Awareness Month, it is selling pink wristbands for $1 each in every store in the United States to raise money for breast cancer research. It partners with organizations to help local communities, such as distributing new shoes to children at an early childhood education center.
Shoe Carnival Careers
Employees like that the management ensures the atmosphere is fun and enjoyable. It is a friendly environment, and employees get along well with their co-workers, forming supportive teams. They also like that the company is fast-paced and changes a lot, providing fun challenges. Management is very open to ideas and implementing changes. Their guidance encourages  creativity and produces strong work ethic. They work hard to make sure that policy and standards are practical while still ensuring quality.
Hours vary at the different locations. A common range of hours is 10 AM to 9 PM on Monday through Friday, 9:30 PM to 9:30 PM on Saturday, and 11 AM to 7 PM on Sunday.
How old do you have to be to work at Shoe Carnival? You must be at least 18 years old to fill out the application form.
The company is looking for friendly, diverse, talented people who have a positive attitude and are outgoing. You should love serving people and being hands-on in selling, and having a passion for shoes would be helpful. You should also be focused, creative, and talented. Being fun and spontaneous would also be advantageous because you will be expected to surprise customers with games and other fun events on a daily basis.
Get Your Degree!
Find schools and get information on the program that's right for you.
Powered by Campus Explorer
For many positions, no experience is required. For leadership and management roles, specific experience in customer service, the shoe industry, retail, etc. may be required. The various requirements are described in detail on each job listing.
The average hourly salary for some common positions includes:
Sales Associate – $7.81/hr, Cashier – $8.05/hr, Mic Person – $8.67/hr, Department Lead – $8.68/hr, Floor Supervisor – $11.57/hr, Loss Prevention Specialist – $12.97/hr
The average annual salary for some common positions includes:
Floor Supervisor – $25,050, Merchandiser – $32,000, Store Manager – $35,828, General Manager – $45,939
Eligible employees in Shoe Carnival careers receive the following benefits, among others:
Competitive Pay, Performance Bonuses, Discount Employee Stock Purchase Plan, 401(k) Program with Employer Match, Medical Plan Choices for Full Time Associates, Medical Flexible Spending Account, Dependent Care Flexible Spending Account, Life Insurance to Full Time Associates Enrolled in the Medical Plan, Accidental Death and Dismemberment Insurance, Long-Term Disability Insurance for Full Time Salaried Associates, Paid Time Off, Paid Holidays, Employee and Family Merchandise Discounts, Relocation Programs, Career Development Programs, Corporate Fitness Rates
Shoe Carnival Job Descriptions
Shoe Carnival jobs exist at three levels of the organization: retail, at the corporate office, and at the distribution center. There are opportunities for both part-time and full-time careers with flexible hours.
Retail Opportunities
Floor Supervisor, Store Manager, Assistant Manager, Sales Associate, Cashier, Mic Person, Loss Prevention Specialist, Department Lead
Corporate Opportunities
Associate E-Commerce Photographer
Buyer's Assistant, Marketing, Human Resources, Merchandiser, Oracle Developer/Analyst, IT Help Desk Representative
Distribution Center Opportunities
Processing Clerk, Reach Truck – Order Picker, Shipping/Receiving Clerk
Future Career Growth
The company is proud of the fact that it promotes from within. 100% of its General Managers and 91% of its Regional Managers have been promoted from lower positions. The managers assist in getting employees promoted into higher positions within the company when such job opportunities arise. Nearly everyone in upper levels of management has worked in one of the stores in a retail position at some point, so they know what it takes to move up the ranks. Furthermore, they are well-equipped to train and develop the team members that they lead.
Shoe Carnival Interview Questions
After applying to Shoe Carnival jobs online, you may receive interviews that follow up on your applications. In order to present yourself in the best possible light, dress nice and don't be shy. The interviewers will want to make sure that you can handle interacting with customers and being friendly on a daily basis. Answer questions honestly and concisely after giving them some thought.
Some of the questions you might be asked during interviews for employment in Shoe Carnival jobs include:
Describe a productive day.
How do you see yourself with this company in the future?
What would happen if you had a problem with a customer?
Explain a situation where you had to deal with an irate or irrational customer.
What is your philosophy towards work?
What have you done to improve your knowledge in the past year?
How do you expect to make a difference at our store?
Do you prefer working in a team environment or alone?
How would your references describe you?
What are some of your weaknesses?
Give me a reason to hire you from a specific performance at your last company.
After your interview that follows up on your online application, you will be notified if you got the job or not.
Advice For Application Process
There is not a printable application form, and you cannot download the application form. Since there is no printable application for Shoe Carnival, you must apply online with a free application. You are only able to submit a Shoe Carnival job application online for positions for which the company is currently hiring.
If there are no current part-time or full-time positions that interest you, you are encouraged to check the Shoe Carnival careers page often because it is updated regularly with new openings. You can send a Shoe Carnival application to as many positions as you would like.
How to Apply for Shoe Carnival Online
When you want to apply for jobs at Shoe Carnival, you first go to the careers page. From there, you can click "Apply Now" underneath whichever category interests you: retail opportunities, corporate opportunities, or distribution center opportunities.
Retail Opportunities
When you go to the Shoe Carnival application page for this job type, you will be required to enter your language, zip code, and desired distance. From the list of locations that show up, choose the ones that you want to be considered for, and click "Go." This will show you a list of current positions for that location.
You will then be asked to select a location where you would like to work. Once you have selected the location, you will be asked to create an account on the website to register as a member. Once you provide all your personal details, you can view the available jobs in your selected location. When you find an opening that matches your interest and experience, you can then apply for it.
Corporate or Distribution Center Opportunities
When you click "Apply Now" for either one of these categories, you will be taken to the same careers page showing you a list of current positions in the Corporate Office and Distribution Center. You can click on each of these available positions to read the job description. The primary duties and responsibilities are listed, as well as the requirements and abilities needed for each position. If there is a position that matches your interest, click the "Apply Now" button to fill out a direct application for that job.
There, you can review the corporate and managerial jobs available at the company and apply. You will simply have to provide your resume in order to apply via this site, so make sure your resume is updated and ready.
If you are passionate about shoes, Journeys and Foot Locker are other stores where you should consider employment. Journeys is the leader in teen specialty retail shoes, clothing, and accessories. It has over 800 stores in all 50 states, plus Puerto Rico and Canada. It caters to customers who are 13 to 22 years old by keeping up with new trends and styles. While Journeys leads in teen retail, Foot Locker is a global leader in athletic shoes and apparel. It provides products for activities including basketball, running, and training. It has 1,911 stores in 21 countries including the United States, Europe, Canada, Australia, and New Zealand.
Also See:
Elizabeth Arden: For employment at Elizabeth Arden visit the application page.
Famous Footwear: See our resource page for more information on Famous Footwear careers.
MAC: See our guide for careers at MAC.
24 Hour Fitness: Checkout the application page for work at 24 Hour Fitness.
DSW: See our resource page for more information on DSW careers.
https://www.youtube.com/watch?v=tWsoX4CcZP8
Company Links
http://www.shoecarnival.com/careers