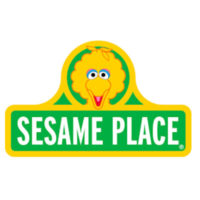 Sesame Place is a family friendly Sesame Street themed theme park and water park. The business is rooted in the customer service and entertainment industries, and has been said to be highly educational, as well.
The company was founded in 1980 by SeaWorld Entertainment. The park was originally 3 acres in size but has since expanded to 55 acres. It has four dozen rides, play areas, and shows. It is said to be planing on expansion and opening a new park.
It has 1 park outside of Philadelphia, Pennsylvania and was named one of USA Today's Best Amusement Parks in the United States for 2017.  Employees at the park have been awarded with Guest Excellence and Hospitality Leadership awards during Bucks County's Travel and Tourism Week.
Sesame Place provides benefits to its employees. All employees receive free admission, complimentary tickets, friend and family passports, and discounts. Both part and full-time employees are given tuition reimbursements and paid time off. Full time employees also receive pet, health, and life insurance, as well as access to the Employee Assistance Program and its benefits.
Employees like working at the theme park because it is a friendly place and full of unique experiences. The employee benefits are also a plus of working here. Employees also say that the job is enjoyable and that they like making people happy through what they do at the park. Employees have also said that working here can be educational for employees, as well as guests.
How Old Do You Have to Be To Work at Sesame Place?
To work here, potential employees need to be at least 16 for most jobs. Certain jobs are suitable for 15-year-old employees, and some are reserved for employees over the age of 16 only. This is due to certification- an older employee is more likely to know first aid than a 15 year old employee, for example.
Sesame Place Careers
The park offers a variety of careers for its employees. Some of the most popular careers are as followed.
Park Quality Host:A Park Quality Host maintains the appearance and cleanliness of the park. They attend to washrooms and parking lots, as well as provide customer service and assistance to the park's guests. They follow the park's safety guidelines and protocol, as well as conduct opening and closing procedures.
Lifeguard: Lifeguards are responsible for all aspects of water safety and are responsible for preventing and dealing with water related issues. These issues include CPR/AED, water rescue, and First Aid. Lifeguards are required to clean storage areas and pool sides, as well as maintain a positive atmosphere around the swimming pool and water slides.  Lifeguards must have experience with water safety and have proof of  their First Aid and CPR certifications.
Culinary Operations Host/Hostess:The Culinary Operations Host/Hostess provides basic food preparation and monitors sanitation standards and portion sizes. He or she also practices safe work habits and deals with financial transactions including debit, cash and credit.
Puppeteer: Puppeteers are responsible for playing puppets in 4-12 shows per day. A successful puppeteer must stay "guest friendly" at all times and perform in parades and plays, as well as assist other actors in and out of costumes. They must follow safe work habits and procedures and maintain a positive and excited attitude for their whole shift and when they are off duty around the park.
Dancer: Dancers are required to perform in 8-12 shows a day in costume and assist other costumed employees in and out of their clothes. They also escort costumed employees on walks and in parades and are asked to tidy up park areas and conduct crowd control.
Chef de Partie: The Chef de Partie assists the manager in menu development, staff training, quality assurance, food safety and sanitation, and recipe testing. The Chef de Partie maintains food safety standards and practices safe work habits, utilizing tools such as Personal Protection Equipment (PPE).
Actor/Vocalist: Sesame Place Actors/Vocalists are responsible for singing/voice acting in 4-8 shows per day. They perform in parades and shows, and escort other costumed characters in walks. They also take performance notes to monitor changes and suggest improvements to existing shows.
Horticulture Tech: Horticulture Techs are needed to maintain desired landscaping around the park and show areas, and perform ground maintenance tasks such as watering, planting, and weeding. Horticulture Techs are also responsible for following safe work procedures and communicating with other employees and curious guests.
Mechanic I (HVAC): HVAC Mechanics are responsible for attraction maintenance such as preventative and corrective fixes. They perform installations of commercial HVAC and refrigeration units, and repair HVAC units. They also perform daily checkups and assist with the assembling and dissembling of park equipment and attractions.
Mechanic I (Electrician): Electrician Mechanics are responsible for corrective, preventative, and predictive maintenance of park attractions and rides. They install electrical wiring and perform repairs on electrical devices and equipment in the park. They perform daily inspections and work closely with other departments. They must also be respectful to curious park guests and children.
Sesame Place Application
Potential employees can apply for a job at the park online through the company's digital application. The application does not need to be downloaded or printed out and can be filled out online and submitted with a single click.
To apply here, it is recommended that hopefuls create an account with Sesame Place when prompted to do so before applying. This is not mandatory, however and won't be used when deciding on whether to hire.
Previous experience in the field in which the hopeful is applying is an asset, but not required. Customer service experience is an asset for all positions, and potential employees must be positive and upbeat.
Interviews here consist of activities such as puzzles to demonstrate leadership skills, and thought-provoking questions to determine character.  Interviews are laid back and comfortable and interviewees  should be themselves for the best results.
Sesame Place Facts
Sesame Place is a fun place to work and has an accepting community of employees. It is accepting of different kinds of visitors and respectful of peoples' unique needs. Every effort is made to ensure the safety and happiness of park guests and employees. The park is prepared to accommodate guests with special needs and disabilities as best as it can to ensure that the guest has a great time.
One news worthy event at the park is the Count's Halloween Spooktacular. On select days through September 22nd to October 29th, the park is transformed into a friendly Halloween attraction. The park puts on various Halloween themed shows and invites guests to come in their costumes. The park is transformed into a Halloween haven, but remains child friendly and welcoming.
It is  known for its friendly atmosphere and educational learning systems. It has a world wide reputation as being one of the best  theme parks for children and their families.
The park has a goal of bringing families closer together, while allowing children to learn and grow at the same time. The idea is to get children moving and exercising their imaginations, while having fun and bonding with each other and others. As a result, the park hopes to help children build communication skills and strengthen problem solving skills.
COMPANY LINKS
https://sesameplace.com/philadelphia/