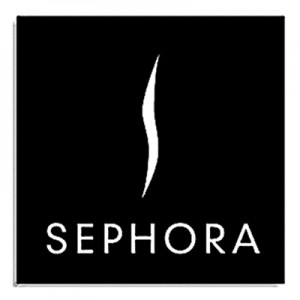 Sephora is a beauty-retail company with an open-sell environment that is interactive for customers. It offers beauty services such as makeovers and consultations for what products would be best for the customer. It sells skincare, fragrance, body, color, smilecare, skincare, and haircare products from classic brands, emerging brands, and Sephora's private label. It is the leading chain of perfume and cosmetics stores in France, and it has a strong presence in the beauty industry in countries around the world.
In 1970, the first Sephora was founded in France. It opened its first store in the United States in 1998 and its first store in Canada in 2004. It continued expanding, and there are now over 360 stores across North America, with 1,900 stores worldwide in 29 countries. In addition to having standalone stores, smaller stores have been built in the middle of JCPenney stores nationwide since October 2006.
It has a Values Inside Out program that matches individual stores with local non-profits. This gives each store the chance to choose a charity about which they are passionate. Employees can help their partner charities by providing funds, raising awareness, and volunteering. Employees in Sephora careers get free beauty products each month. It offers custom makeovers, consultations with personal Beauty Advisors, and mini makeovers for customers. There are three levels of rewards memberships for customers: Beauty Insider, VIB, and VIB Rouge. These allow them to receive different benefits and special access to sales and gifts.
Sephora Job Descriptions
Job opportunities exist both in stores and at the corporate level.
In Stores
Common retail positions include:
Cashier, Beauty Advisor, Stock/Maintenance Associate, Keyholder/Lead, Operations, Assistant Store Manager, Store Director, Loss Prevention, Store Manager, Seasonal – Temporary, Assistant Manager
Get Your Degree!
Find schools and get information on the program that's right for you.
Powered by Campus Explorer
Corporate
Most corporate openings are in San Francisco, but there are also some in the marketing office in New York City as well as distribution centers in Utah and Maryland. Available positions include:
Art Director, Designer, Director of Brand Strategy, Director of Merchandising, Director of Logistics and Distribution Centers, District Manager, Finance Manager, Executive Assistant, Senior Accountant, Lead Engineer, Real Estate Manager, Senior Writer, Senior Business Analyst, Training Manager
Future Career Growth
Sephora University is a training and development program in Paris, Shanghai, and San Francisco to help employees succeed and further their careers. Training courses are meant to help employees develop into Brand Ambassadors and be able to better navigate their careers. These courses cover topics such as skin care, makeup, perfume, and management.
Sephora Careers
Employees have a lot of fun interacting with customers and explaining makeup products and tips. The atmosphere at work is fun, fast-paced, and exciting; they don't even feel like they're working because they enjoy it so much. They like being able to take advantage of education and training opportunities to learn new skills and improve the ones they already have. In addition, they appreciate the good work/life balance that exists in Sephora jobs. There is a lot of teamwork every day, and co-workers are friendly and helpful.
Hours vary at the different locations. Most stores have a schedule similar to Monday-Saturday 10 AM to 9 PM and Sunday 11 AM to 7 PM.
How old do you have to be to work at Sephora? You must be at least 18 years old to fill out the application form.
The company is looking for dedicated, innovative people to fill its positions. In addition, you should have a passion for serving the needs of the clients. You should be able to work in a fast-paced, dynamic, creative environment. You also need to be willing to expand your skill base through trainings such as the Science of Sephora.
For many positions, no experience is required. For others, specific experience in customer service, cash handling, the beauty industry, retail, etc. may be required. The various requirements for experience and education are described in detail on each job listing.
The average hourly salary of some common positions includes:
Cashier – $10.36/hr, Product Consultant – $11.79/hr, Sales Associate – $12.13/hr, Color Consultant – $12.30/hr, Makeup Consultant – $12.47/hr, Skincare Consultant – $12.85/hr, Beauty Advisor – $13.72/hr, Color Lead – $16.80/hr, Lead – $17.93/hr
Eligible employees who work full-time receive the following benefits, among others:
Vision Insurance, Life Insurance, Health Insurance, Performance Bonus, 401(k) Plan, Maternity and Paternity Leave, Unpaid Extended Leave, Paid Holidays, Employee Discount, Employee Assistance Program
Sephora Interview Questions
After applying to Sephora jobs online, you may receive interviews that follow up on your online application. These could be conducted over the phone, in person, or both. Your in-person interview could be one-on-one or with a group of other applicants. In order to present yourself in the best possible light, dress nice and don't be shy. Many people put extra care into putting on their makeup on the day of the interview to show that they know how to handle applying makeup well.
Answer questions honestly and concisely after giving them some thought. Some of the questions you might be asked during interviews for employment in Sephora jobs include:
When was a time you helped a co-worker in need?
When was a time you had a difficult customer?
Why would you like to work here?
Tell me about a time you went above and beyond for a customer.
What does customer service mean to you?
How would you treat an angry customer?
What do you plan to do in the future?
What would you do if a customer broke a bottle of perfume shortly after purchasing?
How would you approach a customer?
Have you ever had any problems with your boss or co-workers?
What stores have the best displays and why?
What do you think about structure in the workplace?
Tell me about a time you experience really good customer service.
After your interview, you will be notified if you got the job or not.
Advice For Application Process
There is not a printable application form, and you cannot download the application form. Since there is no printable application for Sephora, you must apply online with a free application. You are able to apply to positions for which the company is currently hiring or will be hiring soon. It is recommended that you change your email's spam settings to allow emails from the Sephora job system so you will be able to receive status updates about your application.
If there are no current or upcoming positions that interest you, you are encouraged to check the Sephora careers page often because it is updated regularly with new openings to which you can send applications.
How to Apply for Sephora Online
When you want to apply for jobs at Sephora, you first go to the careers page. From there, you can click the link for either retail store opportunities or corporate headquarters opportunities in order to access the Sephora job application online.
Apply for Retail Store Opportunities
After you click the link for this job type, you can search for jobs by keyword, location, and hiring status. If you click "Advanced Search," you will be able to search by more detailed location information as well as by job category and position. If you perform a basic or advanced search without specifying any criteria, you will see a list of all of the jobs that are currently open.
You are able to browse through jobs and click on them to read the requirements and responsibilities for each posting. When you find a position with a job description that interests you, click "apply" to fill out a direct application for that position.
If you have never created a profile before, you must do that now by clicking "Create Account" after "New User?" You can then upload your resume and complete the Sephora application. After you successfully complete your online application, you will receive email notifications about the status of your application.
Apply for Corporate Headquarters Opportunities
After clicking on the link for this job type, you will be taken to a search page. You can search jobs by entering keywords, pasting your resume/C.V., selecting your location, and choosing an area of interest. You will then be able to go through the list of positions to read job descriptions and requirements. When you find a job that matches your experience, qualifications, and interests, click "Apply Now."
If you have never created a profile before, you must do that now by clicking "Create Account" after "New User?" You can then upload your resume and complete the Sephora application. Just as with applications for retail positions, you will receive emails that notify you of your application status.
ULTA Beauty is another beauty retailer that sells cosmetics, haircare, skincare, fragrance, and bath and body products. In addition, it has a full-service salon in its stores and sells salon styling tools and salon haircare products. It has 715 retail stores across 47 states, and it sells products through its website as well. LUSH is a cosmetics company that features handmade cosmetics in England, the United States, and Canada. Its products are made with fresh ingredients, ethical buying, and no animal testing. It has positions available in manufacturing, retail shops, and its head office. There are currently over 150 stores in North America.
Also See:
Snap Fitness: Checkout the application page for work at Snap Fitness.
Planet Fitness: Checkout the application page for work at Planet Fitness.
Fitness 19: Visit the Fitness 19 application.
Famous Footwear: Checkout the application page for work at Famous Footwear.
Steve Madden: For employment at Steve Madden visit the application page.
Company Links
http://www.sephora.com/careers