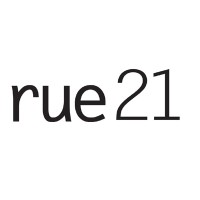 Rue 21 is an American clothing store headquartered just north of Pittsburgh, Pennsylvania. It is one of the fastest-growing fashion retail stores in the United States. The company specializes in selling modern, affordable and on trend clothing that is designed to appeal to female and male teens who aspire to be 21. The company is owned by Apax Partners.
Rue21 is headquartered in Warrandale, a suburb just north of Pittsburgh, Pennsylvania. The company has more than 1,100 stores in shopping malls, outlet centers, and strip malls across 47 States. It is one of the fastest growing fashion retail brands in the United States. The company has numerous proprietary brands including tarea, rue21 etc!, ruebeauté!, CARBON elements and ruebleu Swim.
The company summarizes its values into "5 Cs" which stand for challenge, caring, commitment, consistency and connected. The chain strives to become the leading value fashion forward specialty apparel retailer. It continually seeks the latest clothing trends and styles and adapts its stock accordingly while striving to be a trusted resource for customers.
The chain's culture is energetic, enthusiastic, trendy, knowledgeable and passionate. It views its employees as ambassadors and seeks people to exemplify the company's culture. The company looks for employees who do whatever it takes to get the job done, work hard, and approach every day with a smile on their face.
Rue21 Careers
The chain hires full and part time hourly employees for a variety of positions in its retail stores and distribution center. Its stores employ stockers, sales associates, assistant managers, and managers. The distribution center (in Weirton, West Virginia) hires material handlers and merchandise processors to package and distribute products to their retail stores.
The company also offers careers at the corporate offices in Pittsburgh, Pennsylvania and New York, New York. There is a wide array of corporate career opportunities in customer service, merchandising, marketing, human resources, and business. The corporate offices also hire models, and provide paid summer internship opportunities
How old do you have to be to work at Rue 21? You must be 14 years old to work in the United State but some states have minimum age requirements of 16 or 18. Check on the age requirements for your state. Some positions have physical requirements such as the ability to stand for long periods of time, kneel or squat on the ground, and lift and carry up to 40 pounds.
Get Your Degree!
Find schools and get information on the program that's right for you.
Powered by Campus Explorer
Rue 21 pay is industry standard. Minimum wage varies by state but is generally around $7.00 or $8.00 per hour. Some states have very low minimum wages and others have higher minimum wages. For instance minimum wage in Wyoming is $5.15 per hour and is $9.47 an hour in Washington State.
Store hours vary by location and shopping center. Most retail stores are open from 9:00am to 9:00pm but some open later or close earlier. Many stores have extended store hours during the summer and holiday seasons. Stores also have special hours on holidays and most have limited hours on Sundays.
Job Descriptions & Salaries
Sales Associates
Sales associates work full or part time and perform most of the day-to-day retail store operations including customer service, fitting room assistance, and suggestive selling. They also operate cash registers, and perform other duties as assigned. Sales associates are required to comply with all company policies, procedures and safety standards. 
Assistant Manager
Assistant Managers report directly to the Store Manager. They help recruit, train, develop and retain qualified sales associates and ensure that staffing needs are consistently met. They are also responsible for ensuring employees comply with company policies and procedures and provide excellent customer service. 
Store Manager
Store Managers manage store operations and report directly to the District Manager. They supervise a store team of around 10 sales associates. They are responsible for recruiting, training, and retaining staff and measuring employee performance. They are also responsible for ensuring accurate markdowns and cash control. 
District Manager
District Managers provide leadership and supervision of multiple store locations. They are responsible for planning and controlling payroll, maximizing district sales, and fostering a positive work environment. District managers also plan and prioritize company objectives and drive corporate initiatives.
Rue21 Interview Questions
Use these questions to prepare for your interview.
Why would you like to work at Rue 21? This is one of the most commonly asked interview questions. Don't just blurt out something like "I like clothes." Instead, take the time to learn about the company so you have a good idea why you want to work for them. It would be better to say something like "I'm into fashion and love helping other teens find the perfect thing to wear."
Do you have previous retail experience? This is your chance to talk about any similar jobs that you have had. If you haven't had a job like this before then talk about positions you have held that had similar duties instead. For instance, tell them about when you've provided excellent customer service or when you've been responsible for operating a register.
When are you available to work? Hiring managers want to know when you can start and how often you are available. Talk about your general availability and avoid bringing up scheduling conflicts unless they are absolutely unavoidable. Give them the widest possible availability despite your work hour preference.
What are your strengths and weaknesses? Talk about any strengths and weaknesses you have that you think are applicable to the job. For instance, cashiers need to be able to quickly and accurately make change for customers.
Do you consider yourself a leader? Answer this question honestly and explain why you do or don't consider yourself a leader.  For instance, you can say you are a dependable team member who is great at following procedures and will go out of the way to help customers. Or you can say you're great and staying organized and motivating others so you consider yourself a leader.
Advice for the Application Process
The Rue 21 application process helps hiring managers determine find out if you will be a good team member and if you will fit in with their culture. The hiring process will be generally informal for most Rue 21 jobs. You can find Rue 21 Jobs online, download an application form or ask about openings at a store.
Always approach managers and employees with a positive attitude and be respectful. Wear something fashionable even if you are just there to ask about openings. In general, casual clothing is appropriate for most interviews. If you are interviewing for a management or leadership position wear business casual clothing. Dressed respectably. Don't wear mini skirts, shorts, tank tops or flip-flops to a job interview.
Prepare some notes ahead of time for the interview. Do some homework about the company and bring a list of your pertinent skills and experiences with you. If you are stumped by a question you can thoughtfully review your notes before answering. Also write down any questions you have about the job so you remember to ask them.
The hiring manger might let you know if you are hired on the spot. Be prepared to accept the position graciously and thank them for the opportunity. If they don't hire you, ask them about any future openings that they might be interested in considering you for.
How to apply for Rue 21 job online? Follow the links below, to find a Rue 21 job application online, obtain a printable application for Rue 21, and to apply for jobs at Rue 21.
Also See:
A'GACI: For career opportunities, fill out the A'GACI online application.
Hugo Boss: See our resource page for more information on Hugo Boss careers.
Anthropologie: Anthropologie offers opportunities for both, beginners and experienced roles.
Forever 21: Visit the Forever 21 application.
Urban Outfitters: Visit the Urban Outfitters application.
https://www.youtube.com/watch?v=VqaUQRPbHEk
Company Links