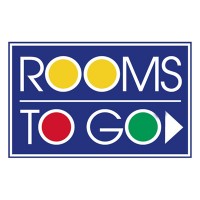 Rooms To Go is a chain of furniture stores in America. The company offers a wide variety of stylish yet affordable furniture such as living room, dining room, and bedroom sets, mattresses and home accessories. The furniture can either be bought in their stores or online.
Julius Seaman, the founder and CEO, started his first furniture business in 1933 under the name Seaman Furniture Company. After Seaman Furniture has been sold to Kohlberg Kravis Roberts & Co, Julius' sons, Jeffrey and Morty established their own furniture company, Rooms To Go in 1991.
The company has over 200 stores with around 7,000 employees throughout USA. It has 7 state-of-the-art distribution centers, which showcases their furniture. The company has also partnered with famous celebrities like Cindy Crawford and Sofia Vergara to inspire and complete their collections.
The company believes that successful people bring their success to the company. They take care of their employees by providing a competitive salary and a sufficient set of benefits. Included in the benefits are medical, dental and vision insurance, life and disability insurance, employee assistance program, and legal assistance if needed. 401K plan is also offered to employees to start preparing for their retirement.
Creating an environment that helps team members with their career growth and development, health and wellness, and financial needs is a part of the company's mission and practice. In addition to their reasonable salary and great benefits, this makes employees enjoy their stay in the company.
How old do you have to be to work at Rooms To Go?
To be able to work with the company, one must be 18 years old and above. A high school diploma or the equivalent GED is also one of the requirements to proceed with the employment.
Rooms To Go Careers
Rooms To Go regularly hires employees for their stores, warehouses and also their call centers, which support their online store. They offer opportunities to those who yearn for career growth and development. 
Sales Associate: A Sales Associate is an information expert of all of the company's products. They provide product presentations and do specialized consultations to potential clients. Sales associates are involved from the advertisement of products to the delivery of an item to the client.
Retail Office Assistant: A Retail Office Assistant provides support to the sales associate, customers and management staff. He can process payments, answer to delivery inquiries, and do finance applications. An assistant also helps to organize and maintain the merchandise in the store, if needed.
Retail Stock Associate: A Retail Stock Associate is responsible for wrapping, fixing the packaging and loading of furniture and other items bought by the customer. They also assist in the arrangement of the furniture in the showroom, as directed by the visual merchandiser. Also, stock associates help by checking the inventory in the warehouse.
Visual Merchandiser: A Visual Merchandiser creates and maintains the arrangement of products in the showroom. He creates an appealing design of that will be visually pleasing to the customers. The virtual merchandiser carefully studies how every piece of product, from big sofas to small mirrors, will visually coordinate with one another.
Customs Clerk: A Customs Clerk monitors and ensures proper documentation of all shipments processed, both entering and outgoing goods, to and from US. He makes sure that the shipment follows the US Customs and Border Protection Program. The customs clerk is also an expert in the classification of furniture and other items.
Merchandise Analyst: A Merchandise Analyst is responsible for tracking all merchandise, from its arrival in the warehouse up to where it is delivered. He organizes the inventory data and also controls inventory flow. A merchandise analyst also provides forecast of product production to the management based on the current flow of goods.
Helpdesk Analyst: A Helpdesk Analyst assists the Helpdesk team with troubleshooting and acts as a second level escalation when the need arises. He also provides data analysis and diagnosis reports to the management. Difficult technical issues with the company's online store are handled by the helpdesk analyst.
Furniture Repair Technician: A Furniture Repair Technician repairs damaged furniture in the store or warehouse. He is an expert at woodworking and repair of case goods such as leather and upholstery. He also maintains items that need to be polished from time to time.
Outside Service Furniture Technician: An Outside Service Furniture Technician does the repair of furniture already sold to customers. They are responsible for home service repairs, and may also do replacement delivery to the customer's home, if needed. Outside Service Furniture Technicians are also experts with woodworking and repair of leather and upholstery.
IT Project Coordinator: An IT Project Coordinator collates and analyzes all project status reports, organizes and coordinates project schedules, and manages project meetings and activities. He sees to it that all project phases are well documented and that all procedures are according to company standards.
Rooms To Go Application
Rooms To Go opens opportunities to job seekers through the company's online application portal. Job search websites can also be used to check job openings to stores nearest the applicant's location.
While online application is preferred by the company, interested job seekers may also check with retail stores in their area for job opportunities. Along the application process, the management will still request the applicant to open an account with the company's official career portal to continue.
To apply online, the applicant must have a valid email address. A username and password will be given upon registration, which includes filling out of personal information and uploading of resume. Once an applicant has successfully completed the registration, he may choose and apply for positions that suites his preference or experience.
To write a successful resume, the applicant should first determine his objectives, and then proceed with the basic information such as name and contact details. Experiences should be in a sequential format, starting from the recent to the older ones. A short yet informative resume, around 1-2 pages, is preferred by employers.
To prepare for job interviews, the applicant should research and learn about the company and the position applied for. Also, it is important for any interview to be on time and to make sure that the attire worn is clean, presentable and appropriate.
Things To Know About Rooms To Go
Rooms To Go does not only offer stylish and affordable furniture, they also provide a culture of trust and camaraderie to its employees.
The company has also extended its help to its affected employees and even the community during and after the devastation of hurricane Irma and Harvey last 2017. It has pledged around 2 million US dollars to help the affected families through local and national charities.
Aside from the monetary support that the company donated, they have also pledged over 2,000 rooms of furniture to the hurricane victims. With these, Florida Governor Rick Scott has acknowledged Rooms To Go and has extended the appreciation of the people to the company.
The company and its employees are still conducting various programs to help victims rebuild their homes and business. Various efforts are done to assist the community regain the lives washed away by the disasters.
Application Links
Company: https://www.roomstogo.com/
Careers: https://careers.roomstogo.com/
Application: https://recruiting.adp.com/srccar/public/RTI.home?c=1125907&d=RTG&rb=INTERNAL#/