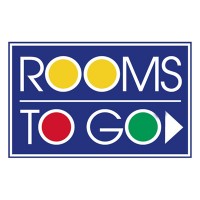 Jeffrey and Morty Seaman founded Rooms To Go in 1990, following the same entrepreneurial spirit that their father and grandfather, Julius Seaman had when he began his first furniture store in 1933 after dropping out of the seventh grade.  You can find out how to apply for Rooms To Go online by following the Rooms To Go application link below.
Today, the company is the fastest growing furniture company in America.  It has grown to house over 5,500 employees in over 200 locations in 10 different states across the USA and in Puerto Rico, in addition to its 7 distribution centers.  But it's not stopping there, Rooms To Go is still looking to expand further.
The company has recently been working to develop lines of furniture designed by supermodel Cindy Crawford and actress Sofia Vergara.  The Cindy Crawford Home Collection has a variety of different items of furniture to help you create and entirely model home.  Sofia Vergara's range brings a touch of Mediterranean style to the pieces.
Rooms To Go is not just a friendly, family-run chain, but also strives to be innovative.  It was among the first furniture stores to display its furniture in actual room settings, letting customers better imagine how they could transform their home.  The company is always looking for new ways to deliver a better service to its clientele.
Rooms To Go Careers
You can find an opportunity to suit you by searching Rooms To Go jobs online.  In their stores and warehouses they have positions including Warehouse Assistants and Managers, Security Assistants, Porters, Sales Associates, Office Assistants and Assistant and Store Managers.  They like to promote from within, so joining at entry-level can have far-reaching benefits for your career.
There are also a number of Rooms To Go jobs in their corporate offices.  The range of these vacancies includes Designers, Service Technicians, Merchandising, Human Resources, Telemarketing and many other diverse opportunities. You can submit a Rooms To Go job application online for these types of roles using the same link as the retail opportunities.
How old do you have to be to work at Rooms To Go?  You must be at least 18 years old.
Get Your Degree!
Find schools and get information on the program that's right for you.
Powered by Campus Explorer
Store hours are from 10am to 9pm from Monday to Saturday and 11am to 6pm on Sundays.
This company encourages growth and advancement from its workers, ensuring that there are always advancement possibilities.  As an employee you will be able to participate in individual or family health insurance plans as well as a 401(k) retirement plan.  You may also be entitled to paid holidays and vacation and other insurance plans such as life and legal.
Job Descriptions & Salaries
Sales Associate – As a Sales Associate you will need to focus on customers' needs to help them select their ideal furniture and leave happy.  This will require great interpersonal skills, in-depth product knowledge and a persuasive attitude to help you make sales.  This role is paid on a commission basis.
Office Assistant – The responsibilities of working in the office include processing payments and advising customers on finance plans as well as any other enquiries they may have about the services.  The role will require good math and language skills and you'll need to be computer literate and preferably with data entry experience.  The hourly pay is $9.
Porter – This position will require you to be physically fit as it involves loading, moving and assembling furniture.  You'll need to be able to lift at least 50lbs repeatedly.  There will be other duties that include daily upkeep and maintenance of warehouses or stores.  The pay for this job is usually between $7-10/hour.
Store Manager – With a proven track record of managerial experience, applicants to Store Manager positions will need to demonstrate that they are able to manage and train staff effectively so that they deliver high quality customer service.  Additionally managers oversee sales targets and the operational duties of the store.  The expected salary is up to $60k/year.
Rooms To Go Interview Questions
Once you have entered your applications, make sure you prepare for the interview by going over some typical interview questions.
Why do you want to work for us?  This is very likely to come up so do some research on the company and the job description beforehand so that you have a targeted answer about why the position and the company are right for you.
Do you have any sales experience? If you do that will be a big bonus although it's not necessary, but don't leave your answer there if you haven't worked in the industry before.  Describe what skills you have developed from other experience that will make you good at selling products.
How would you handle a difficult customer? You'll need to be able to demonstrate to the hiring manager that you can be professional and remain cooperative and polite even if a customer is angry.  Show that you are a problem solver and can come up with helpful solutions.
Are you able to relocate if required? Candidates who are able to be flexible will have a much better chance of employment, as there may not always be an opening at your local store, especially for job opportunities in management.
What is your greatest weakness? This can be a hard question to answer so be sure to have a response prepared.  You can talk about criticism that perhaps a former boss or teacher has given you and then identify the steps you are taking to overcome it.
Advice For Application Process
You must create an online application profile to apply for jobs at Rooms To Go.  If you don't want to make a direct application for a local store you can elect to make an open application.  You can also pick up a free application form in person; there isn't an option to download a printable application for Rooms To Go.
If there are no Rooms To Go jobs open in your desired area or field at the time you want to apply online, you can also opt to join their Talent Network so that you are informed of new jobs when they arise.  Similarly at your local store you can ask for your resume to be kept on file for when positions open.
The process after you submit a Rooms To Go application can take up to a month to complete.  You may be required to attend up to three interviews with store managers and the District Manager.  You will also need to pass a background check and drug test to be considered for Rooms To Go careers. 
When you arrive for your interview remember to be friendly, smile and maintain eye contact with your interviewer.  It is very important to create a good first impression and to be memorable.  Make sure you dress professionally in business-casual attire.  It also always helps to have a good, firm handshake.
Also See:
Tiffany's: See our resource page for more information on Tiffany's careers.
Dick's Sporting Goods: For employment at Dick's Sporting Goods visit the application page.
Sport Chalet: Visit the job application for Sport Chalet to apply today.
Sleepy's: For employment at Sleepy's visit the application page.
84 Lumber: See our resource page for more information on 84 Lumber careers.
https://www.youtube.com/watch?v=n7MT25faIfg
Company Links
http://www.roomstogo.com/content/Customer-Service/Employment