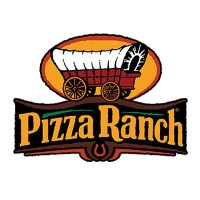 Pizza Ranch is an Iowa based chain of casual restaurants focusing on making and serving great pizza with friendly service and a winning smile.  To find out how to apply for Pizza Ranch online, follow the link at the bottom of the page to submit your Pizza Ranch application today.
The very first Pizza Ranch restaurant opened in 1981, the idea of a 19 year old founder, Adrie Groeneweg.  Now, more than 20 years later, the company has over 180 different locations not just in Iowa, but also in Colorado, Illinois, Kansas, Michigan, Minnesota, Missouri, Montana, Nebraska, North Dakota, South Dakota, Wisconsin and Wyoming.
The first ranch started with just six signature pizzas, now they have double that amount.  But not just that, there are also a wide range of sides, chicken dishes and even a range of dessert pizzas.  Customers have the option of ordering off the menu or taking advantage of the buffet when they come to dine in the restaurants.
Pizza Ranch is a Christian company, stating that their vision is, "To glorify God by positively impacting the world."  It has been consistently voted one of the best places to work in Iowa.  There are also many franchising opportunities for budding entrepreneurs and for those with a little more experience; they are always looking to expand into new areas.
Pizza Ranch Careers
You can submit applications for the open positions based in the restaurants no matter what your level of experience.  At the entry-level there are vacancies Team Member in the Back and Front of House and Delivery Drivers for those with their own vehicles.  If you have managerial experience there are also opportunities for Assistant and General Managers, Guest Services Managers and Kitchen Managers.
There are limited jobs available in their corporate headquarters in Orange City, Iowa. so you need to keep an eye out for when they come up.  The vacancies available are usually in the areas of Administration, Purchasing, Sales, Franchise Support, Finance and Information Technology.  They are hiring currently for a few positions in Marketing,
Get Your Degree!
Find schools and get information on the program that's right for you.
Powered by Campus Explorer
How old do you have to be to work at Pizza Ranch?  You must be at least 18 years old or over to apply for jobs at Pizza Ranch.
One of the main benefits to Pizza Ranch careers is that you will be joining a company where there are numerous job opportunities and lots of possibilities further training and advancement.  Starting a Pizza Ranch job application online can start you on a path to many great opportunities and help you to realize your full potential.
The restaurants open daily from 11am and close at 9pm Monday to Thursday and Sundays, and at 10pm on Fridays and Saturdays.
Job Descriptions & Salaries
Delivery Driver – Delivery Drivers will be expected to have a valid driving license and a vehicle that is in a good condition with valid insurance.  Drivers will need to have a good knowledge of the local area and navigate around to make deliveries to customers.  A good level of customer service is expected.  The hourly is rate is $9-10.
Team Member – Back of House – The basic job description for Back of House is to assist with food preparation and other support duties.  You will need to keep to all the necessary regulations for working in kitchens including food safety and handling rules and hygiene standards.   The wages are usually $7-8/hour.
Team Member – Front of House – The responsibilities for Team Members in the Front of House section are mainly focused on the customers and delivering top quality customer service.  You will take orders and process transactions as well as ensure that the restaurant is clean and well stocked.  The typical pay is $7-8/hour.
General Manager – As the General Manager you will need to lead by example and portray a positive role model for all of your employees.  You will be responsible for hiring and training and ensuring staff are working well.  There will be other administrative and financial duties.  The average is around $50k/year.
Pizza Ranch Interview Questions
The best applicants are those who are well prepared, so practice some typical interview questions once you've submitted your Pizza Ranch application.
Why do you want to work here?  Make sure you tell them why you're interested in Pizza Ranch jobs specifically.  It helps if you do some research on the company before you go. 
Tell me about yourself.  This isn't an invitation to tell your entire life story.  Keep it relevant to your availability and what experience you have that will help you in the career path you're applying for.
Are you comfortable being on your feet for your entire shift?  Most Pizza Ranch jobs will require you to be standing and walking around for most of the time and it's important that you understand this before accepting an offer of employment.
How would you handle a customer complaint?  You will need to demonstrate to your interviewer that you can remain calm under pressure and handle things according to restaurant policy.
What experience do you have in this industry?  Try to be specific about the companies you've worked for, how long you worked there and what exact position you held.  For entry-level positions you many not need experience but it always helps.
Advice For Application Process
You can find the careers section of their website by searching for Pizza Ranch jobs online or you can apply online through a recruiter.  They list openings on their website for both restaurant and corporate roles.  Select the role and location you want and then fill in the online application form with your details and work experience and upload your resume.
You can also make a direct application to a restaurant in a few different ways.  By searching online you'll find that you can download a printable application for Pizza Ranch.  You can either fill this in and hand it in personally or request a free application from one of their restaurant locations.
Whether you submit your application online or in person always make sure you double-check all of the information on both the form and your resume before you hand it in.  It looks very unprofessional if you hand in an application with mistakes on it.  Get someone else to check it over if you're not sure.
Most applicants will have one or two interviews with hiring managers.  The whole process will generally take only one or two weeks to complete and you can be working fairly quickly once you've been made an offer of employment.  Make sure you turn up to your interviews well presented and smartly dressed to give off a good first impression.
Also See:
California Pizza Kitchen: See this page for jobs at California Pizza Kitchen.
Sbarro: See our guide for careers at Sbarro.
Domino's Pizza: See our resource page for more information on Domino's Pizza careers.
House Of Blues: House Of Blues offers opportunities for both, beginners and experienced roles.
Gattis Pizza: Visit the job application for Gattis Pizza to apply today.
Company Links
https://www.careers.pizzaranch.com