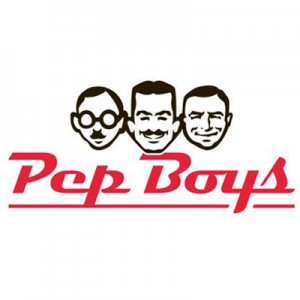 Pep Boys is an automotive aftermarket service and retail chain in America. The company is a one-stop shop for all auto parts, repair, and service.
The company's original name was Pep Auto Supply Company. Pep Boys was founded in 1921 in Philadelphia, Pennsylvania. Its founders were Emmanuel Rosenfield, W. Graham Jackson, Moe Radavitz, and Maurice L. Strauss.
As of 2017, Pep Boys has more than 900 locations in the United States and Puerto Rico. The company offers branded car tires, repair and maintenance, fleet repair and maintenance, and commercial car parts delivery.
Pep Boys employees receive career-advancement opportunities and compelling compensation packages. The company gives them continuing pre-paid training & development programs. Full-time workers receive medical, vision, dental, and life insurance. They can also get paid time off and 401(k) retirement plans.
People love working at Pep Boys because the company gives unlimited opportunities for career growth and promotion. The company is always searching for ways to help its employees thrive and reach individual success.
How old do you have to be to work at Pep Boys?
The management accepts 18-year old applicants who show a strong eagerness and interest in the company. Likewise, they should have college or high school diploma or equivalent to qualify for their desired positions.
Pep Boys Careers
The company hires goal-driven individuals with the potential to help preserve the iconic brand's image and reputation. Candidates with or without experience may find employment options in retail, technical, customer service, and managerial capacities. Positions available include:
Sales Associates: Their responsibilities include interacting with customers to know their needs. They must answer whatever questions customers may have about the products, and suggest solutions. They must be able to quickly solve customer issues and ensure satisfaction. Sales associates should stay updated with product features and keep the store's pleasing visual appearance within the standards.
Auto Mechanic: The main job of an auto mechanic is to repair or maintain vehicles. He troubleshoots and fixes issues to regain the vehicles' maximum functionality and reliability. A good auto mechanic shows excellent manual dexterity and eye-hand coordination. He's familiar with almost all cars' complex electrical and mechanical systems, so he can handle most automotive issues alone.
Commercial Driver: A commercial driver transports raw materials and goods on land from the manufacturing plants going to retail & distribution centers. He also inspects the vehicles for mechanical parts or safety issues and carry out preventative maintenance. His job includes planning for routes to take when traveling and meeting the given delivery schedules.
Warehouse Workers: Warehouse workers prepare and accomplish orders for shipping or pickup based on the schedule. This will include loading, packing, wrapping, putting the labels, and shipping the items. Warehouse workers accept and process warehouse stock items and carry out inventory controls while keeping the highest standards for audits.
Order Selector: The order selector receives and checks the upcoming pick tickets. He looks for products by using technology and retrieve orders based on the quantity and size to ensure accuracy. He builds pallets with pleasing arrangements and puts the stocks to loading trucks. Also, he keeps records of all completed orders for reference.
Forklift Operator: A forklift operator's job involves loading and unloading products from trailers using forklift trucks or other material handling tools. Then, he keeps the products in their respective storage areas in the warehouse. The operator is also responsible for the regular maintenance and minor repairs of his/her forklift.
Express Service Technicians: They are experts in quick vehicle repair. They can handle simple mechanical and electrical issues and get them fixed in no time. Express service technicians promote teamwork to provide timely & accurate customer care throughout the business hours. They also prove a sense of receptive urgency to each customer, regardless of the service needed.
Assistant Managers: Assistant managers help organize and manage retail stores, and they also act as store managers when needed. These employees are more focused on ensuring customer satisfaction and team productivity. Their job involves recruiting new sales associates, inventory monitoring, and processing the orders for additional supplies based on demand.
Customer Service Representatives: CSRs act as liaison officers. They give product or service details and resolve emerging customer account issues with efficiency and accuracy. The best CSRs are always excited to assist customers. They are patient, passionately communicative, and empathetic. They have good problem-solving and analytical skills, which are crucial in their job.
Store Managers: Store managers create business strategies that can help the business gain new customers. They aim to increase store traffic while doing what's possible to optimize profitability. They try meeting the given sales objectives through training, motivating, mentoring, and giving feedback to old and new sales employees.
Pep Boys Application
Interested applicants may visit the company website and discover the latest job offers from Pep Boys. The retail stores are also open for walk-in applicants.
The company will accept online applications and walk-ins. Filling out the hiring form is always the first step to take when applying for a job. The application form is available both in digital and paper-based forms.
Applicants should carefully read the given instructions in the hiring form. They must make sure that all requested personal details are provided and the entries in their hiring form are correct and accurate.
Furthermore, candidates must submit updated resumes. The employment history section including the contact information should be updated and comprehensive. Double checking the resumes is one thing that can help job hopefuls avoid rejection.
Applicants who appear fit for vacancies will receive a call or message a week or two after submitting their application. Full preparation for the interview is important. As usual, applicants should be well-groomed, punctual, and confident to impress the interviewer.
Facts about Pep Boys
The company's culture promotes unity and teamwork in all departments. It inspires all departments to have common goals to ensure that customer satisfaction. Also, the culture promotes communication between departments, which help maintain the company's operations smooth and fast.
Pep Boys' parent company, Icahn Automotive, acquired 4 Detroit-area service centers. These locations are expected to boost the brand's presence and help the company provide better service to all customers.
The company is known for providing quality auto parts and services for all types of vehicles. The brand remains enthusiastic in keeping its spot in the industry. Customers enjoy discounts on various products and services.
The company loves giving back to the communities they serve. One of their outreach programs is the #MotorOilMasterpiece Campaign. In this program, they made 100 fathers happy by giving motor oil-drawn paintings of their favorite car models.
Application Links
Company: www.pepboys.com
Careers: http://careers.pepboys.com/?iCID=footer_11-19-2015about-pep-boys_careers_careers_text-link
Application: N/A