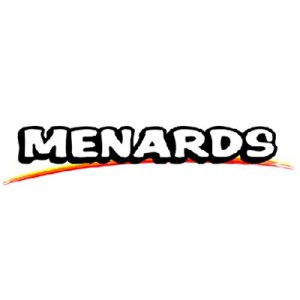 Menard Inc. is a private company headquartered in Eau Claire, Wisconsin, that owns and operates retail home improvement stores.  They offer a variety of products and serve customers throughout the mid-west United States.  With approximately 285 stores in 14 states, it is the third largest home improvement chain in the United States.
Sharing a common structure, each store is divided by departments: building materials, hardware, electrical, millwork, wall coverings, plumbing and house wares, floor coverings, cabinets and appliances, and groceries.  There is also the front end of the store where you find cashiers, office workers, and carry outs.  The receiving crew is in charge of the lumberyard, shipments, and other delivery and merchandise logistics.
One of America's largest private companies and ranked 46th by Forbes' in 2012, the chain continues to enjoy growth in the industry. Built with customer convenience in mind, they emphasize a friendly service and treat customers as family, creating a hometown hardware store atmosphere.
Menards Careers
People are hired for Menards jobs that are hard working, and are willing to provide a day's work for a day's pay.  As the organization expands, promotion from within is common affording employment in a rewarding and challenging career.  Many opportunities are available including store personal, office positions, distribution center employees, and manufacturing jobs.
Many opportunities for Menards careers and advancement within the organization exist.  There is a Manager Trainee program that will help fine-tune your time management, organizational and merchandising skills.
Local job fairs are routinely held for the public as well as career fairs and recruiting events for college students.
In a typical store there is a store manager, two assistant managers, a department manager, and one or two assistant managers for each department, and sales floor staff.
Get Your Degree!
Find schools and get information on the program that's right for you.
Powered by Campus Explorer
As with any large entity, there are many careers available.  Some common career paths include marketing, human resources, and e-commerce.  Also at a corporate level, office support and administration is needed.
Joining the marketing team you will develop advertising campaigns that increase sales and traffic.  This is a challenging and exciting field where you may be creating radio and video commercials, designing print media, or running events and promotions. Buying advertising, processing invoices, creating a company magazine, selling gift cards, producing videos and web projects, and much more are also the kinds of work you may find.
The human resources department has many responsibilities and is tasked with maintaining the most valuable asset, the team members.  Recruiting for positions, implementing policies and strategies for the work force, and serving as a communication center are all within the sphere of this division.
E-commerce is the fastest growing department and this team is responsible for that.  A one-stop shopping experience online has been created at the Menards website.  Team members ensure accurate and up-to-date product information and aid in providing quality products at the lowest price for guests.
Office support is needed in all departments at the corporate office. Supporting team members in the various departments, performing general office functions and tasks.
There is a Flight Department.  Pilots are responsible for pre-flight tasks and checks, fuel orders, aircraft towing, and weather briefing. Aircraft mechanics troubleshoot maintenance issues, maintain the aircraft, and conduct inspections.
Industrial mechanics maintain and repair the fleet of motorized equipment.  Repairs and service on forklifts, cars, trucks, trailers, are some of the tasks they are assigned.
More Careers
The company also has a distribution center division.  It is a key reason the company has a successful retail system because it gets products to the store efficiently. Common jobs you can find here are similar to other like distribution centers.  Some of the careers specific for this organization are what helps set it apart from other companies.
As a warehouse team member you will fill orders for stores, load and unload merchandise, sort, stage and transport products.
Hiring local over-the-road drivers who are able to return home every night is a rewarding position.  There are positions available where you gain CDL experience staging trailers.
Accounting personnel monitor inventory levels for the distribution center. Reporting and analyzing product flows to maximize efficiencies are also part of this job description.
Industrial mechanics perform preventative and repair maintenance on automated warehouse equipment, conveyors, and more
How Old Do You Have to Be to Work at Menards?You have to be at least 16 years old to apply and work at the corporation.
Menard Job Descriptions
Common job opportunities at the store division include part-time and full-time positions.
The Manager Trainee position and program lets you participate in on-the-job training at any of the store's locations.  When you complete the program, you can become eligible for promotion.
In sales and guest services, leadership will show how truly dedicated it is to sales and service through exceptional treatment of guests. In this position you might answer guest questions in a friendly manner and complete training in each specialized area.  Many departments have sales personnel including building materials, hardware, electrical, millwork, cabinets and appliances, wall coverings, plumbing and floor coverings.
Employment in shipping and receiving accept freight and help guests with their orders.
Stockers are working in the morning and place merchandise on shelves.  This position offers a flexible schedule and can be worked three to five days a week.
Cashiers are fast, friendly, and accurate.  Giving guests the best service is a goal of this job.
Commercial and contractor sales representatives have an encyclopedic knowledge of all the products they sell.  Working closely with industrial, commercial, and professional guests, they hold an important place.
As a Human Resource Coordinator, your abilities are used to work with a variety of people to ensure there continues to be a terrific work environment.  You will work directly with the General Manager and Operations Human Resources Manager to maintain and promote the success of all team members.
Menards also has an internship program that allows students to do hands-on work. This is a paid internship in retail management.  An intern receives training and guidance from experienced employees as they learn about working with the company.
Average Wages and Salaries
All levels offer competitive wages and salaries. Hourly store employees earn an average from $8.63 for morning stockers to $13.31 for assistant managers.  Managers receive varying salary options based on title, experience, and store location.  Department managers have hourly rates between $10.00 and $14.00. Assistant managers can earn from $35,000.00 to $45,000.00 annually.  Store managers often make upwards of $65,000.00 per year.
Benefits
Benefits for eligible employees include health, life, disability, and dental insurance, instant profit sharing, retirement plans, bonus pay, paid vacations and holidays, and team member discounts of 10% off merchandise purchased.
Advice For Application Process
How to apply for Menards Online
To use the application form online is easy.  The online application is a free application. Find the company's careers section from their home page to apply online. Use the link on the main page to navigate to Menards jobs online area.
Select the position you are interested in and you will be taken to a page that gives detailed information about specific jobs and requirements.
Job description and detailed responsibilities can help you decide what to apply for. You can then choose the "Apply Now" tab to submit your email address and determine if you are a new or returning applicant.  A page will open that allows you to upload your resume and fill out the employment questionnaire.  Menards job application online is a convenient way to apply for jobs, check openings at multiple locations, and submit multiple applications.
Printable Application for Menards
You cannot download application form. There is no printable application form
available.
Menards Application at Your Local Store
You may choose make a direct application and pick up an application form at the store.
Whether you apply online or in person, provide all the requested information to expedite the process.
Interview
The interview process involves a conversation between the applicant and manager or supervisor.  Dress as you would for a corporate interview, wearing business attire. Arrive on time with any and all documentation, including your resume that you have been requested to bring.  Ask questions about the job, the store, the industry, and anything that might affect your work. Confirm that you have the relevant experience for the job you seek. The interview process can take a few days or a few weeks, depending on job availability and number of applications.
Hours of Operation
Hours of operation are Monday through Friday, 7:00a.m. To 10:00 p.m.; Saturday 7:00 a.m. to 9:00 p.m.; and Sunday 8:00 a.m. to 8:00 p.m.
Why Work Here?
The motto "Dedicated to service and quality" extends to team members.  There is a promote-from-within policy.  Team members are prepared to advance to higher positions through training at each level in the organization while enjoying competitive salary and benefits along the way.
Competitors
Menards is the third largest home improvement chain in the United States.  Lowes operates more than 1,830 stores offering quality home improvement products at low prices. The Home Depot claims to be the world's largest home improvement specialty retailer with more than 2,200 retail stores.
Also See:
Kirkland's: See our resource page for more information on Kirkland's careers.
Bed Bath & Beyond: Bed Bath & Beyond offers opportunities for both, beginners and experienced roles.
Cabela's: Visit the Cabela's application.
Play It Again Sports: Checkout the application page for work at Play It Again Sports.
Restoration Hardware: See our guide for careers at Restoration Hardware.
Company Links
http://www.menards.com/main/c-14016.htm
http://www.menards.com/main/careerOpportunities.html?location=Retail