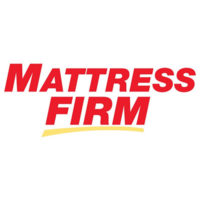 Mattress Firm is a mattress retailer that can be found all across the US. It offers a wide selection of mattresses from many different brands. It operates under a parent company called Steinhoff International. Other sister companies include Sleepy's and Sleep Train.
The company was founded in Houston, TX in 1986 by Steve Fendrich, Paul Stork, and Harry Roberts. It can be found in 49 states. There are more than 3,500 stores in operation. Its workforce includes more than 3,800 employees.
In 2016, Mattress Firm won the Infor Excellence in Action Award for Employee Excellence. It was named one of America's best large employers by Forbes also in 2016. The company was also named one of the top 150 workplaces by Top Workplaces in 2013.
Benefits packages include health, dental, vision, and life insurance. There is also the opportunity to start a 401k retirement plan. Paid vacation, holidays, and personal time off. Employee discounts are included as well.
Employees like to work at Mattress Firm because of its driven workforce. Employees are surrounded by like-minded individuals who focus heavily on achieving their goals while keeping the customer in mind.
How old do you have to be to work at Mattress Firm?
The age requirement is dependent upon state laws but one must generally be at least 18 years old to work at the company. Most positions require a high school diploma.
Mattress Firm Careers
There are a wide variety of careers with Mattress Firm, many of them focusing on customer service. The following list is of the most common positions with the company. They are all entry or low-level positions.
General Warehouse Associate: It requires maintaining the warehouse, loading and unloading merchandise, and helping with customer pick-ups. Heavy lifting is expected and taking steps to maintain safe work environments is necessary. It is a full-time position that pays $12 – $13 an hour.
Delivery Driver: This position is one of the most important in the company. It requires ensuring on time and professional deliveries to customers. It requires heavy lifting, a valid driver's license, and a clean driving record. A flexible schedule is required, including nights, weekends, and holidays.
Internet Sales Analyst: This position is a typical 9 – 5 office job. All work is completed at a desk workstation. It requires making sure all internet content such as marketing, pricing, and product details are accurate. This person also helps to support the marketing content and sales of the organization's different channels.
Office Associate: This position schedules all deliveries. It also includes answering incoming phone calls. The individual must coordinate work volume with the shipping team to schedule deliveries in the most efficient. This is a full-time position with varying hours to support the business need.
Sales Professional: This position provides customer service in store while driving sales. It also requires maintaining accurate product displays and store pricing. It is a full-time position and offers a guaranteed base pay plus a monthly commission on sales. The salary is between $30,000 and $60,000.
Telephone Insides Sales: This position requires answering incoming phone calls. Sales associates have personal sales targets they are required to meet or exceed. They are also required to follow up on open orders and sales leads. Experience in customer service is required.
Sales Manager-In-Training: Experience is preferred but not required for this position, as there is an extensive training program. It is a paid training program that is eight weeks long. The candidate should have strong customer service and communication skills. The salary ranges from $35,000 to $60,000 a year.
Logistics Coordinator/Dispatcher: This position routes all deliveries and answers incoming phone calls. The dispatcher coordinates with the delivery team to plan and schedule daily, weekly, and monthly deliveries. The applicant must be flexible to work varying hours based on business need. This position is full-time and pays $13 to $15 an hour.
Store Porter: This position ensures cleanliness of the store by dusting, mopping, sweeping, and washing. Responsibilities also include stocking items and organizing floor displays. Also, this person must provide general maintenance to the facility and assist customers as needed. It is a full-time position.
Commercial Sales Support: This position requires developing new business by building and cultivating new prospect relationship. This position can be done remotely or in the office. Travel is required. Remote workers travel 50% of the time and non-remote workers travel 20% of the time.
Mattress Firm Application
To apply, applications must be submitted online. The applicant must create an account. This account can be used to track the stages in the application process. A person's LinkedIn profile can be used to apply for jobs through the online job portal.
Only online applications are accepted at this time. It is a rather large company so offering an online application helps with records and to lessen paperwork.
When completing the application form, answer all questions and fill information in as accurately as possible. Take the time to go through the application so that it is completed with intention.
Resumes should be one page. Include all relevant job and education experience that would be considered an asset to the company. Be sure to proofread and edit accordingly to avoid any spelling or grammar mistakes.
There is an initial first phone interview. If it goes well, there will be a face to face interview. Be early. Remember the person's name who conducted the interview and send a thank you note reiterating skills and experience that match those needed for the job position. There is also a background check involved. The hiring process lasts about two weeks before a decision is made.
Facts about Mattress Firm
The core values of the company are integrity, service, and passion. These values help to shape the workplace culture. It is important to always do the right thing, even when no one is watching. There is an emphasis on building trust through honesty to foster relationships between employees and customers.
Mattress Firm was recently acquired by a company named Steinhoff International Holdings. This company is based in South Africa and sells furniture and discount apparel. Mattress Firm was brought for $3.8 billion, after a number of other mergers and acquisitions in the US.
The company sells a mattress every 20 seconds. 260 hours are dedicated to the initial training of all team members. There is a program called LeadHERship which is focused on attracted females to the company, retaining them, mentoring them, and helping them grow within the company.
Community service efforts include sponsoring Foster Kids and organizing a back to school drive for them. Some stores offer scholarships to local area students. In one year employees contributed over 5,500 hours of community service. Serving the community is one of the company's core values.
COMPANY LINKS