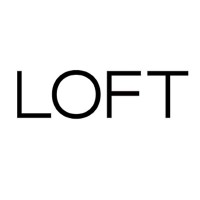 Originally named "Ann Taylor LOFT", it is a specialty women's retailer that offers relaxed fashions for the home and work at a higher price tag than other stores. It is intended to cater to a younger market than the other Ann Taylor stores. They also have LOFT Outlet stores as part of their brand. For information on a LOFT application, follow the link below.
LOFT was founded in 1996 as a part of the Ann Taylor brand. They have expanded this brand to target a younger audience than is typical of the Ann Taylor brand. They have even created a LOFT maternity line to add another market audience to target. They also have around 36 LOFT Outlet stores.
LOFT believes that there is nothing more important than community. As a result, they are active in charities to help through a charity organization named "ANN Cares". They work actively with the Breast Cancer Research Foundation, St. Jude Children's Research Hospital, ANN Cares Disaster Relief funds for Employees, and Good 360 to help improve the environmental impact and helping those in need.
LOFT believes that being charitable is an important value, and values each employee as a family member. Customers are also important, and must be treated kindly and be helped for their every need while in their store. If you feel like these core values are important to you and you have excellent interpersonal skills, this could be a great place for you.
LOFT Careers
There is a position for everyone at a place like LOFT. There are many opportunities at both the corporate and retail level. The retail level offers mostly entry-level type of positions that can grow into a LOFT career. At the retail level, one can find such positions as sales associate, sales lead, co-manager, store manager, and district manager.
ANN INC., which is the parent company to LOFT, offers numerous corporate career opportunities for people of all talents and skill sets out of their New York main office. There are plenty of opportunities for growth here at this company. Such fields one can find employment at the corporate level are design, merchandising, planning & allocation, sourcing, e-commerce and other positions.
With all the variety of employment opportunities with this company, there are varying requirements in regards to education and experience. People of all backgrounds can find something here. How old do you have to be to work at LOFT? The minimum age of employment is 18 years of age. Most positions require a minimum of a high school diploma or equivalent to gain employment.
Get Your Degree!
Find schools and get information on the program that's right for you.
Powered by Campus Explorer
Benefits can vary depending on hours worked weekly and time with the company. Eligible employees may receive medical, dental and vision insurance. They may also receive paid time off, adoption assistance, and access to an employee assistance program. They may receive life insurance and disability insurance. Other benefits include a 401(k) plan, stock purchase discount, employee discount, and tuition assistance, among so many other benefits.
Hours of operation can vary depending on location and holiday hours. During the holiday season, there may be extended hours to accommodate holiday shopping. There may also be certain holidays where the store might be closed. Generally the hours of operation are from Monday through Saturday from 10:00am to 9:00pm and Sunday from 11:00am to 6:00pm.
Job Descriptions & Salaries
Sales Associate- A sales associate is the primary contact of customer service within their store. They will assist customers on the store floor and should have a good knowledge of fashion and the store's products to assist customers. They are also responsible for handing customer transactions at the register and making sure the store floor is visually pleasing for customers. A sales associate may earn around $9 per hour.
Sales Lead- A sales lead will often perform the same duties as a sales associate might. In addition to those responsibilities, they will assist the store management whenever needed. They will often train new sales associates. They will also be responsible for helping drive the sales of the store to increase the profits. A sales lead may earn around $12 per hour.
Co-Manager- The co-manager is a partner to the store manager. They will assist the store manager as necessary. Co-managers may be responsible for recruitment in the store and help employees develop into better employees. They must have knowledge of the visual standards and principles that the company has in place. A co-manager may earn around $41,000 a year.
Store Manager- The store manager is responsible for the daily operations of the store. They will hire and fire employees and handling the store's scheduling of employees. They will develop teams to help maximize their store's profits. They are responsible for their store's budget and will manage their store's payroll. A store manager may earn around $57,000 a year.
LOFT Interview Questions
These are some questions that you may potentially be asked during your interview at LOFT.
Why would you like to work at LOFT? To answer this question, you should do your research about the company prior to your interview. You should look at the core values of the company and explain which ones inspire you to work here and why. Answer honestly.
What type of outfit would you wear if you had work, and then went out after work? This position is with a moderate end fashion retailer, so having a great knowledge of fashion is a must for an employee. The interviewer is looking for you to demonstrate this required knowledge. Discuss an outfit and what transitions could be made to make it work double duty for both needs.
Why should we choose you over the other applicants? The interviewer is asking you to sell yourself to them as the best candidate for the job. You should discuss your strengths and how the company would benefit from choosing you.
How do you keep up with the latest fashion trends? The interviewer is curious as to how you keep up with the current trends in fashion. This ongoing education is important to a LOFT job as you are working with fashion. Answer with which magazines or television shows that you keep up with understanding the current trends in fashion.
Name an instance when working as a team may have been difficult. Working in retail revolves around working as a team with your co-workers to ensure the success of the business. The interviewer is asking this question because they want to know what weaknesses you may have when it comes to team work. Answer honestly, explaining an incident where this may have occurred.
Advice for the Application Process
If you are wondering how to apply for LOFT online, you just have to go to LOFT jobs online. There are no printable applications for LOFT. There are no downloadable applications on the website. You may also fill out an application form at your local LOFT store. Fill out your LOFT application in accordance to the included instructions.
LOFT jobs online has the job descriptions and responsibilities clearly stated on the website so that a potential employee can find positions that are a good fit for their particular set of skills. You should only apply for positions that you qualify for, otherwise your application may not be taken seriously.
When you submit your application for a LOFT job, you should also submit your updated resume to give a clearer picture of your skills and experience. After submitting your application, you should hear back from the hiring manager within a reasonable amount of time. If not, you can call to check the status of your application and see if they are still hiring for the position that you applied for.
You should prepare for your interview prior by asking yourself any potential interview questions, and answering them out loud. This will help you be less nervous, more articulate and more confident during the interview. You should dress professionally for your interview to give a positive first impression that you should be taken seriously.
Also See:
Maurices: For career opportunities, fill out the Maurices online application.
Van Heusen: For career opportunities, fill out the Van Heusen online application.
Tommy Hilfiger: Checkout the application page for work at Tommy Hilfiger.
Men's Wearhouse: See our resource page for more information on Men's Wearhouse careers.
Lucky Brand Jeans: Checkout the application page for work at Lucky Brand Jeans.
Company Links