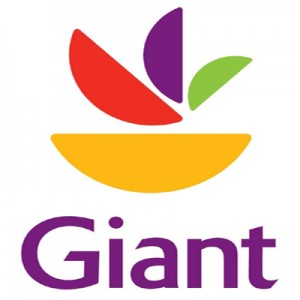 Giant Food Stores is a franchise located in the Northeastern United States, found in Pennsylvania, Maryland, Virginia and West Virginia. The company is actually a subsidiary of an international Dutch retail company named Ahold based in Amsterdam.
Founded in 1923, the franchise began as a small, two-man operated butcher shop in Carlisle, Pennsylvania. The owner, David Javitch, founded the shop on the promise of offering "the best product at the fairest price." So committed was he to this concept that he virtually all his time in his store, even raising his children there.
Eventually, Javitch decided to purchase an actual grocery store in Lewistown, Pennsylvania. Having a complete grocery store where perishables and dry goods were both offered was a novel concept in 1936, so the business experienced great success. Javitch decided to also convert his original meat market into a full grocery store as well.
The business's success continued propelling throughout time. By 1968, the company owned a total of 9 separate stores. As the 70s blossomed, the company purchased a separate chain of grocery stores named Martin's. These stores are currently subsidiary to Giant Food stores, and operate under their original name today. As of now, the company has continued its expansion. It currently owns and operates 92 gas stations with more than 180 stores spread over 4 states. These totals include the Martin's figures as well.
With such humble beginnings, Giant Food Stores provides a chance to work in a close knit atmosphere all while being employed in a widely recognized retail grocery chain. For those intrigued by Giant Food Store jobs should continue reading. This article will answer questions such as how to apply for Giant Food Store online along with many others.
Giant Food Stores Careers
How old do you have to be to work at Giant Food Store? Well, in order to be a Prepared Food Sales Clerk applicants must be 21 years or older.
Hiring requirements will vary depending on which position is being analyzed. Generally speaking, a minimum age requirement of 16 years or older must be met for all applicants. For entry-level jobs, previous experience is desired, but not absolutely necessary. Those with adequate drive or attitude may be awarded entry-level positions.
Get Your Degree!
Find schools and get information on the program that's right for you.
Powered by Campus Explorer
For managers or supervisors (or any other mid-tier to upper tier position) hiring requirements will naturally be stricter. In most cases a high school GED is at least required, if not a college degree in a related field. Previous experience is also accentuated, meaning those with at least 2+ years in retail management will be deemed suitable candidates.
Once again, the answer for average wages will differ depending on various positions. For entry level jobs, interested applicants should expect a minimum wage range in terms of salary. This means employees will be paid by the hour, usually at a rate hovering around $8.00 per hour. Though, look up your current state's figure on minimum wage for a more accurate total.
Higher tier positions such as Transportation Operations Supervisors will be paid on a yearly salary, though the figure will be negotiable with a hiring manager. Included benefits are as follows: medical, dental, and vision insurance, a 401(k) plan, life insurance, along with disability. Giant Food Stores also prides itself on a variety of computer training classes. The franchise also offers tuition reimbursement and employee guidance assistance for those in need.
The hours each store operates varies by locale. Most stores open around 6 a.m., but their closing times may be different. Certain stores are open as late as midnight, while others close by 10 p.m. To determine your local Giant Food Store hours, check online using links this article has provided
Giant Food Stores Job Descriptions
Giant Food Store careers are considered vastly rewarding. They give employees a chance for personal growth as well as the expansion of job skills. These can be particularly useful on resumes further down one's life.
What follows is a list of currently available Giant Food Store jobs. See one you like? Follow our links provided towards the end to submit a free application. If you'd rather use a download application form, we have you covered as well! Simply use the links and you'll be ready for a direct application submission.
Prepared Food Sales Clerk
These employees are designated in the prepared foods section of each store. This entails their salad bar, hot foods bar, sandwich area, as well as beverage bar. Giant Food Stores expect employees each contribute towards establishing meaningful relationships with their customers. This means an emphasis on customer relations and interpersonal communication.
Applicants toward this position will be responsible for greeting customers, directing them towards fresh products, recording special orders, becoming familiar with products, and handling food in accordance with food safety regulations. Intrigued by this position? You'll find a printable application form below, provided for your convenience!
Transportation Operations Supervisor
This job involves the distribution of Giant Food Store merchandise to their chain of over 180 grocery stores. As a supervisor, you will be in a mid-tier position involving the coordination of team members to ensure timely, appropriate delivery.
Supervisors must have superior interpersonal, team building skills. They must also couple that ability with customer relations skills, as the job also entails answering phone calls for requests. Transportation Operations Supervisors must make strategic decisions every day, along with managing some limited clerical staff.
These individuals work behind the scenes in order for products to reach the shelves. While it still entails various customer relations, it is not the same face to face interaction one might find if actually working within a store. As such, stress is put more toward management and knowledge of logistics.
Does this job description interest you? Any qualified individuals should continue reading. Provided towards the bottom is a Giant Food Stores application just for you. Follow our links and find the nearest hiring locations.
Meat Wrapper
Another entry level position here. The meat wrapper has a variety of job responsibilities. These include: cutting meat, stocking displays, rotating products according to freshness, servicing customers, and pricing merchandise.
Meat Wrappers are intended to always meet customer requirements, which sometimes means offering valuable or helpful suggestions. Customer interaction is a strong emphasis, and those with people skills will generally be ones hiring managers lean towards. These employees must also maintain cleanliness and follow all food safety guidelines.
In addition, some manual labor is required, as employees must load frozen food into coolers from delivery trucks. Those applying must be a minimum of 18 years or older. Applicants must also boast strong verbal skills, basic math skills, and be able to identify varying cuts of meat.
Do you have previous experience in a meat department? This line of employment may be the perfect career for you. Job opportunities are available right now! Apply online for immediate consideration; you may be one simple step away from working in the retail grocery industry.
Advice For Application Process
Submitting a Giant Food Store job application online is an easy process, though anyone who is worried should be sure to read the following advice. Doing so will ensure you'll stand out from the rest of the field when you apply for jobs at Giant Food Store.
The very nature of applications involves detailing how qualified an individual is for a job. So make sure you stress your qualifications. Word your sentences to show you are the right individual for the position, and find hidden qualities in past endeavors that can be applicable for the job you are applying for.
Also, submit a cover letter with your application. It seems doing so instantly separates you from those who did not put in the added effort. A cover letter is also a chance for you to showcase your skills even further. If you are a wordsmith, make it show! The same goes for those whose expertise lies in technical areas. This is a more personal touch that allows employers a taste of who you are before they even meet you. If your personality meshes, you are a sure bet for an interview.
What follows are a handful of links, including an online application along with a printable application for Giant Food Stores. Take the opportunity to submit your case to be their next employee!
Giant Food Stores careers can be vastly influential later on in life. Jobs in the retail grocery market expand employee knowledge in a variety of areas. Those who look at building upon their experience will find they've developed solid reasoning skills, customer interaction experience, and food handling expertise. Giant Food Store jobs give an added benefit of working in a primarily localized retail chain. This makes it easier to establish solid connections with higher ups, as well as foster a community atmosphere.
Of course, Giant Food Store is not the only franchise out there hiring. Other direct competitors offer similar working styles, as well as similar chances for career advancement. Some stores worth checking out are Hy Vee and Giant Eagle. Both franchises remain well-established throughout their corresponding domain in the country, and both are successful grocery retailers. Though, this article still recommends submitting a Giant Food Stores application. After all, the more applications you send out the higher chances are you receive an interview.
Also See:
A&P Supermarket: A&P Supermarket offers opportunities for both, beginners and experienced roles.
Cub Foods: See our guide for careers at Cub Foods.
Hy-Vee: See this page for jobs at Hy-Vee.
Fairway Market: See this page for jobs at Fairway Market.
Raley's: For employment at Raley's visit the application page.
Company Links
www.giantfoodmart.com/shoptocook/Web/giantfoodmart/Employment-Application.pdf