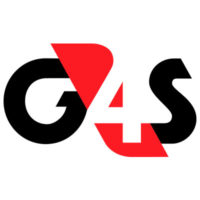 G4S is an integrated security company who offers risk analysis in addition to their security services, systems, cash solutions, and mitigation strategies for those who operate in complex or sensitive environments.
They were formed in 2004 when Securicor in England merged with the Danish business Group 4 Falck. It has its origins in a security guard company founded in Copenhagen in 1901 by Marius Hogrefe. In 2002 Group 4 had purchased The Wackenhut Corp located in the USA.
G4S operates worldwide in at least 125 countries, and has more than 600,000 employees. It is the world's third-largest private employer. If measured by revenue, it's the world largest security company.
Full-time workers are offered benefits, paid sick and vacation days, and 401K once you've worked there for a year. The type and cost of benefits varies by location and contract.  Overtime hours are often available.
The hours are flexible, both full and part-time. The training is paid, and most employees report that they learn a lot in their jobs. Some employees get entry level jobs there to get relevant experience for future law enforcement jobs.
How Old Do You Have to be to Work At G4S?
The minimum age required to work at G4S would depend on what country you are in, and what type of job you are applying for. Security jobs come with some risks; in the US you'd have to be at least 21 for most jobs.
G4S Careers
G4S has several different divisions that run many different types of contracts. Whether you are onsite or work in an office, though, it all involves security of some sort, protecting people, industry, and money.
Security Officer: The Security Officer provides security and access control. They conduct patrols on foot and in vehicles. They work inside and outside of buildings. They're there to prevent violations of security violations, and to report them if they happen anyway.
Armed Security Officer: The Armed Security Officer enforces all security regulations. They control entry into restricted areas, and provides escort of the visitors while in them. They respond and assist in case of emergency situations such as fire. They also assist law enforcement agencies if they are called to the site.
Firefighter: Firefighters at G4S have many of the same duties as city firefighters. They respond to fire and medical emergencies. In addition, they conduct safety checks on the job sites. They maintain the emergency vehicles, fire hoses, hydrants and tools. They also maintain the cleanliness of the fire station and the grounds, inspect the tower, and whatever else is needed.
Emergency Responder Services: The Emergency Responder responds to a variety of emergency calls. They help with evacuations, support search and rescue operations, provide medical transportation, staff hospitals and emergency shelters, and work stand-by at events in case there's a problem.
Security Police Officer: The Security Police Officer conducts their patrols either on foot or in a vehicle. They should be prepared to respond to alarms in all types of weather conditions. They'll sometimes be traveling over rough terrain. Officers generally work rotating shifts. Occasional travel is required for this position.
Fleet Maintenance Technician: The Fleet Maintenance Tech is responsible for diagnosing and repairing any malfunctions to all of the systems. They do all of the maintenance on the gasoline and diesel engines, such as overhauls, tuning, and any necessary repairs. They are also in charge of repairing and maintaining the hydraulic systems.
Construction Surveillance Technician: The Construction Surveillance Tech controls people's access to construction job sites, making sure only qualified individuals are allowed. They also conduct inspections. They inspect both the inside and outside of the Protected Distribution Systems, and then documents the findings. Makes sure that all stages of the construction are inspected and approved.
Operations Support Operator: The Operations Support Operator acts as the point of contact for staff in different locations. They make sure that all guards and other staff are checking in and safe. They make calls and provide escalation if necessary, as stated in their instructions. They'll provide complete reports of all incidents.
General Maintenance Worker: The General Maintenance Worker will perform all repairs and maintenance at the job site. This will include things like fixing broken windows, repairing any damages paneling or tiles, replacing fixtures such as sinks or toilets, painting, pouring new concrete, and performing maintenance on any machinery on the premises.
Financial Analyst: The Financial Analyst calculates the monthly revenues for contracts and then books them. They will complete the monthly project reporting. They prepare and distribute financial goals for each individual projects. Analysts also provide assistance with audits as needed.
G4S Application
Before you find out which positions that are available in your area, you must first navigate to your area! The Careers page has images to click on for each zone, and then you navigate to the country that you live in.
Applications are only accepted online. When you get to, for example, the US page, you can perform a job search using keywords, zip code, and other filters. Under that, there is a list of the latest jobs that have been posted.
You can navigate directly to the job posting to apply, or you can join the Talent Network and create a profile. This will be easier to apply for multiple positions, get matched to jobs, receive alerts about new listings, and track your application.
You can register with the Careers page with your social media or Linkedin account. Upload your resume to automatically create a profile. If you don't have one, you can enter your information manually. You will need to choose a password for a login.
The interviews are very straightforward, and are done one-on-one. Be prepared to answer questions such as "Describe a time when you were faced with a stressful situation" and "What motivates you?" Practicing before the interview with someone you know can help.
Facts About G4S
There is a strong culture of team or "family" at G4S. Sometimes the atmosphere varies from contract to contract, since there are so many different kinds of businesses and people that you'll be working with.
They are often in the news for signing and supporting measures such as a global code of conduct for private security companies and anti-human trafficking statements. G4S was also praised in Britain for working with the labor unions for fair treatment.
Most notably, they provided security for the 2012 Olympic Games in London. One of their mergers was with Rock Steady, who provides security for football teams and large venue rock concerts such as the Led Zeppelin reunion concert.
Their work with Olympic hopefuls goes back to 2007 when they founded their 4teen program. It not only helps support the athletes, but their families and in some cases their communities as well. The company releases an annual report on the results of their social responsibility programs, which can be downloaded on their website.
COMPANY LINKS