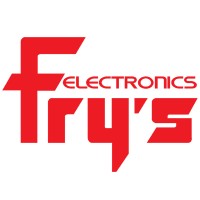 Fry's Electronics is an electronic retail company. It is a chain of superstore of high-tech electronics, household appliances and computer hardware. It also has a computer repair section and offers custom building of computers.
When Charles Fry sold Fry's Supermarket in 1972, he gave his sons John, Randolph, and David their shares from the profits that he gained. With the money that the sons have, they started a new business, Fry's Electronics. Their first electronic store was opened in 1985 in Sunnyvale, California.
From 2008, the company has around 10,000 employees for more than 30 stores in California, Texas, Arizona, Georgia, Oregon, Nevada, Washington, Indiana and Illinois. Each store offers over 50,000 items and ranges from 50,000 to 180,000 square feet in size.
The company offers a competitive salary and comprehensive benefits to its employees. Benefits include a comprehensive health insurance with dental and vision coverage, a 401K retirement plan, paid military leave, paid time off and vacation days, and paid sick leave.
People like working with the company because of its flexible working hours and comprehensive training about electronics. Employees are also given employee discounts and career development seminars.
How old do you have to be to work at Fry's Electronics?
In order to secure a job at Fry's Electronics, an applicant must be at least 18 years old. Some positions may require meeting specific physical requirements. These are usually the ones that entail heavy lifting or transporting heavy electronic items.
Fry's Electronics Careers
All technology-savvy and customer-friendly people are welcome with the company. Positions vary from one store location to another, ranging from store associates to management positions.
Customer Service Associate: A Customer Service Associate helps customers from the moment they enter the store until they check-out to purchase any product. They assist customers in finding items that they need and answer any customer inquiry regarding the product. They also provide information on new products and ongoing store promotions. 
Computer Service Technician: A Computer Service Technician is an expert with computers. He assesses the problem or damage and troubleshoots both computer hardware and software. He may also assist in installing or upgrading Windows or Apple operating systems. The Computer Service Technician may also do custom-building of computers for customers.
Retail Merchandiser: A Retail Merchandiser is responsible in making sure that the store merchandise is always updated. He checks and arranges all products that need re-pricing. The Retail Merchandiser ensures that new products are well introduced to the customers by putting up promotion banners or re-arranging merchandise placement in shelves.
Call Center Customer Service Associate: A Call Center Customer Service Associate answers all customer inquiries through phone. He assists customers in resolving computer hardware and software related problems. The Call Center Customer Service Associate monitors delivery status, product replacements and returns. He may also do outgoing calls to inform clients of ongoing promotions.
Home Theater Appliance Installer: A Home Theater Appliance Installer is one of the tech support team that performs home delivery and installation of home theaters including audio and video accessories. Their service includes fixing of low voltage wires for the appliance. The Home Theater Appliance Installer also checks and make sure that the home theater system works well before the leave the premises.
Car Electronics Installer: A Car Electronics Installer is also one of the tech support team. He installs car electronics like car stereos, GPS and lighting systems. He also works on the car's electrical wirings. The Car Electronics Installer also tests and ensures that whatever appliance he installed works properly before handing over the vehicle to the customer.
Information Systems Associate: An Information Systems Associate is responsible for the company's systems and network connection. He answers I.T. related issues and repairs network problems. An Information Systems Associate also configures company servers and does regular testing to make sure that the network works well.
Delivery Driver: A Delivery Driver transports and delivers items to customers or to other stores. He prepares the goods to be delivered and plans his routes. He is also responsible for the maintenance and cleanliness of the vehicles that he uses for delivery. The Delivery Driver also secures all delivery documents and makes sure that they are handed over to the store for accounting.
Assistant Manager: An Assistant Manager handles staff schedule and assignment. He assists the Manager in training newly hired employees and evaluates existing ones. He also makes sure that company standards are always followed. The Assistant Manager also acts as store head in the absence of the manager.
Store Manager: A Store Manager monitors the overall operation of the store. He makes sure that the goals set by the management are met. He is also a part of the hiring team and interviews applicants. The Store Manager makes sure that customer satisfaction is always met. He is also the person who handles customer complaints, if any.
Fry's Electronics Application
To start an application with the company, the applicant may check available positions through the company's official website. Alternatively, he may also check other job search engines for available positions.
Job vacancies may be seen online, however the company prefers applicants to apply personally. Hiring offices are open from Mondays to Fridays at 9:00 AM to 9:00 PM, on Saturdays from 10:00 AM to 9:00 PM and on Sundays from 10:00 AM to 8:00 PM. Application forms are available in the offices and in stores.
To complete an application form, the applicant must make sure that all required information is filled out. He must also make sure that the contact number or email address that he will list out is active and easy to contact. A resume and a cover letter may also be attached for the completed form.
A good and effective resume is concise and accurate. It usually only contains 1 to 2 pages. It contains pertinent information like trainings, courses and experience related to the position applied. Work experiences should always be in chronological order, from the most recent to later ones.
Once scheduled for an interview, the applicant should acquire information about the company and the position applied for. He should dress appropriately and be on the interview location on time. The applicant may also bring supporting documents like certificates or licenses, in case the hiring team may request for them.
Things To Know About Fry's Electronics
As a family owned business, Fry's Electronics has always practiced the culture of acceptance and respect towards its customers and employees. They are advocates of practicing as an equal opportunities employer. With this, an applicant is given a chance for a position regardless of race, ethnicity, religion or gender.
With the recent growing competition among tech sellers, the company has been successful in keeping its revenues high. Complete and competitive products and hardworking employees kept the company strong.
The company has always been a known electronics store. But unlike any ordinary store, it offers a wide range of tech products. Many have mentioned that they liked shopping at Fry's because they have almost anything that a tech-savvy individual needs.
As a way to give back to the community, the company has supported some local charity events around the stores. Employees have joined local food distribution events and also cleaning brigades. 
Application Links
Company: https://www.frys.com/
Careers: https://www.frys.com/ads/page180?site=csfooter_D#careers
Application: N/A
Last Updated on