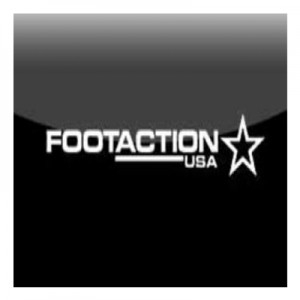 A member of the FootLocker family, Footaction's goal is to inspire men to dress from the ground up. They offer shoes for different athletic purposes — basketball, running or just general training. Their selection of athletic footwear consists of all the top brands such as Nike, Adidas, Jordan, Puma and more. With all the styles to choose from, customers can find shoes for athletic activities or everyday footwear.
Moving past the footwear, this apparel retailer is also known for selling urban-influenced clothing. From athletic shorts to jeans from brands like Levi's, shoppers can find clothing that fits their athletic, style and comfort needs.
Footaction has 319 stores across the US and in Puerto Rico.  Often found in shopping malls, these shops are a great place for anyone passionate about athletic footwear to work. They seek employees who have their own, unique look that has been inspired by athletic, street wear.
Jobseekers who fit this persona and want to apply for jobs at Footaction should read about Footaction jobs online and fill out a Footaction application for the position they seem best fit for. Apply online as there is no printable application for Footaction.
FootAction Careers
Applicants with little to no work experience in a retail environment will want to apply for a sales associate or stock associate positions. Sales associates are interacting with customers constantly. Thus, they should fit the mold of Footaction employees. This means dressing stylish and athletically and following the belief that an outfit starts at the feet.
Stock associates do not need to follow this dress-code as rigorously because most of their shift is before store hours. They should be organized individuals who can pay keen attention to details. Candidates with at least 1-2 years experience are qualified for the sales lead position. Aside from being style-conscious, management looks for high communication and customer service skills in applicants for this job.
An extensive background in retail or sales is required for managerial jobs. Footaction usually asks for 4 or more years of experience for assistant managers, while store managers aren't typically chosen unless they have 6 or more years under their belt. Years spent obtaining degrees in business management or similar areas of expertise are equivalent to years of work experience, but are not required.
Get Your Degree!
Find schools and get information on the program that's right for you.
Powered by Campus Explorer
Footaction jobs at this level demand a strong leadership style. As with any managerial job, these employees are the heads of a team. They need to lead and motivate others to follow their example. High quality communication is also a required skill due to the frequent correspondences to the corporate offices. Perhaps the biggest hiring requirement is a love for shoes. They don't just want applicants to look the part, they should be the part as well. Having a lot of background knowledge in shoes, styles and trends is vital.
How old do you have to be to work at Footaction? 16
Does Footaction require a background check? Yes
Is a resume required for applying to Footaction? For entry-level positions, no. However, It is an encouraged asset for applicants seeking upper management positions. Entry-level positions receive the minimum wage based on state laws. Minimum wage never seems too glamorous, but it is important to note that Footaction has a reputation for increasing these wages quickly as employees become more experienced. Sales associates can also earn a small percentage in commissions. The average wages for these positions is around $9/hr.
The wage increase from sales associate to sales lead is not large and varies by store location and previous experience. Sales leads that have been promoted from sales associates will make more money than a newly hired sales lead. The average wage for a sales lead is also around $9/hr.
Assistant store managers make, in the ballpark of, $25,000 to $30,000 a year. A store manager makes a little more, starting at around $42,000 and making as much as $50,000 a year. It is hard to suggest an average salary at this job level because it is so dependent on how much time spent with the company and experience in the industry.
All Footaction employees receive paid training and a store discount. Seasoned employees receive paid time off. Higher level positions have access to attractive salary options. In some cases, store managers have managed to raise their salary past $60,000 by utilizing these benefits. Qualified employees can obtain benefit packages that include a 401(k) retirement plans, healthcare, and more.
FootAction Job Descriptions
Sales associate is the ground level of job opportunities in sales. The main duties require them to greet and assist customers with all of their shopping needs. Since much of the inventory is shoes, this can mean a lot of running to the backroom to fetch the right shoe sizes for shoppers.
Those seeking employment who have little or no interest in sales could apply to be a stock associate. These employees are in charge of receiving new merchandise from delivery trucks, stocking shelves and keeping the backroom neat and organized. Safety and attention to details are key components to this job. Early risers are strongly suited for this position because the shift is early in the morning, before the store is open.
Sales leads have the same responsibilities as sales associates, but carry more authority within the store. They should carry themselves in a manner that makes them an example for other team members. Some managerial duties may fall upon the sales leads if there are no managers working.
This position is ideal for those who want to be involved in management, but can't commit to the full-time schedule that the store manager and assistant store manager jobs require. The main goal of this semi-managerial position is to coach the team into delivering the best customer experience for every person who walks through the door. The assistant store manager assumes all responsibilities if the lead manager isn't present. These tasks include employee training and management, visual merchandising, asset protection, and making sure overall store operation is up to company standards.
The store manager is in charge of hiring and training employees beginning their Footaction careers. They must also act to ensure that all company standards are being followed and executed properly. The store manager must report to a corporate-level district manager on a routine basis.
Advice For Application Process
The Footaction application is an online application. There is no printable application form. However, some locations may have a direct application at the store. The free application can be found online through a link on the 'Footaction Careers' webpage. Follow the instructions on the page to learn how to apply for Footaction online.
This is one of the few job interviews that it would be in the best interest to wear a nice pair of sneakers and a cap. They are looking for people that fit their urban-inspired brand. Presenting an appearance that matches the brand is key and provides a great jumping off point at the interview. Have a pair of rare Jordan's? Wear them and talk about them.
Demonstrate the qualities needed for the desired Footaction jobs. For example, a stock associate needs to be organized. If an interviewee can relate past experiences to how they are organized, they'll be a shoe-in for that position. Knowing what the interviewer is looking for and being able to express having those skill is like having the other team's playbook. The best way to find this information is to look at the keywords used in the job description.
Although a resume is not required for lower-level positions, it can never hurt. It can only improve the chance to stand out in a sea of other applications. It is strongly encouraged that any application for a managerial position has a resume attached to it. There is an option to attach your resume when you fill out the Footaction job application online.
As with any job, it is a good strategy to call a couple days after the interview. Not only does this express interest in the position and a desire to work, but it will help reestablish a connection with the interviewer. With only 319 locations (and some of those locations being Puerto Rico) there may not be a store in the local area. Footlocker, the parent company to Footaction, is an appropriate substitute. The job atmosphere is nearly identical. If a Footaction opened up within an easy commute's distance, transferring from Footlocker would be very easy.
This retailer may be a better option for the female, sneaker-obsessed jobseeker. Footlocker has a much broader selection of shoes and apparel geared towards women than Footaction and may make for a better overall work environment for women.
Potential employees that don't fit the athletic style could find themselves more attuned for a career at Journeys. Their selection of shoes offer young men and women lots of hip and trendy options. Journeys is perfect for people with an alternative style with the same urban elements.
Also See:
Stride Rite: Visit the Stride Rite application.
DSW: See our guide for careers at DSW.
Steve Madden: See our guide for careers at Steve Madden.
Anytime Fitness: See our resource page for more information on Anytime Fitness careers.
Nine West: For career opportunities, fill out the Nine West online application.
Company Links