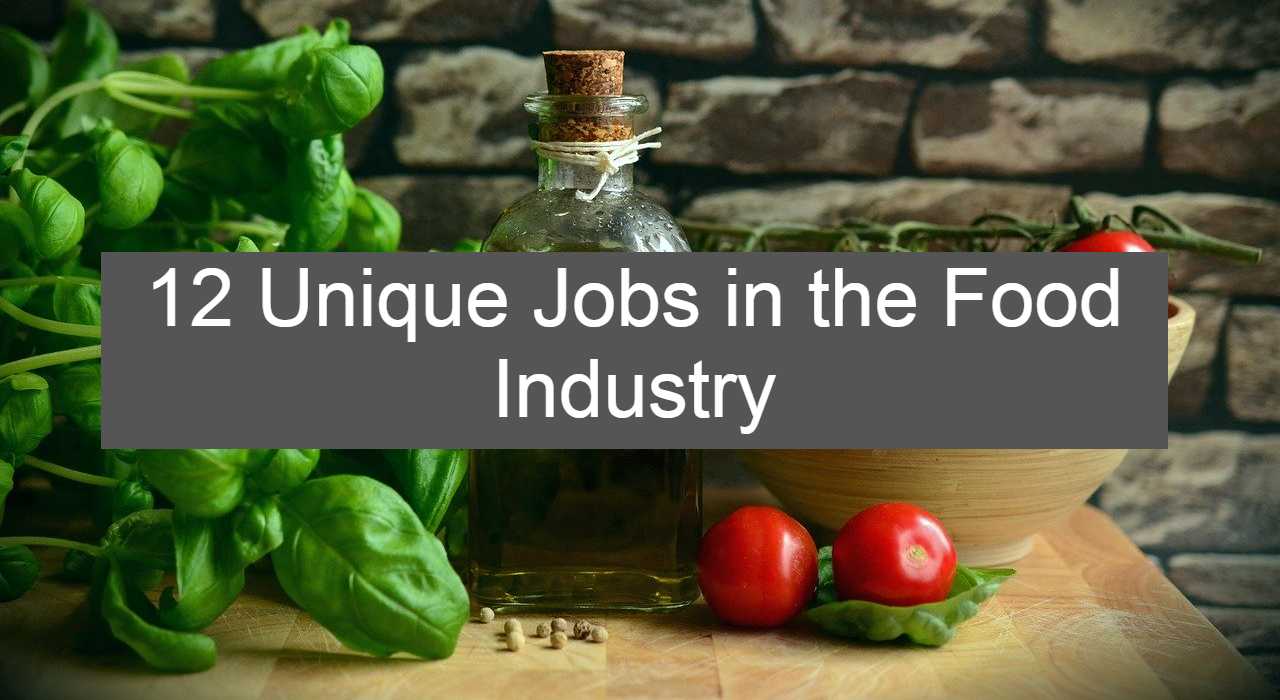 When you imagine working in the food industry, there are probably a few standard positions that immediately come to mind. Positions like server, host or chef are roles most people see themselves in when they picture working with food. If you are willing to look past the basics, however, there are many unique positions for those who are serious about working in the food industry and eager to branch out.
Do you care about the environment and providing sustainable and community-driven food options? Work at a local open-air market or farmer's market. Are you more inclined to take on the complex world of food-related legalities? Become a food lawyer. Are you passionate about how science can make the food industry more efficient and affordable? You could be a mycologist. Do you have an eye for the arts and want to create beautiful images of food for advertising purposes? Food photography may be your niche.
These are just a few of the virtually limitless options waiting for you if you decide to pursue a career in food. Keep reading to learn more about these unique food industry jobs and more like them.
1. Food Photographer
Food photographers take photos of food that can appear in food magazines, cookbooks, advertisements and more. The photos are often used for promotional purposes and can appear on social media too.
Food photographers are typically self-employed and have to build a client-base to get established in the field, but with the restaurant industry expanding every day, there is always a need for food photographers.
Food photographers use their skills as photographers to create well-composed and visually appealing images and sometimes video footage of food items. If you have an eye for photography and a passion for food, this may be the job for you.
2. Vegetarian/Vegan Chef
With the dietary needs and preferences of people all over the world rapidly evolving and changing, there will always be work for chefs who specialize in a niche such as vegan or vegetarian food.
If you become a vegan or vegetarian chef, not only will you be doing something good for the environment, but eating vegan and vegetarian can be good for your health and the health of others. Though there are some limitations when it comes to cooking vegan, it offers you even more of an opportunity to be creative and make something new and original.
Vegan chefs experiment with new recipes and ideas because as vegan eating has exploded in popularity in recent years, the world demands more vegan or vegetarian food options.
See: Star Market, P.F. Chang's, Waffle House for Vegetarian/Vegan Chef job opportunities.
3. Urban Farmer
What is urban farming you may ask? To put it simply, urban farming just means growing food in a densely populated area such as a big city. All kinds of people from entrepreneurs to hobbyists are finding ways to put unused spaces in urban areas to good use growing food and plants.
You don't have to have a background in farming to get started. There are resources in communities all around the world to help you learn more, and there's nothing wrong with starting small at first.
4. Restaurant Interior Designer
You wouldn't want to dine in a restaurant that looks unappealing visually. One of the most important aspects of any good restaurant beside the food is the atmosphere. Restaurant designers work to create a welcoming and inviting atmosphere for the restaurant's customers.
From deciding on seating options and paint colors, to broader areas like overall theme, restaurant designers work hard to make concepts and ideas realities for their clients.
5. Mycologist
A mycologist is a scientist who studies mushrooms. This is a surprisingly complex field because mushrooms are so diverse and serve many purposes even beyond being harvested for food. These scientists must take great care to ensure that they know their stuff and can identify which mushrooms are toxic or poisonous and which are not.
Some mycologists make a living foraging for mushrooms and selling them to restaurants or individuals. Some more rare types of mushrooms can bring top dollar for mycologists as some of the rare types are in high demand in the food industry. Some of the more rare types include the Brain mushroom or the "Devil's Cigar" mushroom.
6. Molecular Gastronomist
Molecular gastronomists are chefs who use the power of science and chemistry to modify and experiment with the flavors of modern food. These talented chefs also modify the texture and form of some foods.
Some examples of a molecular gastronomist's work include powdered oil or pickle-flavored ice cream. Creatives and artists with an affinity for food are often drawn to this position as both a way of expressing themselves and creating alternate and original versions of modern food that can be more convenient or have different applications.
7. Health Coach
Health coaches focus on nutrition and diet to help their clients get into the best shape of their lives. Through fitness training, teaching healthy habits and, most importantly, focusing on modifying the client's diet, these health coaches are able to make a difference in the quality of life for the people they work with.
If you are a fitness aficionado or are just particularly passionate about helping people live a healthier lifestyle, becoming a health coach might be a perfect fit for you.
8. Food Stylist
You may have never heard of a food stylist, but make no mistake, it is not a position to be sneezed at. Making food look as good as it tastes can be a challenging feat. That's where food stylists step in.
These stylists focus completely on the appearance of the food they produce for advertising or editorial purposes. They work with grocery stores, restaurants and more to make sure these businesses have pictures of their food looking its best.
9. Food Lawyer
The idea of a food lawyer may seem baffling to some, however, food is a big part of today's global culture and that includes the legalities that it comes with. There will be legal battles to be fought as long as there is food being sold, and some people feel there is a lot to be done legally regarding the food system in the U.S. today.
Food lawyers work with health and safety issues regarding food to keep consumers safe. They also work with regulations when it comes to farming and food production.
10. Farmer's Market Employee
Demand for healthier and more local food options has grown not only in the U.S. but around the globe. As a result, there has been a sharp increase in the number of farmer's markets. Farmer's markets require a surprising amount of people to make the whole thing run smoothly, and being an employee of a farmer's market is a great fit for someone who enjoys being outdoors and working with fresh plants and produce.
Towns and cities across the U.S. big and small are home to many farmer's markets. If you are interested in visiting one or even working for one you likely won't have to look far.
11. Food Truck Owner
There's more to being a food truck owner than meets the eye. Food truck owners must be comfortable traveling and being on the road as well as operating in a small space. The sacrifices are often well-worth the rewards, however, as being a food truck owner can be not only rewarding but fun.
Food truck owners get to meet new people and see new places every day and make customers happy by providing them delicious meals.
12. Cooking Instructor
Cooking instructors must be experienced in the art of cooking. Teaching someone to cook may not be as simple as it seems. These teachers must be patient and be sure to provide clear and straightforward instructions to their pupils while still encouraging them to be creative and t=let their originality shine through.
Cooking instructors can gain experience by teaching and form connections with their students that last a lifetime. These instructors make sure their students are equipped with the skills they need to excel and become great chefs themselves.
What Other Jobs Can I Get in the Food Industry?
When it comes to something as massive as the global food industry, there are infinite options as far as career paths in the industry go. So many more positions are waiting to be discovered and one just might be your dream job. If you have a passion for food and a drive and desire to work in the industry, there is nothing stopping you from accomplishing your dreams.
These jobs discussed in this article are just the tip of the iceberg and with additional research, you can find so many more career paths. From food artists to food journalists, there is a niche for every unique skill set and if you have something new and exciting to bring to the table, odds are someone will be willing to work with you to help those ideas come to fruition.