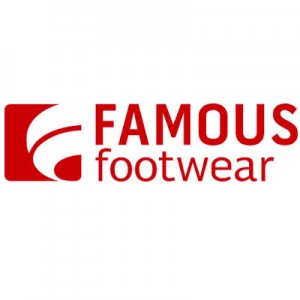 Famous Footwear is a shoe store selling the latest trends and brands in footwear at discounted prices. It operates roughly 1,100 stores as well as a website through which people can order shoes for shipment. More than 110 million consumers visit store locations in the United States, U.S. territories, and Canada, as well as the website, to shop for and purchase affordable, high quality shoes each year. It is part of the Brown Shoe Company, a global footwear company worth $2.6 billion, which serves a variety of customers by offering family, healthy living, and contemporary fashion brands.
The international store chain first started in 1960 in Madison, Wisconsin as "Neil's Factory Outlet Store." It began with the concept of "brand name shoes for less," a concept that has persisted throughout the company's history. The first store to be called "Famous Footwear" opened when it expanded to Iowa in 1964, and all stores adopted the name starting in 1965. In 1980, the company was acquired by Brown Group, Inc. In January of 2001, Famous Footwear reached the $1 billion sale mark for the first time. By 2002, it had 924 stores in the United States, Guam, and Puerto Rico. Its expansion became international in July of 2013 when it opened its first store in Canada.
It partnered with Girls on the Run, a non-profit organization to teach life skills through lessons that incorporate running. Through this partnership, Famous Footwear will help inspire girls in local communities, as well as those across the country, to lead healthy and active lives.
It is committed to providing customers with the right shoes for them to ensure a proper fit for foot health. This includes having a 30-day money-back-guarantee on unworn shoes if customers are not satisfied with the fit. The website has a printable foot measurement tool so that customers can accurately measure their foot.
The company recently released a mobile app to provide more convenience for customers. It provides over 100 national brands of shoes in its stores.
Famous Footwear Careers
Hours are flexible, allowing employees to work and go to school or raise a family. Employees also like that the atmosphere is lively and that their co-workers are fun, friendly, and helpful. Managers are knowledgeable and great to work with, and there is great communication between stores. Employees learn a lot of valuable skills, such as teamwork, communication, customer service, and time management. After they develop these skills through training and experience, they like that there are job opportunities to move up into management roles rather than stagnating in one lower-level job. In addition, they enjoy the diversity of people that they meet through their interactions with customers and team members while working.
Hours vary at the different locations. A common range of hours is 10 AM to 9 PM on Monday through Saturday and 11 AM to 6 PM on Sunday.
Get Your Degree!
Find schools and get information on the program that's right for you.
Powered by Campus Explorer
How old do you have to be to work at Famous Footwear? You must be at least 16 years old to fill out the application form. Some positions, such as management, require you to be at least 18.
The company is looking for friendly, positive, outgoing people who share a passion for shoes. In addition, you should love serving people and being hands-on in selling. You must take initiative and go beyond what is expected of you while being eager to learn new skills that will make you more successful and productive.
For many positions, no experience is required. For leadership and management roles, specific experience in customer service, the shoe industry, retail, etc. may be required. The various requirements are described in detail on each job listing.
Famous Footwear employees earn an average annual salary of $30,000, or $14 per hour. The average annual salaries of some common positions include:
Sales Representative – $15,000
Sales Associate – $22,000
Assistant Sales Manager – $26,000
Assistant Manager – $30,000,
Sales Manager – $41,000
Store Manager – $43,000
Associate Manager – $45,000
Merchandise Allocation Specialist – $50,000
Eligible employees in Famous Footwear careers receive the following benefits, among others:
Health and Dental Insurance, Vision Discount Plan, Life Insurance, Supplemental Life Insurance, Short Term and Long Term Disability, 401(k), Employee Stock Purchase Plan, Retirement Plan, Merchandise Discount, Educational Assistance Program, Paid Vacation, Paid Holidays, Sick Leave
Famous Footwear Job Descriptions
Famous Footwear jobs exist at three levels of the organization: in the field, at the corporate office, and at the distribution center. There are opportunities for both part-time and full-time careers with flexible hours.
In the Field
Regional Sales Manager, District Sales Manager, Store Manager, Assistant Manager, Sales Associate/Stock Associate
At the Corporate Office
Retail Operations, Buying, Marketing, Human Resources, Merchandising/Planning, Finance, Information Systems, Real Estate/Store Planning
At the Distribution Center
Order Processor, Material Handler, Logistics/Transportation Management
Future Career Growth
The company helps employees by providing growth opportunities through extensive field management and sales training. It also offers developmental opportunities for corporate staff. Managers at different levels are encouraged to partner together in order to create an environment of teamwork that allows for support, collaboration, and growth. In addition, managers assist in development and growth of their team members.
Famous Footwear Interview Questions
After applying to Famous Footwear jobs online, you may receive interviews that follow up on your applications. In order to present yourself in the best possible light, dress nice and don't be shy. The interviewers will want to make sure that you can handle interacting with customers and being friendly on a daily basis. Answer questions honestly and concisely after giving them some thought.
Some of the questions you might be asked during interviews for employment in Famous Footwear jobs include:
What does success mean to you?
What would you do if you saw someone trying to steal?
What are your greatest strengths and weaknesses?
Why do you want to work here?
If a client is looking for a specific brand, but you know it wouldn't be the best fit for his or her needs, how you would redirect him or her to the correct shoe without being overbearing?
What is your greatest accomplishment?
After your interview, you will be notified if you got the job or not.
Advice For Application Process
There is not a printable application form, and you cannot download the application form. Since there is no printable application for Famous Footwear, you must apply online with a free application. You can apply to positions for which the company is currently hiring as well as positions that will need to be filled in the future. If there are no current or future positions that interest you, you are encouraged to check the Famous Footwear careers page often because it is updated regularly with new openings.
How to Apply for Famous Footwear Online
When you want to apply for jobs at Famous Footwear, you first go to the careers page. From there, you can click "Retail Openings" to access the application website. If you are interested in management positions rather than retail, you can click on the link on the careers page that says "Click Here to View a List of All Current Open Management Positions in the US." Both of these links will take you to pages where you can fill out a Famous Footwear job application online.
Retail Openings
On that page, you then choose your language and country, enter your zip code and desired distance, and click "Go." From the list of locations that show up, choose the ones that you want to be considered for, and click "Go." This will show you a list of current and future positions for that location.
You can browse through jobs and click "Details" to read the requirements and responsibilities for each posting. When you find a position with a job description that interests you, select it and click "Proceed to Registration." If you have never applied to jobs here before, register to create your login information, create your basic profile, upload your resume, complete the Famous Footwear application, and answer any job-specific questions.
Management Positions
When you see a list of current management openings, you can click on each available position to read its description. If there is a position that matches your interest, click the "Apply Now" button to fill out a direct application for that job. The same as the online application process for retail positions, you will register to create your profile and Famous Footwear application if you have never previously applied here.
If you are passionate about affordable shoes, Payless ShoeSource and DSW Designer Shoe Warehouse are other stores where you should consider employment. Payless is the Western Hemisphere's largest specialty family footwear retailer, with low prices for a wide range of trendy shoe options. It employs over 25,000 associates around the world. DSW also has quality shoe brands at a great value, and it has over 400 stores nationwide. In addition to offering affordable shoes, DSW also sells a large assortment of handbags and accessories.
Also See:
Crunch Fitness: See our guide for careers at Crunch Fitness.
Footaction: For career opportunities, fill out the Footaction online application.
Merle Norman Cosmetics: Visit the Merle Norman Cosmetics application.
Steve Madden: Checkout the application page for work at Steve Madden.
Anytime Fitness: Use the Anytime Fitness job application to apply here.
https://www.youtube.com/watch?v=LyPeBzr2T3g
Company Links
http://www.famousfootwear.com/en-US/Content/career.aspx