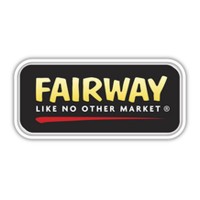 Fairway Market is an American grocery store chain that specializes in providing everyday foods and brands as well as uncommon and exotic foods. It is has of the highest grossing retails per square foot in the United States. The chain boasts 14 million customers per year at 14 food markets and three spirit shops in New York, New Jersey and Connecticut.
The company was founded in the 1930's. The flagship store occupies its original location on West 74th street on Upper Manhattan's Upper West Site. It began as a modest produce shop and has expanded to include a café. In 2001, the chain opened its first store outside of New York City. By 2013 the chain had expanded to 14 stores. Two additional stores and planned to open in 2015 and 2016.
The company has received recognition as an industry leader. It is listed in the INC.'s top five thousand fasted growing companies for four straight years. Gourmet Retailer named it one of the most important specialty food retailers in 2004. Specialty Food Magazine has also named the chain as one of the country's 6 outstanding specialty food retailers. In recent years, the chain has received energy conservation awards from the U.S. Government and New York City.
The company is a growth-oriented food retailer that strives to stay true to its entrepreneurial origins and customer-focused roots. The company seeks to ensure that employees actively engage customers and build customer relationships. The company aims to ensure all customers experience the best shopping trip every time they visit a store.
Fairway Market Careers
The chain hires employees in numerous jobs and positions across several departments. Jobs are available in the store's baker, butcher, and cheese shops; the deli and café; produce, seafood and general groceries, and specialty shops (such as the Kosher shop and organic and Health shop). The company offers industry standard wages and benefits.
How old do you have to be to work at Fairway Market? You must be 18 years old to work in most states in America. Check out age requirements for your state and for the jobs you are applying for. Some positions have physical requirements. For instance, you must be able to lift 50 pounds and push a 100 pound cart to work as a Kitchen Porter and cashiers must be able to stand for 4-6 hours at a time.
Fairway Market pay is industry standard. Minimum wage in New York state is $9.00 per hour.  Connecticut minimum wage is currently $9.15 per hour and slated to increase to $9.60 per hour in 2016. Minimum wage is $8.38 an hour in New Jersey. Some positions include a large discount on a hot lunch and 10% discount on groceries.
Get Your Degree!
Find schools and get information on the program that's right for you.
Powered by Campus Explorer
Working hours are primarily during store hours but some positions require employees to arrive before or after the store closes. Stores are typically open at 8:00am and close at 11:00 pm daily. Some locations have limited hours on Sundays and on major holidays such as Christmas.
Job Descriptions & Salaries
Cashier
Cashiers have general and department specific responsibilities. General responsibilities include scanning groceries, operating the cash registers, engaging customers, promoting products, and working as a team to resolve customer issues quickly. Cashiers also maintain department signage, stock register supplies (such as grocery bags) and collect shopping carts from the parking lots. 
Stock Clerk
Stock Clerks are responsible for stocking and replenishing a wide variety of grocery and deli products. They receive and break down loads, help customers locate items throughout the store, build product displays as needed, and rotate produce, seafood and deli stock. They are also responsible for product quality and freshness and pack out products as necessary. 
Bakery Clerk
Bakery Clerks receive product loads, build displays, prepare trays, set up bakery cases, and rotate and replenish stock as needed. They are also responsible for packaging, wrapping, weighing, and labeling bakery goods for retail sale. They work to ensure product availability, freshness and quality. Bakery Clerks are also responsible for recognizing customer needs and identifying which products suit them the best. 
Kitchen Porter
Kitchen Porters are responsible for keeping the kitchen in excellent condition. They have numerous cleaning tasks such as emptying trash containers, sweeping and mopping floors, and dusting fixtures. They are also responsible for responding to maintenance calls and clean up spills in the grocery aisles and change light bulbs when needed.
Fairway Market Interview Questions
Prepare for your interview by reviewing these interview questions
Why would you like to work at Fairway Market? Hiring managers love to ask this question. Be sure to learn about the company so you have a good idea why you want to work for them. Try to think of something beyond saying "I need a job." or "I live down the street." It's better to say something like "I live nearby and enjoy shopping here. The employees are friendly and helpful and I'd like to be part of that team."
Do you have previous grocery experience? Take this opportunity to talk about any similar jobs that you have or to talk about positions you have held that had similar duties. Talk about when you've provided excellent customer service or when you've been responsible for operating a cash register.
When are you available to work? Hiring managers want to know when and how often you are available. Talk about when you can start and what your typical daily availability. Grocery stores need employees that have flexible schedules. Do not bring up scheduling conflicts unless it is absolutely unavoidable.
What are your strengths and weaknesses? Imagine you are in the position and thing about strengths and weaknesses you have that think are applicable. For instance, cashiers need to be able to quickly and accurately make change for customers.
Do you consider yourself a leader? Be honest. If you don't feel you are a leader explain why. Say you are a dependable team member who is great at following procedures and will go out of the way to help customers. Are you great and staying organized and motivating others? Then talk about why that makes you a good leader.
Advice for the Application Process
The Fairway Market application process helps hiring managers determine fi you will be a good team member and if you will fit in with other employees and managers. The hiring process will be generally informal for most Fairway Market jobs. You can find Fairway Market Jobs online, download an application form or ask about openings at a store.
Always approach managers and employees with a positive attitude and be respectful. Wear clean clothes even if you are just there to ask about openings. In general, casual clothing is appropriate for most interviews.  Wear business casual clothing if you are interviewing for a management or leadership position. Be sure you are well groomed and dressed respectably. Don't wear mini skirts, shorts, tank tops or flip-flops to a job interview.
Plan ahead and prepare for the interview. Do some homework about the company and the position and bring a list of pertinent skills and experiences to the interview. You can refer to it during the interview. It will come in handy if you are stumped. Instead of staring blankly you can look thoughtfully at your notes. Also prepare any questions you have and write them down so you remember to ask them.
The hiring manger might let you know if you are hired on the spot. Be prepared to accept the position graciously and thank them for the opportunity. If they don't hire you, ask them about any future openings that they might be interested in considering you for.
How to apply for Fairway Market job online? Follow the links below, to find a Fairway Market job application online, obtain a printable application for Fairway Market, and to apply for jobs at Fairway Market.
Also See:
Wegmans: Visit the job application for Wegmans to apply today.
Piggly Wiggly: For career opportunities, fill out the Piggly Wiggly online application.
Pro's Ranch Market: Checkout the application page for work at Pro's Ranch Market.
Bashas': Visit the Bashas' application.
Foodland: Visit the job application for Foodland to apply today.
Company Links
https://re12.ultipro.com/FAI1000/JobBoard/ListJobs.aspx?__VT=ExtCan