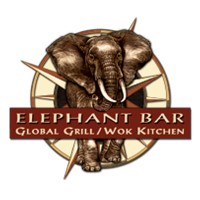 Elephant Bar is a jungle-themed restaurant serving a large selection of mostly Asian and other world foods.  It was founded in 1980 by David Nancarrow with his son in Lubbock, Texas.  You can find out how to apply for Elephant Bar online by following the link to make an Elephant Bar application at the bottom of the page.
Elephant Bar now has 29 different locations, across 7 different states with the majority of restaurants in California.  It is currently a division of the S.B. Restaurants company.  It is particularly known for its wildlife inspired décor including zebra stripes, leopard print, palm trees and of course large elephant statues.
Their menu has been constantly developing since they first opened to include dishes from all over the world.  The bars also offer a variety of different cocktails to compliment their meals.  There also offer different loyalty and guest programs where customers can collect stamps that translate into rewards and free food.
Elephant Bar staff are expected to live up to the motto of PRIDE.  This stands for Passion, Respect, Integrity, Dedication and Integration.  If you think you fit this description and you want to start a career in this industry you can apply online to join this friendly and growing team.
Elephant Bar Careers
Elephant Bar careers are split into Hourly, Management and Support Center.  The hourly positions available are Hosts, Servers, Bartenders, Bussers, Prep Cooks, Line Cooks and Dishwashers.  These are entry-level positions but there are always opportunities for dedicated individuals and experienced applicants to advance to the Shift Leader and management roles.
The company is also accepting applications for its corporate Support Center careers in Dallas.  There are many roles available in areas including Operations, Human Resources, IT, Marketing and Real Estate amongst others.  For most of these roles you will need experience in the field chosen and some will require a college degree.
How old do you have to be to work at Elephant Bar? You can be 16 years old for some Elephant Bar jobs, but check the job description before applying.  Keep in mind that you will be required to work evenings as the restaurant hours are from 11am to 10/11pm.
Get Your Degree!
Find schools and get information on the program that's right for you.
Powered by Campus Explorer
Employees working on an hourly basis will have many training opportunities and possibilities for advancement.  Other employees will have access to a comprehensive benefits package.  This includes health insurance covering medical, dental and vision and a life insurance plan.  In addition to this you will also receive paid vacation and there are bonus schemes for Restaurant Managers.
Job Descriptions & Salaries
Server – As a Server you will have a variety of different responsibilities including serving customers, taking orders and helping with the day-to-day tasks of the restaurant.  You will need to be able to multitask and have great customer service skills.  The hourly wage is $8-9.  You will also be able to earn tips.
Line Cook – As a cook you will work in the kitchen preparing and cooking the meals.  You will prepare the items of the menu according to the specifications.  It is important in this job that you stick to strict food preparation and hygiene standards.  Line Cooks typically earn between $12-14/hour.
Assistant Manager – Assistant managers are there to support the general managers but there will be opportunities to advance.  You will be responsible for overseeing the service staff during your shift and ensuring that they are delivering high quality customer service as well as meeting the hygiene and restaurant standards.  The salary can be up to $50k/year.
General Manager – The General or Restaurant Manager is responsible for supervising all aspects of the restaurant including staff hiring, training and management, administrative work and profitability.  The management bonus schemes are based on sales targets so you will need to have a head for marketing and customer service.  The salary starts at $60-70k/year.
Elephant Bar Interview Questions
After you apply for jobs at Elephant Bar, prepare yourself for the interview by going over some questions you might be asked.
Why do you want to work at Elephant Bar?  This is a very standard question for any job and even if you're applying for lots of companies at once you will still need to come up with an answer directed at each one.  Make sure you do some research and come up with positive reasons why you want to work there.
How would you handle a customer complaint?  It's important that you are able to handle potentially stressful situations in a calm and professional manner.  If you have any customer service experience then you can give examples from your previous employment.
What didn't you like about your previous bosses or coworkers? This might sound like an opportunity for a rant but it's not a good idea to be too negative about your last jobs.  Turn a bad point into a positive for example, they didn't trust you with enough responsibility and you're looking for something more challenging.
Are you good at multitasking? You will need to be able to juggle different tasks at once so it would be good here to give an example of when you have had to handle a similar situation.  You can use examples from your work experience or school/college.
What is your biggest weakness? Like some of the other questions make sure you turn negatives into positives.  Talk about what you have learnt from your weaknesses and how you are going about trying to improve.
Advice For Application Process
To submit an Elephant Bar job application online, the link is the same whether you are looking for hourly, management or corporate job opportunities.  You will need to fill in the online application form detailing your past experience and education and upload your resume.  Make sure you double check your details before submitting to guarantee you haven't made any mistakes.
By searching for Elephant Bar jobs online you will be able to find all the opportunities available but there isn't an option to download a printable application for Elephant Bar.  If you wish to make a direct application to your local restaurant then you can go down there and request a free application form from the manager.
Some locations may ask you to come to a group interview for Elephant Bar jobs but most will ask you to come for a one-on-one interview.  Make sure you are smartly and professionally dressed even if you are applying for an entry-level position.  It is important to be friendly and smile as well as maintaining eye contact.
When you are asked questions in your interview it's helpful to give specific examples when answering.  It's much easier to claim that you are good at working in a team or have leadership experience if you are able to talk about a time when you were able to demonstrate this.  Above all though it's important to remain positive in all parts of your Elephant Bar application.
Also See:
The Yard House: See this page for jobs at The Yard House.
T.G.I. Friday's: See our resource page for more information on T.G.I. Friday's careers.
Ruby Tuesday: Visit the job application for Ruby Tuesday to apply today.
Gordon Food Service: For employment at Gordon Food Service visit the application page.
Pizza Ranch: See our resource page for more information on Pizza Ranch careers.
https://www.youtube.com/watch?v=-H9xUUwwmo4
Company Links
http://www.elephantbar.com/career