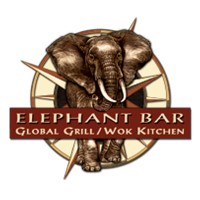 The Elephant Bar is a 'scratch kitchen', jungle-themed restaurant that serves a wide selection of globally-based dishes, traditional American fare, burgers, and sandwiches. Its corporate office is in Dallas, Texas.
The company was founded by David Nancarrow in 1980 and opened its first restaurant in Lubbock, Texas. Elephant Bar restaurants are decorated with African safari themes and wildlife motifs.
The restaurant chain currently operates more than 20 locations in California, Nevada, New Mexico, and Arizona. It is presently a division of S.B. Restaurant Company, Inc.
Employees get to enjoy a comprehensive benefits package which includes medical, dental, and vision health coverage, life insurance, paid vacations, and bonus schemes for the managers.
Teamwork is one of the restaurant's top priorities. Working here, employees will feel the support as the managers and co-workers are always willing to help. Although fast-paced, the environment is always fun and welcoming.
How old do you have to be to work at Elephant Bar?
You have to be at least 16 years old to be considered for entry-level jobs at Elephant Bar such as server, busser, dishwasher, or bartender. Managerial positions are also available for the more proficient, more experienced candidates.
Elephant Bar Careers
Depending on their skills, past work experiences, and qualifications, job seekers may land any of the following jobs. Hired employees will have many opportunities for growth and advancement so those with lower level positions can expect promotion especially if they excel in their field.
Cashier: A cashier accepts payments from customers, making sure all quantities and prices are accurate, provides receipts, balances the cash register, generates reports for debit/credit sales, processes exchanges and refunds, and resolves complaints related to payments. A cashier also welcomes customers, answers their queries, helps them locate items, and provides useful advices and recommendations.
Prep and Line Cook: A prep cook starts the cooking process by cleaning produce, cutting meat and vegetables, and preparing other ingredients needed for cooking. A line cook prepares and finishes the cooking process according to the menu specifications. These cooks must strictly follow kitchen hygiene and cleanliness guidelines.
Server: A server is responsible for a variety of duties including greeting customers entering and leaving the restaurant, taking orders, serving customers, keeping the dining area clean and orderly, and assisting with the day-to-day functions of the restaurant. A server must have excellent customer service and multitasking skills.
Busser: A busser cleans tables, takes plates, drinkware, and utensils to the kitchen for washing, makes sure customers' water glasses are kept full, and resets table for the next diners. A busser may also help the servers in bringing food out to dining tables, restocking napkins, utensils, and other items needed in the dining room.
Bartender: A bartender prepares alcoholic or non-alcoholic beverages for customers, mixes ingredients for cocktail preparation, takes orders, serves drinks and snacks, and interacts in a friendly manner with customers. A bartender also needs to assess the customers' preferences and needs in order to make suitable recommendations.
Dishwasher: A dishwasher cleans dishes, flatware, glassware, kitchen utensils, and food preparation equipment including pots and pans; stacks washed items properly; maintains order and cleanliness in the work area and around the restaurant; cleans and restocks cook stations and dining areas to prepare for the next shift.
Shift Manager: A shift manager oversees and is responsible for the operation of a restaurant during a shift. This manager ensures profitability of the restaurant, takes necessary steps to make sure all shifts are staffed, advertises and goes through applications to select workers who can fill in a particular shift, making sure the staff is well trained and qualified.
Restaurant Manager: A restaurant manager takes necessary actions to ensure that the restaurant is profitable while keeping to the allocated budget. This manager is tasked to meet the store's profitability and budget goals by purchasing needed products in bulk and ensuring they are wisely and economically used. He is also responsible for overlooking the overall operation of the restaurant.
Assistant Manager: An assistant manager supports the functions of the general managers. This person is responsible for supervising the service staff and making sure they are providing superior customer service and meeting the safety, cleanliness, and security standards of the restaurant.
General Manager: A general manager supervises all aspects of the business including staff management, training, and hiring, profitability, and administrative work. The bonus schemes of the management depend on the sales targets of the restaurant so the general manager must also focus on customer service and marketing.
Elephant Bar Application
Candidates may submit their application online or apply directly at their local restaurant. Most locations do one-on-one interviews while some may ask the applicants to come for a group interview.
Job seekers can download Elephant Bar's Application for Employment which is available through the company's website. They must fully accomplish the form and attach their resume to be considered.
In the form, applicants must provide pertinent and accurate details such as personal information, desired position, employment history, educational background, availability, and character references. They may type in the information or print the form to fill it out by hand.
The Elephant Bar seeks individuals with P.R.I.D.E.: Passion, Respect, Integrity, Dedication, and Education. So, on their resume, applicants must list any organizations or activities they've been involved in that reflect those attributes.
During job interviews, being professionally and smartly dressed is always a must. Above all, it is important that interviewees remain positive and confident (but not aggressive) in all stages of the application process.
Things to Know About Elephant Bar
The Elephant Bar fosters a diverse and strong culture that creates a welcoming work environment. The dedicated and cooperative staff work together to exceed the guest and company standards of service and hospitality.
The restaurant chain has been featured in several newspapers and online journals including The Pittsburgh Times, The Press-Courier, East Bay Times, and Las Vegas Review-Journal, all giving praises to the food and services of the restaurant.
Especially known for its wildlife-inspired décor including leopard prints, zebra stripes, palm trees, and huge elephant statues, the Elephant Bar offers a unique experience for both the diners and the workers.
They constantly develop their menu to include more international dishes. The restaurant also offers different guest and loyalty programs that allow customers to earn rewards or free food by collecting stamps.
Application Links
Company: https://elephantbarrestaurant.com/
Careers: https://www2.appone.com/Search/Search.aspx?ServerVar=gen3hospitality.appone.com
Application: http://www.elephantbar.com/wp-content/uploads/2017/02/APPLICATION-FOR-EMPLOYMENT-EBR.pdf