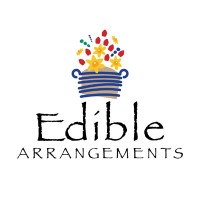 Edible Arrangements has combined fruit baskets with floral arrangements to create unique, inviting gifts that you can eat.  To find out how to apply for Edible Arrangements online follow the link at the bottom of the page and use the information to submit an Edible Arrangements application today if you're interested in jobs in this area.
The first store was opened by brothers Tariq and Kamran Farid in East Haven, Connecticut in 1999.  The headquarters are still located in Connecticut, but now in Wallingford.  There are now over 1,250 locations across the world in the United States, Canada, many countries across Asia and also in Italy.
They create arrangements for all types of holidays from Mother's Day to Graduations, for men, for women and special arrangements for kids.  In addition to fruit arrangements you can also find arrangements that include chocolate-covered fruits and fruit truffles.  Their product list also includes cupcake arrangements and fruit-tini arrangements in martini glasses.
The company also runs a charity campaign called 'Edible Cares'.  They have partnerships with various charities to support their causes.  They have been supporting the Breast Cancer charities National Breast Cancer Foundation and the Breast Cancer Society Canada for nearly ten years.  They also have links with local communities to support smaller charitable causes.
Edible Arrangements Careers
Edible Arrangements jobs are very often seasonal but there are a lot of full and part-time careers available in their stores.  The most typical positions available are Fruit Experts and Sales Associates, Kitchen and Production Workers, Delivery Drivers, Fruit Consultants, Assistant Store Managers and General Managers.  Many of these are entry-level positions.
You can find a wide range of Edible Arrangements jobs at the corporate level as well.  Many of these will require a college degree in the area that you're applying for.  You can find job opportunities in the fields of Business Gifting, E-Commerce, Human Resources, Information Technology, Marketing, Store Support and Innovation.
Get Your Degree!
Find schools and get information on the program that's right for you.
Powered by Campus Explorer
How old do you have to be to work at Edible Arrangements?  You must be 18 years old or over to apply for jobs at Edible Arrangements.
You'll find that there is a comprehensive package of benefits to Edible Arrangements careers.  Full-time employees will be entitled to a health insurance package including medical, dental and vision as well as a company-matched 401(k) retirement plan.  There is also an employee assistance program, other insurance plans and discounts on the merchandise.
The hours of operations are 8am to 7pm Monday to Friday, 8am to 5pm on Saturdays and 10am to 3pm on Sundays.
Job Descriptions & Salaries
Fruit Expert – As a Fruit Expert you will need to appreciate customers needs and be knowledgeable about the different types of products available in the store so that you can make inspirational recommendations to customers.  Experts also create the beautiful arrangements that are available in-store.  This role is usually paid at $9-10/hour.
Kitchen/Production Worker – You will need to keep to strict food preparation and kitchen hygiene standards working in this job.  Kitchen Workers will receive orders and accurately create the arrangements according to the requirements.  There are some physical requirements to this job such as lifting and staying on your feet for long periods of time.  The pay is $9-10/hour. 
Delivery Driver – Employment as a Delivery Driver is often on a temporary or seasonal basis around the holidays.  You will be expected to deliver between 20 and 25 arrangements per day.  Drivers are required to have their own vehicle, valid driver's license and insurance.  Drivers are usually paid per delivery.
Assistant Store Manager – The job description of the Assistant Store Manager requires you to oversee the staff in the stores and ensure that they are providing the highest possible level of customer service.  You will help to promote the services of the store in the local area and to the customers in-store.  The salary is upwards of $10/hour.
Edible Arrangements Interview Questions
It will help in your applications if you practice some typical interview questions after you've made an Edible Arrangements application.
Why do you want to work here?  This is a very common interview question so you should always be prepared for it.  Do some research on the company before you go so that you know a bit about the company. 
How would you handle an angry customer?  Customer service is at the center of all their operations.  You will need to be able to demonstrate that you can still deliver excellent customer service when you're put under pressure. 
Why did you leave your last job? You won't want to come off too negative, even if you left on bad terms from your last job.  Try to focus on what leaving your last job has taught you about what you're looking for in a career.
How do you handle conflicting priorities?  If you have previous experience working in this type of industry then give a specific example of when you have had to deal with a similar situation.
Can you work holidays?  As the main business of this company is on holidays you will need to be able to work at least some of the major holidays throughout the year.
Advice For Application Process
There are different ways of applying for jobs depending on if you want a store or corporate position.  For corporate jobs, search Edible Arrangements jobs online to see a list of their current openings.  Then you can apply online by filling in the online application form with your work history.
For store-based jobs you can't submit an Edible Arrangements job application online, you will need to make a direct application to one of the stores.  By contacting your chosen store they can give you advice on how to apply, or you can take your resume to a store and request a free application form.  You can't download a printable application for Edible Arrangements.
The interview process will usually be a fairly straightforward process for most applicants, especially for in-store openings.  For corporate positions the process will most likely be longer.  You will usually be contacted a few days after submitting an application and be invited for a single face-to-face interview with a hiring manager.
When you turn up to your interview you won't need to dress in a full business suit but remember to be well presented.  It's important to remember that for in-store opportunities there is a lot of customer interaction involved so you will need to show off your natural personality and show that you can converse easily with new people.
Also See:
Lindt Chocolate: See this page for jobs at Lindt Chocolate.
Gloria Jean's: Visit the job application for Gloria Jean's to apply today.
The Coffee Bean & Tea Leaf: Use the The Coffee Bean & Tea Leaf job application to apply here.
Swensen's: See our guide for careers at Swensen's.
Rocky Mountain Chocolate Factory: See our resource page for more information on Rocky Mountain Chocolate Factory careers.
Company Links
https://www.ediblearrangements.com/edible-careers/edible-arrangements-careers