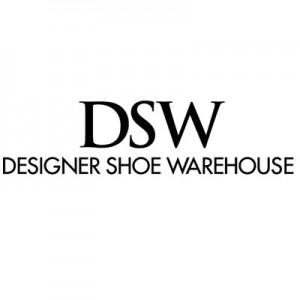 Designer Shoe Warehouse, Inc. promises its customers designer shoes at warehouse prices, and the retailer keeps its promise by offering an impressive selection of brand name and designer footwear and accessories for men, women, and children.
The first DSW retail store opened in Dublin, Ohio in 1991.  Today, the chain has more than 400 locations in the United States and Puerto Rico and recently entered the international retail market by opening two stores in Toronto, Canada.  In April, 2014, the company purchased a 44% interest in Town Shoes Limited of Canada, with an option to complete the purchase in the future.
The customer experience features an array of nearly 25,000 pairs of shoes displayed in a warehouse sized store setting averaging 22,000 square feet.  The great selection, variety of brands and styles, and convenience of so many choices in a single store attracts a wide demographic of customers across the nation.
An online virtual shoe store was launched in 2008, and they introduced a mobile version of the website in 2011, providing customers with the convenience of being able to make purchases using their mobile phones and tablet computers. The technology savvy company also utilizes social media as a marketing tool to publicize the latest shoe trends by offering online contests, featuring fashion blogs, and other news channels for promotional purposes and company news.
In addition to carrying value-price name brands, the retailer also has several proprietary lines,   including Aston Grey, Audrey Brooke, Abella, Bedford Block, Crown Vintage, Kelly & Katie, Studio Ink, and Taryn by Taryn Rose.
DSW hit the New York Time Best Seller's list in October 2013 with the publication of their first book, "Do You Speak Shoe Lover?" which featured anecdotes from shoe lovers around the globe.  The company also hosted the first "National Shoe Lover Day" in its stores, a promotion which celebrated the event by providing opportunities for customers to win free shoes for a year.
The retailer promotes customer loyalty through a free program called DSW Rewards, which offers perks and provides shoppers with opportunities to accumulate points toward $10 Rewards certificates every time they shop.   Customers may then redeem their Rewards certificates online or at their local store. The company also partners with other retailers through the Affiliated Business Group (ABG) to share their expertise and help them build their businesses.
Get Your Degree!
Find schools and get information on the program that's right for you.
Powered by Campus Explorer
DSW Careers
The retailer supports equal employment opportunities for all. They do not discriminate against age, race, color, nationality, religion, sex,  disability, genetic information, sexual orientation, gender identify or any other protected classification recognized by state or federal laws.
Prior retail experience is an advantage when applying for a position, even when applying for entry level jobs, and a high school diploma is the minimum education level required for employment with the company. Background checks are performed as a standard part of the hiring process. Most retail jobs require the employee to maintain a 95% attendance record.
The following are examples of the requirements for specific job postings:
Lead Cashier qualifications are excellent organizational and verbal communication skills, the proven ability to train others, excellent customer service skills, minimum high school diploma, minimum 2 years retail experience required, and experience in high-volume cash wrap environments.
Sales Associate qualifications are good written and verbal communications skills, the ability to operate a calculator and a terminal keyboard, read and interpret price ticket information, minimum 1 year retail experience as cashier, retail floor generalist, or store receiver preferred, and a minimum of a high school diploma.
Store Manager qualifications include excellent verbal and written communication skills, the proven ability to motivate others, proficiency in base computer use, including e-mail, MS Word or other word processing program and Excel or other spreadsheet program.  Additional requirements are a minimum of an Associate's degree or equivalent work experience, and a minimum 4 years retail management experience.
Stock Room Supervisor positions require excellent organizational and verbal communication skills, a proven ability to train others, excellent customer service skills, a minimum high school diploma, minimum 2 years retail experience, and experience in high-volume stock room environments.
How old do you have to be to work at DSW? You must be at least 16 years of age, and provide proof of legal authorization to work in the United States.  Proof of legal age for employment will be verified. The company offers a competitive benefits package intended to attract and retain quality employees. Rates of pay are negotiated when an offer to hire is made, and starting pay is calculated based upon position and level of experience.
Benefits include: Medical, Dental, and Vision Insurance, Prescription Drug Coverage, Health Savings Accounts, Flexible Spending Accounts, Life Insurance, Long Term Disability, Short Term Disability, 401(k) Plan with Company match, Employee Assistance Plan, Salary Continuation Plan, Electronic Pay/Ipay, Paid Time Off, Paid Holidays and Employee Discount.
Standard store hours of operation are: Mon – Sat:   10am – 9pm
Sunday hours vary among locations: 11am – 7pm, or 11am – 6pm
Hours may be adjusted to reflect seasonal and holiday schedules.
Employees often cite a fun, friendly work environment with a good work – life balance when sharing what they like about their jobs.  Other positive aspects are the relaxed dress code, generous employee discount, flexible schedules, good starting pay, and generous raises.
This is a particularly good employer for college students because managers will accommodate school schedules and the work environment is relaxed, friendly, and diverse. They do not accept candidates for F-1 or J-1 visas, but will consider candidates with an H-1B visa that is valid and has not expired.  Applicants seeking corporate positions may be sponsored for temporary visas or Green Cards.
DSW Job Descriptions
Jobs are categorized by business functions such as Retail Stores, Corporate, Information Technology, Distribution, Marketing, Merchandising, Planning and Allocation, and Affiliated Business Group Jobs.
Job titles include Store Customer Service Representative, Co-Manager, Lead Cashier, Assistant Store Manager, Sales Associate, Store Manager, Stockroom Supervisor, Stock Associate, Associate Systems Analyst, Associate Buyer, Senior Manager Merchandise Planning, Ecommerce Front End Technical Lead, District Manager, Retail Manager, Advanced Data Analyst, Senior Security Engineer, Oracle Database Administrator, Manager Ecommerce Front End, and Merchandise Support Assistant.
A variety of intern opportunities are offered in many different departments, including Site Operations, Information Technology, Store Operations, Allocations, Finance, Marketing, and Store Planning. Prior retail experience is preferred, but there are jobs that do not require previous experience, such as Sales Associate.
Advice For Application process
While it is possible to find a printable application for DSW online, paper applications are no longer accepted, and there is no printable application form on the Careers page of the corporate website. The company accepts applications for job opportunities on their corporate website under the Careers section.  Hiring managers for locations who are hiring may perform an applicant search to review the profiles of job candidates who are interested in DSW careers.
To learn how to apply for DSW online, visit the corporate website and click the Careers link to view local jobs and apply for DSW jobs online. You must set up a profile to submit a DSW job application online. You will not need to go through a download application form process.  The DSW application process allows you to apply for jobs at DSW by submitting a free application to apply online.
To apply for DSW jobs, submit a direct application after setting up your Profile.  Setting up your profile includes uploading your resume and completing your contact information so that you can submit an online application if you come across a job description that interests you.
All open DSW jobs are posted on the Careers page of the corporate website.  You can apply online at your convenience at any time.  After you submit your DSW application form, you will complete an online questionnaire that will take approximately 30 minutes to complete.  The questions are an assessment to help match you with suitable DSW careers.
If you have applied for a position in one of the retail stores and are selected for an interview, you will be contacted by a hiring manager to set up the interview. Corporate position candidates whose qualifications match the responsibilities of the position for which they've applied will be contacted by a Human Resources representative to discuss the interview and hiring process.
Applications remain on file for one year.
If selected for a face to face interview, come prepared knowing about the products and brands they carry and how your previous retail experience might translate to the role for which you're applying.
A DSW motto is that they always put the customer before the task, so your answers should highlight your focus on customer satisfaction.  Know the four core values of Passion, Accountability, Collaboration, and Humility and be prepared to discuss what these qualities mean to you. Many different retail outlets and department stores compete with DSW for customer loyalty within the fashion retail industry. 
The retailer was ranked #872 on the 2014 Fortune 1000 list, compared to competitors  J.C. Penney Company, Inc., which was ranked at #235, and Macy's, Inc., ranked #107.
Also See:
Rack Room Shoes: Checkout the application page for work at Rack Room Shoes.
MAC: See this page for jobs at MAC.
New Balance: Use the New Balance job application to apply here.
Reebok: Visit the Reebok application.
Sephora: For career opportunities, fill out the Sephora online application.
Company Links
http://wpc.4728.edgecastcdn.net/004728/applications/DSW-job-application.pdf