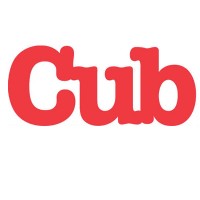 Cub Foods is a supermarket chain in Minnesota and Illinois that offers low-cost grocery value. It operates as a subsidiary of SuperValu Inc. with various discount grocery and deli stores and pharmacies in the two states.
Four people founded Cub in 1968 to serve as the first discount food store in the US. It was Charles and Jack Hooley, Robert Thueson, and Culver Davis, Jr. They later sold the company to SuperValu in the 80's.
Through the decades, the supermarket expanded to almost 80 stores across the two states. The company is celebrating its 50th anniversary and announces to open the first chain to hold a residential complex in 2019.
The company offers a comprehensive benefits package which includes 401k retirement plans, dental and medical insurances, and paid leaves. They also provide company discounts to all staff and personnel.
Many people like the working environment at Cub Foods because of great interactions between co-workers and the management. It cultivates an atmosphere of learning when leaders train their teams of the work they need to do. 
How old do you have to be to work at Cub Foods? 
The company hires people of at least 16 years old and can provide a good rapport with customers. There's no need for necessary experience or a high school diploma as they offer positions for students in need of extra income.
Cub Foods Careers 
There are plenty of entry-level opportunities for job hopefuls in the company. They always seek people to fill vacant positions in different departments like the supermarket, pharmacy, distribution, and more. The growing chain provides more employment opportunities for the local communities. 
Stock Associate: A stock associate maintains the store's inventory. The person checks items with accuracy and returns them if found defective. The employee must have the capability and strength of lifting or carrying heavy items around 50 pounds. A stock associate also does ad hoc tasks like reporting and documenting. 
Cashier: Cashiers scan items bought by customers and accept payments from them before issuing change and receipts. They also handle wrapping people's purchases and give info on any incoming discount deals or coupons. They're the first persons customers go to when they hand defective goods for returns and exchanges of goods. 
Cleaners: They keep the store clean and organized. Cleaners perform duties like sweeping or vacuuming and supplying comfort rooms of necessary toiletries. They are also in-charge of the requisition of cleaning supplies needed for maintenance of the store. The following employees also report to the manager for any faulty equipment that needs repairing. 
Deli Attendants: They assist customers and provide them with information about the product. Deli attendants also get to slice and weigh the items before pricing and packing them. They make sure to pack and store cheeses or meats for longer shelf life. Deli attendants follow food safety practices according to the store's standards. 
Bakery Associate: A bakery associate assists the baker in preparing the food by heating it in the oven and displaying them in cases. They operate kitchen equipment and machines to prepare the goods. Associates can do basic cooking, decorating, and slicing of bread. 
Liquor Store Clerk: A liquor clerk assists customers and hands them information about the product they need. Sometimes, they might even present in-store tasting for the consumer. They also get to check the inventory. A liquor clerk must know his customers whether they're at the appropriate age of buying alcoholic drinks. 
Pharmacy Technician: Pharmacy technicians assist in preparing and delivering the prescribed medication to the customer. They also act as the cashier for the pharmacy and issues receipts. Pharm techs manage inventory control of the store and keep a record of all available medicines they have. 
Delivery Driver: Drivers load and unload goods to the vehicle for delivery. They make sure that items are in good condition all throughout the journey. They maintain good communication with the dispatcher so they will get the item delivered to the customer. Drivers also note customers' feedbacks and report them to the manager. 
Quality Assurance Associate: They also act as the floor associate and make sure that every aisle is in order. Some tasks involve are moping the floors, gathers cart in the parking lot, and loading customers' purchased items in their car. They also must have the strength to carry heavy loads and work in varying shifts. 
Online Customer Service Representative: Online representatives help customers with their ordered items and resolve issues with their accounts. They assist them when making purchases online or through the mobile app. Online representatives serve as liaisons between the customer and the company. 
Cub Foods Application 
Interested applicants can submit their resumes to the store's HR Department or online. One must wait a week before following up the application. But, most stores would get back to job hopefuls around three days.
Online applications are available on the company's webpage and various job ads sites. One must sign up and fill in their profiles for higher chances of getting employed.
When applying online, choose an appropriate image for your profile picture. Upload your resume and fill necessary information in the fields. One can even attach a cover letter or portfolio of experiences.
Keep your resumes short and concise. List down the skills and experiences you have that might help you on the job you've applied for. Always place your most recent experiences and skills learned at the top.
If the manager invited you for an interview, prepare yourself for that day. Know the company and give examples of how you can apply your skills to help them. Research probable questions your interviewer might ask and practice answering them. 
Things To Know About Cub Foods
The company provides a fun way for managers and employees to work and learn from the job they have to do. Staff and personnel also enjoy interacting and helping customers on what they need. 
Cub Foods will open a residential complex by 2019 with a smaller store that features a deli area, made-to-order meals, pharmacy, and floral space. It'll also have an indoor and outdoor seating for cafes and refresher bars. 
The company offers quality food at affordable prices for the community. They offer a range of services like grocery delivery, food catering, and health check-ups. 
Cub Foods partners with different organizations in the community like Make-A-Wish Foundation and Minnesota Gophers to raise money for a cause. They also have a school supplies drive to help less fortunate kids in schools.
Application Links
Company: https://www.cub.com
Careers: https://www.cub.com/about/careers.html
Application: https://www.cub.com/about/careers/store-jobs.html