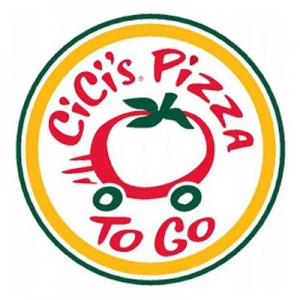 The leading custom pizza buffet, Cici's Pizza ambushed the pizza industry with their grand opening in Plano Texas back in 1985. In the United States, there are 500 restaurants in 34 states making Cici's Pizza the most successful buffet style pizza restaurant around. Serving up a constant supply of pizza, pasta, salad and dessert, has surmounted to multiple awards and recognitions for franchise owners, and ample career opportunities, and employment benefits for those interested in Cici's careers.
As a family oriented restaurant, part of their mission is to make this world a better place for children, which is why they are involved in various organizations that help to give kids better lives. A couple of those organizations are: No Kid Hungry, Big Brother Big Sister, and Happy Hill.
Cici's recognizes the need for family time, and the importance of creating a family-friendly environment. For families who prefer to have their favorite custom buffet-style pizza at their favorite events, they can request a catering service and employees will take care of everything.
The vast amount of locations ensure plentiful hiring opportunities for those who find themselves  interested in working their way up in the well-respected, and successful pizza franchise.  A Printable application form is available; and for those who want to apply online, should look for a local branch, send their resume, and apply for jobs at Cici's today.
Cici's Pizza Careers
How old do you have to be to work at Cici's? Minimum age requirement is 16 years old. They prefer employees who have a positive attitude, possess proper customer service etiquette, and accomplish all responsibilities included in their job description.
They are an equal opportunity employer, and they have a track record for hiring people who are new to the work force.  They have training programs in place for all new employees.  New worker need to ask necessary questions, work hard, and try their best. Managers will teach a new employee everything they need to know. If you are a person who would enjoy working at a family style restaurants that is rich with laughter and smiles then applying for Cici's would be a good career choice for you.  It is important to note that  customer service etiquette is a must have in order to be an approachable employee.
Pay and benefits do vary by location, but for employees who are deemed qualified do have access to benefits such as 401K, Health insurance, paid time off, and employee discounts. After working a long shift, the last thing many people want to do is go home and make themselves dinner. One of the perks to working at Cici's is that you can take your dinner home with you. You can also enjoy drinks and beverages while you are at work!
Get Your Degree!
Find schools and get information on the program that's right for you.
Powered by Campus Explorer
Most food businesses can provide free food and beverages, but one of the best benefits is their ability to move up in job responsibility and pay. If you put in hard work, the odds of you being able to move up into a management position are high. Since they are a leading buffet-style pizza restaurant, the number of locations and growing customer base gives employees a true reason to work their way up into Cici's management.
Being employed at Cici's is a great way to give back to the community. Working for a company that does so much for so many people is a fantastic reason to get up and go to work in the morning. One of their partnering organizations is Happy Hill, which is a not for profit organization that focuses on relocating children who are in detrimental environments. The hope is that the at risk children who come to Happy Hill will persevere through their hard situations through the help and love of being in a positive home environment.
Two other great organizations that Cici's partners with are Big Brother Big Sister, and No Kid Hungry. With the addition of positive role models, many children can learn and thrive, which is why Cici's is such an avid supporters of Big Brother Big Sister. No Kid hungry is another wonderful organization that they are very happy to be a part of. No Kid Hungry is an organization that recognizes the importance of child hunger, and the need for full bellies so children can learn and grow.
Hours of operation vary depending on location and time zone. If you need to know the operating hours for your location, type in your zipcode into the main company page to view the operating hours. This tool can be used for any location throughout the United States. If you are unable to look up the hours of operation, you can also call the closest Cici's location to you, and ask them what their hours of operation are.
Cici's Pizza Job Descriptions
Cici's jobs differ depending on experience, and skill level. There are plenty of entry level job openings, as well as positions that require an employee to accept higher job responsibilities, and longer hours.
General Manager, Assistant Manager, Cook, Server assistant, prep assistant, cutter and busser are all job opportunities offered through the custom pizza franchise. Job availability varies from branch to branch, but each Job description is synonymous throughout all locations.
Employees who are dedicated to the business, reliable, and hard working are often promoted and rewarded for good behavior. There are many employee success stories available online about how employees gained valuable work experience, or even moved onto own their very own location! Printable applications for Cici's are available online, don't waste another moment!
Jobs differ on pay due to some jobs having more responsibility then others. For those who are new to the work force, starting out around minimum wage is common, but the room for raises and potential career advancement is available. Some of the higher paying salary jobs are: General Manager, Assistant Manager, and Cook. Their job descriptions and common salaries are listed below:
General Manager: An average general manager salary is over $40,000. Duties include but are not limited to: overseeing locations, ordering product, and ensuring operations at the locations are running smoothly. Management experience and GED or College degree preferred.
Assistant Manager: An average Assistant Manager salary is over $29,000. Duties include but are not limited to: managing daily operations, managing other employees, and making sure their location runs properly according to protocol.
Cook: An average Cook salary is over $20,000. Duties include but are not limited to: food prep, cleaning duties, and making sure to follow best practices and recipes 100% of the time.
Cici's Pizza Interview
Make sure to practice Interview questions once you have applied. It is important to be able to answer why you want to work there, because that is one of the most common questions asked by employers. If an employer does not think you truly want to work for them, then they may decide that training you will not be worth the time.
Think really hard about why you want to be a part of the leading custom pizza buffet restaurant, and sell your best qualities and skills Downloading Cici's job application online is your best bet at understanding the information you will need to know in order to interview well.
Advice For Application Process
How to apply for Cici's online? A downloadable application form is available online. Fill out the whole application form, focusing on your best qualities and accomplishments. List all relevant job experience, and if you do not have any prior job experience, then list all of the qualities you possess that make you an excellent candidate.
Hiring managers understand that every person needs to start somewhere. As long as you are a hard working person who is eager to learn the business, then you are already half way there! A good idea would be to print off Cici's application and look it over for a few days. Reflect on your best attributes, and decide how pertinent those are to working on a Cici's careers.
Cici's jobs can be found online, and applications can be found in the link section below. An online application for Cici's will be different then for other pizza businesses, so get a free application for review and use it to practice. Following up with your potential employer is always a good idea, and give your branch manager a phone call if you have not heard from them in a few days. Showing interest in a job is always the first step. Good luck in your interview!
Direct competitors would be Chuck E Cheese, and California Pizza kitchen. Both of these restaurants are kid friendly, and offer fun for the whole family. The price of food at each location varies, but the overall experiences are similar.
Also See:
Ruby Tuesday: Checkout the application page for work at Ruby Tuesday.
Ledo Pizza: Visit the Ledo Pizza application.
Fox's Pizza Den: Checkout the application page for work at Fox's Pizza Den.
Happy's Pizza: See our guide for careers at Happy's Pizza.
Rock Bottom Brewery: For career opportunities, fill out the Rock Bottom Brewery online application.
https://www.youtube.com/watch?v=ZNnPPDrRAFg
Company Links