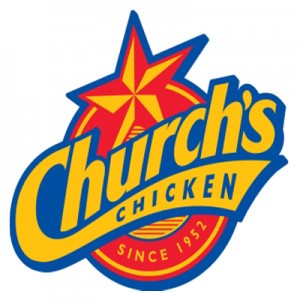 Retired poultry incubator salesman George W. Church, Sr. was 65 when he opened a carryout fried chicken business that proved to be a precursor to today's fast food industry.  In 1952, "Church's Fried Chicken to Go" was opened as a small takeout service in downtown San Antonio, across the street from the Alamo.  The stand sold only chicken, and customers could watch through a window as their meal was cooked.
French fries and jalapeno peppers were the first side items added to the menu in 1955.  The combination of low overhead and high quality, reasonably priced food made the business very successful.  Four store locations had been opened by the time the founder passed away in 1956. Church's son took over management of the business in 1962 and expanded the chain beyond the local San Antonio area after developing a marinade with his brother that could be formulated anywhere.
Investor J. David Bamburger came on board in 1965 with a plan to help the fast food chain expand into the national market by opening stores in the lower income urban neighborhoods that had previously been ignored by competitors.  After hiring and training members of the community to staff the stores in additional Texas cities, the business grew to 17 restaurants and $2.7 million in sales by 1968. Incorporation soon followed, and by the end of 1969, there were over 100 stores in seven states.
By the 1970's, CEO Bill Church and largest shareholder Bamberger no longer agreed on a future strategy for the business, which had grown to 487 restaurants in 22 states.  Bamberger resigned and was replaced by Roger Harvin, who subsequently moved into the chairman role in 1980 when Church resigned.
At the time it merged with Popeye's Chicken and Biscuits in 1989, the company had become the second-largest fried chicken restaurant chain in the nation. After being owned by several different parent companies, the chain is currently owned by the Cajun Operating Company and has over 1,660 stores in 26 countries, many of them franchises.
The following are some fun facts about the company:
More than 200 million pounds of chicken, 160 million biscuits, and 24 million pounds of mashed potatoes are served to customers each year. The chain made history in 1995 when it hired the first female president of an international fast-food restaurant chain, Hala Moddelmog.
Get Your Degree!
Find schools and get information on the program that's right for you.
Powered by Campus Explorer
Church's Chicken Careers
When submitting a Church's Chicken application, the candidate should be aware that this employer participates in eVerify, which is a free federal background check program operated by the Department of Homeland Security used to validate an applicant's eligibility to work in the United States.
The firm is an equal opportunity employer who celebrates diversity and looks for applicants with a variety of educational backgrounds, experience, and skill sets, including fluency in more than one language for some of the positions they offer.  Qualifications are tailored to the position, with some jobs requiring a high school diploma while others require an advanced degree.
For example, an employee in the Market Leader position will be responsible for the success and profitability of their location, which includes managing a team of crew members, maintaining inventory, and providing high quality service to customers.
Job qualifications listed in the Market Leader description include:  A 4-year degree in a business discipline or comparable experience, a minimum of 3 years of restaurant management experience, with 2 of those years functioning as a multi-unit manager, demonstrated written and verbal communication skills, and computer skills, including word processing and spreadsheet software, such as proficiency with Microsoft Word and Excel.
The education, experience, and certifications required to apply for the position of Senior Manager, International Quality Assurance include a minimum of a Bachelor of Food Science degree, 7 years of Qualify Assurance in a restaurant environment, 2 years of international experience, poultry and plant experience.
Entry level roles such as cashier and crew member are viewed as just as important as roles with more rigorous qualification requirements.  Employees who provide direct service to customers have the greatest impact on the bottom line growth potential for the location.  Store positions require employees who can be flexible about the hours they are scheduled to work.
How old do you have to be to work at Church's Chicken? The minimum age to work at the retail restaurant is 16, but some positions may require the employee to be age 18 or older (for example, a grill operator).
Salary is negotiated when a job offer is made, and is based upon education, experience, special training or certifications and job description. Benefits are competitive with other quick-service industry restaurants.   Benefits are based on the job and whether the employee is a full time or part time employee, therefore, benefits offered will not be the same for all employees.
Benefits may include  medical, dental, vision, life insurance, prescription drug plan, 401(k), paid vacations and holidays, short- and long-term disability, flexible spending accounts, pre-paid legal insurance, identity theft protection insurance, employee assistance programs, service awards, and quarterly bonuses for managers.
Restaurant hours of operation are Sun-Sat 10:30am – 10:00pm. Hours may be adjusted seasonally and for holidays.
Current and former employees comment on the fun, friendly, fast-paced work environment, free lunches/discounts, and the opportunities for advancement. Other employees enjoy the bonuses, flexible schedules, and team-work.
Church's Chicken Job Descriptions
The job application process makes it easy to target your search based upon whether you are interested in a position within a store, or if you prefer to find a corporate level career opportunity.
Store position titles include Crew Member, Shift Manager, Cook, Area Supervisor, Maintenance, Administrative Assistant/Receptionist, Restaurant General Manager, Training Store General Manager, Assistant Manager, and Cashier/Team Member.
Corporate positions include Accounts Receivable/Collections, Benefits Analyst, Business Analyst, Design Coordinator, Director of International Marketing, Market Leader, Real Estate Attorney, and Senior Manager, Local Restaurant Marketing Coordinator, International Quality Assurance, and Zone HR Director.
Church's Chicken Interview
Store position interviews for entry level roles are brief and feature simple questions, such as asking the candidate about their experience and why they are interested in working for the company.
Recruiters may be involved in matching corporate position candidates with hiring managers, and the process involved in hiring a corporate employee is usually more complicated, involving a preliminary phone interview and at least one in person interview.
The standard best practices that apply to a successful interview should be followed here.  Arrive for the interview ahead of the scheduled time, dress appropriately, be friendly and answer questions honestly.  The employer is looking for enthusiastic, motivated individuals who are team players with career goals and the work ethic needed to achieve their goals.
Advice For Application process
To explore Church's Chicken careers, visit the fast-food chain's website and click on the Careers link at the bottom of the Home page.  Several testimonials about job opportunities will display, along with information about how to apply for Church's Chicken online. On the Careers page, under the header "How to Apply" there are separate links for Team Members (hourly positions) and Corporate Positions (management/corporate positions).
Select the link that applies to the position you're interested in (hourly or corporate) to submit a free application to apply for jobs at Church's Chicken.  After clicking the link, you will be directed to the JobApp Applicant Portal where you must go through a registration process before you will be able to submit a direct application for Church's Chicken.
The job application portal will walk you through submitting a Church's Chicken application for employment.  There is no download application form option on the site or printable application form. The online application form gathers your contact information and personal details, including your social security number, your scheduling preferences, your education, work/employment history, and references.  Once you have completed the registration process, you may submit an application form for Church's Chicken careers.
You must have a JobApp account in order to apply online for Church's Chicken jobs.   Once you have registered and are able to access Church's Chicken jobs online, you will be able to review job description information.  You will be able to print a job description to review it, but there is no printable application for Church's Chicken jobs.  To submit your Church's Chicken job application online log in to your JobApp account to review career opportunities and manage your job applications.
You may also apply online via job boards like CareerBuilder by reviewing job descriptions and clicking the Apply button to apply online directly on the site.  Using this method provides you with the opportunity to complete your contact information, upload your resume, and track your application via the job board.
Direct competitors in the fast food space are Chick-Fil-A, Inc., and KFC Corporation.  KFC Corporation used to be the industry leader, but has recently been overtaken by the growing Atlanta-based Chick-Fil-A, Inc., whose sales numbers topped the charts in 2014.
Also See:
Noodles & Company: For employment at Noodles & Company visit the application page.
Freebirds World Burrito: Visit the Freebirds World Burrito application.
Chicken Express: Use the Chicken Express job application to apply here.
Wienerschnitzel: See this page for jobs at Wienerschnitzel.
Which Wich: Which Wich offers opportunities for both, beginners and experienced roles.
https://www.youtube.com/watch?v=hhMMd-GfMGw
Company Links