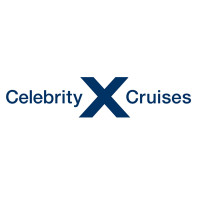 Celebrity Cruises is an international cruise line, which is based in Miami, Florida and was founded in 1988. The company's logo has a signature "X," which is the Greek letter "chi." It stands for Chandris, which is the name of the parent company of several cruise lines and which oversees the Celebrity Cruises application process.
The company offers many luxury services. Common features on its ships are aft-glass dining rooms, formal foyer areas, alternate dining venue, balcony and suite staterooms, large pools, bars, libraries, spas, and gyms. Its ships are categorized into several categories, including Millennium Class and Solstice Class. All of its ships have the word "Celebrity" in their names.
Originally, the company was founded to operate luxury cruises to Bermuda for the company Chandris Group. In 1997, Chandris Group sold the company to Royal Caribbean International, which expanded the fleet and its destination locations. In 2014, the company started a luxury blog, Catalyst, which focuses on travel, fashion, and culture. Currently, the company is building a new luxury line of ships that can have 2,900 guests.
Celebrity Cruises travels to Alaska, Asia, Australia, New Zealand, Bermuda, Canada, the Caribbean, Europe, the Galapagos, Hawaii, Panama Canal, and South America. According to U.S. News and World Report, it is one of the best cruises out there in terms of onboard services and the resources it provides to its passengers.
Celebrity Cruise Careers
There are many Celebrity Cruises jobs available in a variety of places onboard the ship.  There are Hotel Operations, which include casino jobs, housekeeping, and human resources. There are also Marine Operations, which include deck, environmental, and security. It is also possible to work for the Celebrity Cruises' corporate and the Royal Caribbean International's, the company's parent company, corporate offices.
There are many benefits of a Celebrity Cruises career. You will have paid training in order to ensure the safety of yourself and the passengers on board.  All meals, medical care, and accommodations are free while you are on board. You will work long hours while on board, but you also have many weeks off at a time, giving you the unique opportunity to travel or relax.
How old do you have to be to work at Celebrity Cruises? To take advantage of these job opportunities, you must be 21 years old. There are many entry-level positions. The company is excited to welcome those with little to no experience, so there is complementary training and a lot of information about Celebrity Cruises careers on the company's website. 
Celebrity Cruises jobs use the Star Philosophy, which is a way of ensuring passengers have a relaxing, memorable vacation. These are a high level of professional service. You are expected to always exceed guests' expectations. You must always look professional, dressing sharply, maintaining your personal hygiene, and to refrain from revealing any tattoos or piercings. There are mandatory uniforms.
Celebrity Cruise Job Descriptions
Culinary – This is an essential role onboard. You ensure that each the guests' meals is an unforgettable experience, by abiding by all standards for service and sanitation. You would be competitive for this position if you have previous culinary experience. There are many culinary careers, including Cook, Baker, Butcher, Pastry Cook, and Sushi Cook. Salary varies with experience and position.
Housekeeping – For passengers to have an exemplary experience, the ship needs to be neat and clean at all times. As such, working in housekeeping is a very important career in this industry. Responsibilities include cleaning rooms and all common spaces. Positions include Cleaner, Assistant Stateroom Attendant, Pool Attendant, Bar Storekeeper and Bell Attendant. Salary varies with experience and position.
Hotel Management – The thousands of passengers aboard each cruise have a personal room that gives them private space to relax and enjoy their vacation. Working in the hotel part of a cruise requires friendliness, organization, and an ability to work as a team. Jobs in this department include Printer and Desktop Publisher. Salary varies with experience and position.
Cruise Activities – While aboard the cruise, passengers have many different places to go for entertainment, such as the pool, gym, and spa. The employees also provide programs and activities for both the adults and kids staying on board. Working on programs includes roles as Stage & Production Manager, Youth Counselor, Production Manager, and Audio-Visual Operator. Salary varies with experience and position.
Celebrity Cruise Interview Questions
Beyond having the necessary information on how to apply for Celebrity Cruises online, it is important to be read for the interview.
Why do you want to work with Celebrity Cruises? This is a question for most job applications. You should mention information that is mentioned in the Celebrity Cruises jobs online, such as wanting to travel, or work in hospitality. You could give examples of previous local positions that you liked and seem similar to this job.
What is the busiest schedule you have ever had? Working at this company requires long hours every day for weeks at a time. The interviewer wants to get a sense of whether you are ready to take on this potentially exhausting and stressful position. It is important that you show in your interview and in your free application that you are ready for this challenge.
What is your previous work experience like? Although you submit a resume and bring a copy to your interview, it is possible that the person who interviews you is different from the person who read you Celebrity Cruises job application online, so you should make sure to give specific examples of the work you have done.
Do you have any physical or medical restrictions? It is important that in your direct application and interview, you mention things that you cannot do or will need help with. Cruises are very remote, and it is difficult to get prescriptions or medical care. These jobs also may require heavy lifting.
Why are you the person we should hire for this position? The way to be successful when you apply for jobs at Celebrity Cruises is to make yourself standout from others applying. Telling specific stories can make what you say memorable. It also shows that you are articulate and self-reflective.
Advice For Application Process
You can find advice about the Celebrity Cruises application online. The company suggests that you apply if you are interested in a hospitality profession. If you are ready for this change in your lifestyle, you should look at the jobs database and peruse the online application for different positions. Once you find a job description that appeals to you, you can click the "apply online" link.
To apply, you must create an online profile and fill out the required application form. As an attachment to your free application, you must attach a cover letter and resume. You can find tips to help you with different aspects of the hiring process, like creating a resume, on the company's website. For your personal records, download application form or keep a printable application form.
The interview may seem daunting, but you will do well if you follow this advice. Be available for your interview appointment on time. Wear business-appropriate clothing, such as a suit. Arrive with a copy of the printable application for Celebrity Cruises and with your resume. When answering questions, make sure to speak clearly and answer questions concisely. Make sure to remain engaged by listening, using eye contact, and asking questions.
Once you are ready to be hired, you will be asked to complete a pre-employment medical examination to ensure that you can perform all required duties. The company will also conduct a background check. Then, to be ready for international travel, you must have a passport, a visa, and/or Seaman's Books.
Also See:
Holland America Line: Checkout the application page for work at Holland America Line.
Virgin America: See our resource page for more information on Virgin America careers.
Cathay Pacific Airlines: Visit the Cathay Pacific Airlines application.
British Airways: See our resource page for more information on British Airways careers.
Alaska Airlines: Alaska Airlines offers opportunities for both, beginners and experienced roles.
Company Links
http://www.celebritycareersatsea.com/jobs/search
http://www.celebritycareersatsea.com/pages/about