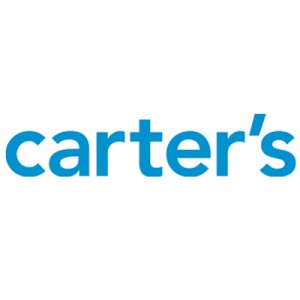 Carter's, Inc. is the largest branded marketer of baby and children's clothing in the United States. They've earned trust from generations of families because of their heritage based on good quality, innovation, and value. They understand how important children are to any family who has them, so they've made a commitment to providing high quality and good value for those families.
Carter's operates several different brands in different markets. Their brands include: Carter's, OshKosh B'gosh, Child of Mine, Just One You, and Genuine Kids. Their brands are sold in over 600 stand alone stores and also sold in several large, national retailers like Kohl's, Babies R' Us, Belk, Bon-ton, Sears, JCPenny, and Macy's. They have stores in the United States and Canada; they also ship to over 80 countries worldwide.
Carter's is the most trusted children's brand because of how they take care of their customers. They have outstanding customer service offering prompt responsiveness to any questions or comments their customers have. They make international shipping easy. Six dollar flat rate shipping helps keep prices affordable. For over one hundred years, they have been giving their customers a comfortable shopping experience with them.
As the largest, most trusted children's brand, Carter's offers a unique, fun, and friendly atmosphere to work with career advancement opportunities. Does this sound like a great place to work? Are you interested in joining this team? Keep reading and learn about job opportunities and Carter's careers.
This company was founded as William Carter Company in 1865 by William Carter. The company is headquartered in Atlanta, Georgia. Carter's acquired children's clothing company OshKosh B'Gosh in 2005. In years past, Carter's has also manufactured undergarments for adults. Over ten years ago, they launched a social responsibility program ensuring that the manufacture of their products meets the highest legal, ethical standards.
Carter's Careers
Hiring requirements for Carter's jobs vary depending on which position you're interested in. One requirement that all applicants must meet: a commitment to providing high quality and a great value for kids and their families. Visit the careers website so you can see responsibilities and a job description of a job you're interested in. The application form will indicate any specific hiring requirements.
The employer will accept your resume, cover letter, and Carter's application for consideration. All qualified, motivated candidates will be contacted in order to advance with their interview process. This is where more information about salary and benefits will be shared so they can answer any questions about them or the position.
Get Your Degree!
Find schools and get information on the program that's right for you.
Powered by Campus Explorer
How old do you have to be to work at Carter's? The minimum age for a job with this company is 16 years old. There is no maximum employment age; all applicants above age 16 may apply online.
Any asset of a business must be well taken care of in order to perform at its highest level. Since their most valuable asset is their amazing staff, Carter's takes care of them with competitive wages and benefits. See below for a few average wages than can be expected at this company. Clearly, there is a lot of room for growth in a career with this business.
Sales Associate -$8.56/hour, Supervisor – $11.44/hour, Assistant Store Manager – $15.37/hour, Store Manager – $23.74/hour, Assistant Designer – $40,081/year, Assistant Buyer – $52,563/year, Sourcing Coordinator – $53,246/year
Wages aren't the only reason this business is a great place to work. They also offer employees a fantastic benefits package. As a company for families, they pride themselves on being a family friendly place where employees can grow both their careers and their families. Benefits of a career with this company could include the following.
Insurance, Health, & Wellness
Health Insurance, Life Insurance, Vision Insurance, Dental Insurance, Disability Insurance, Occupation Accident Insurance, Accidental Death & Dismemberment Insurance, Flexible Spending Account, Health Savings Account, Mental Health Care
Financial & Retirement
Retirement Plan, 401K Plan, Pension Plan, Performance Bonus, Supplemental Workers' Compensation, Charitable Gift Matching
Family & Parenting 
Maternity & Paternity Leave, Family Medical Leave, Unpaid Extended Leave, Reduced or Flexible Hours, Military Leave
Vacation & Time Off 
Vacation & Paid Time Off, Paid Holidays, Sick Days, Bereavement Leave, Volunteer Time Off
Perks & Discounts 
Employee Discount, Employee Assistance Program, Mobile Phone Discount
Professional Support 
Job Training, Professional Development
Carter's Job Descriptions
Carter's is looking to expand their business by inviting new members into their team. There are opportunities available in every segment of their business whether it's corporate or in-store in the United States or Canada. In store positions involve interacting with customers, stocking product, answering questions, cashiering, managing staff, and various other responsibilities. Corporate positions have a wide variety of everything from accounting to clothing design. See just a few positions they currently have open listed below.
Store Jobs
Sales Associate, Assistant Manager, Store Manager, Manager in Training, Stock Supervisor
Corporate Jobs
Showroom Coordinator, Contracts Manager, Customer Database & Analytics Director, Integration Developer, Hyperion Developer, Assistant Designer, Vice President of Planning & Allocation, International Account Planning Manager, Senior Art Director, Information Security Analyst, Invoice Collector, Interactive Graphic Designer, Copy Director, Financial Analyst, Senior Manager of Internal Audit, HR Coordinator, Payroll Associate, Testing Analyst, Merchandise Marketing Coordinator, Senior Accountant, Credit & Collections Senior Manager
If these positions and departments interest you, find the Carter's job application online.
Advice For Application Process
This company wants your job inquiry with them to be successful. They want applicants to find a job with them that would be a good fit. When considering a position with this company, consider your own skills, knowledge, and qualifications. Which positions are your qualifications compatible with?
When filling out a Carter's application, be thorough, honest, and accurate. Be sure all relevant experience and education is included. The employer wants a chance to get to know potential employees when examining applications. How your application is filled out is their first impression of you. It's a good idea to review all information after your initial completion of the application before submission and ensure accuracy.
An extra advantage when applying for a job can easily be obtained by writing a well written cover letter. This is a good, easy way to get more positive attention from your potential employer. This will also further help them in understanding why you're interested in a job with them.
If there is potential for a job for you, they will try making contact via telephone or email. Please make sure you're providing them with current contact information. Stay on top of your phone calls and emails in case they are trying to make contact so you can move forward with the application process.
If you're chosen to be interviewed for a job, make sure you're at the right place at the right time. If you have any questions regarding time or location of an interview, then please do not hesitate to contact the employer. They should be happy assisting potential employees.
You may find several jobs that you're qualified for and interested in on the website. If so, feel free to submit multiple applications. Carter's truly believes that the children's clothing industry is a great one no matter where you work. If you are not local to any Carter's locations, you have several other options for getting into this proud industry.
One of the top competitors is The Gap, Inc. Through their other brands, especially Old Navy, Gap offers clothing for all age groups and all members of your family. If you're interested in a job with clothes that does not only apply to children, consider a career with The Gap, Inc. or one of their brands.
Another competitor in this field is Gerber Childrenswear, LLC. Gerber has a long history of providing necessities that babies need, including clothing. Gerber also specializes in food and other nourishment for growing children. If you're looking for a job that provides the essentials for babies beyond clothing, Gerber is well worth your consideration.
Also See:
GameStop: Checkout the application page for work at GameStop.
Sunglass Hut: For career opportunities, fill out the Sunglass Hut online application.
Babies "R" Us: For career opportunities, fill out the Babies "R" Us online application.
Bath & Body Works: Checkout the application page for work at Bath & Body Works.
Crazy 8: Visit the Crazy 8 application.
https://www.youtube.com/watch?v=dfXSHKhi5AI
Company Links
http://corporate.carters.com/corporateHistory.html